When you show your art on the outside border of the Renegade Craft Fair in Chicago, you must really be a renegade.
That is where I found Isaac G. Abarca last month. He was propping up his oil on canvas paintings on a sidewalk near the entrance to the popular arts and crafts fair. He also hung his paintings like Christmas ornaments in a large honeylocust shade tree in front of Rite Liquors, 1649 W. Division.
"Hanging paintings in a tree is a beautiful thing," Abarca said during a Sunday alcohol free conversation at Rite Liquors. "People had a lot of questions. The next day we released a painting on a (500 helium) balloons, which is even better. But no one has called me to tell me where it landed. It's become like an urban legend. Someone said it is in a potato field in Ohio." The lost painting was Abarca's portrait of a half woman and half violin. Abarca attached three one dollar lottery tickets to the painting. "Next year we will release one painting an hour," he continued. "If you have inspiration you have to use it.  It is a good thing I have friends like (owner) Mike Liacopoulos at Rite Liquors. When I have ideas they say, 'Go with it.' I need people like that."
The sky is the limit.
In fact, I bought Abarca's painting of a firey Malyasian jet liner flying into the mouth of a shark. It is a sure conversation starter for quiet nights in my living room.
"I did that painting five days after the plane went missing," he said. "Every channel on television was talking about the plane in Spanish, in English. I don't want to hurt people in my paintings. But it is easy to me because it is happening."
Abarca is self-taught, although he did study the brilliant colors of Dutch impressionist Vincent van Gogh. "I love oils so I looked at his techniques and his strokes," he said. "His message is right to the point."
Abarca is 37 years old. He is from the state of Guerrero, Mexico where his grandparents were farmers. He moved to the U.S. when he was 12. Abarca grew up in Gurnee and Highwood, north of Chicago. His mother Maria Isabel and father Isaac have been married 38 years.
When Abarca isn't painting, he is a bartender who has worked at Wishbone in Chicago and at Chicago catering companies. "Everything brought me to America," he said. "The way that art is required. Art is a statement of why we are here."
Abarca moved to Chicago in 2001 and lives in Wicker Park. He used to ride his bicycle around Rite Liquors, a bar and package liquor store on the ground floor of a 117-year-old building. Regulars are lined up like weary checkpoint travelers along the maple bar that seats about 78 people. North to south, the original bar is one of the longest bars in Chicago. The bar back is at least 110 years old. "I always found this place interesting," Abarca said. "It is like candy for adults. Look at all this liquor. You can meet interesting people here. Engineers. Police officers. Gangsters. Alcoholics."
He found it so interesting, he once lived upstairs.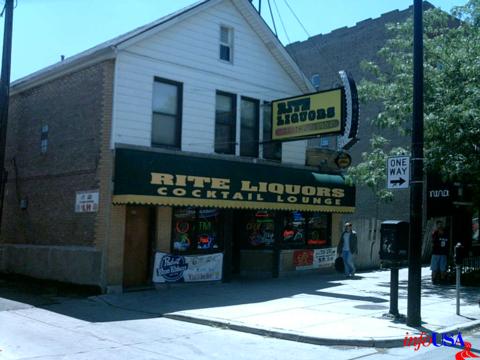 Mike Liacopoulos is a fan of Abarca's work and shows his art in the bar. His sons Steve and Ted help run the bar and Steve was helping Abarca decorate the Division Street tree with paintings. No other Chicago artist has his work on display at Rite Liquors.
The tavern's art history includes painter Robert Guinan, who in the early 1960s would pay customers $20 an hour to be subjects for his work. Guinan loved the once lonesome grit of Wicker Park and Maxwell Street. Unknown in Chicago, Guinan's work has sold for as much as $30,000 a piece in France. He is included in Alex Kotlowitz's fine book "Never a City So Real: A Walk in Chicago."
"Photography students ask me if they can come in and take pictures," said Liacopoulous, a down rite friendly gentleman who opened the original Loop Tavern at 518 S. State (now at Chicago and Ashland).  "We have a colorful crowd. When I came in here I used to sell about six barrels of draught beer a weeks. Now the house drink is Jameson's and I have at least 62 different microbrews. When the condos came in 15, 20 years ago everything just changed."
Abarca said, "Rite Liquors is where everything happened for me. Even if the Renegade Fair had invited me I would have said no. In the winter I hang three paintings a week here. We sell them starting at $91. I send  some of the money of my sales to Children's Memorial Hospital.  (I paid $150 for the Malyasian jet painting) If I dedicate myself to it, I can do 11 paintings a day. "
But Abarca's crowning achievement is his El Dorado Project.
This piece of art is not on display at Rite Liquors. It is in a safe deposit box at a Chicago area bank.
"It is a real human skull, based on the way the Aztecs decorated skulls in gemstones," he said. "It is the shell of one of the most beautiful things ever created: the human brain. I decorate that in respect of it."
Abarca has been decorating the skull with gold nuggets since 2001. He said El Dorado is currently adorned with anywhere between 50 and 70 ounces of gold.
This thing has a lot of bling.
He purchases the gold from miners in Arizona and California. "It is not done," he said. "I've spent $350,000 and I still need $150,000 of gold. I sent a photo of El Dorado to the miner in California. He doesn't want to work with me any more. He's a very religious person and I understand that. I have a key to the safe deposit box. I take it our, work with it and put it back. When I'm done I will present it in Chicago. A human skull decorated in gold nuggets? No one has done that."
Abacra said he purchased the male skull from the University of California. "He died in a hit and run accident in the 1970s," he explained.  "They used the body for medical purposes because no one claimed it. I was very curious what happened. I said, 'Nobody claimed you when you were dead on the floor, but when I am done with you everyone is going to want you because you are covered in gold.' I'm not  dealing with a spirit. That's a different thing. Energy is energy and I don't want to mess with that. A human skull is a beautiful masterpiece  itself. It is another reason I live in America. Religion is so powerful in Mexico they don't allow you to work with human remains."
Liacopoulous has owned Rite Liquors since 1984. "Isaac used to be my tenant," he said in a separate interview while distributing biscuits to the tavern's dogs. "I like the guy. He's always happy, you never see him sad. He is fearless. You don't meet people like him very often. And he has dreams. I came here 45 years ago from a farm in the south part of Greece. I know what is is not to have money and to have money. Isaac dreams of one day being successful. I try to cooperate with that."