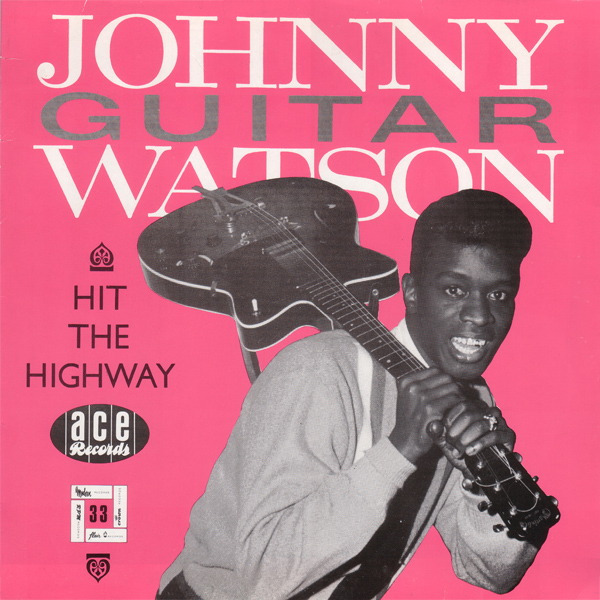 SCOTTSDALE, Az.—De Jon Watson is in his first year as Senior Vice-President of Baseball Operations for the Arizona Diamondbacks. He oversees the franchise's professional, amateur and international scouting and player development functions including the hiring of minor league managers and staff.
It has been a bow-wow-wow-yippi-yo-yippi-yay ride for Watson, 48.
His father is the rhythm and blues guitar hero Johnny "Guitar" Watson, whose "bow-wow" poetry was borrowed by George Clinton and rapper Snoop Dog.
In 1996 Watson had a fatal heart attack after taking the stage in Yokohama, Japan. He was only 61.
Watson was a major influence on Jimi Hendrix, Stevie Ray Vaughan and Sly Stone. Hard core music fans know this, but his son is working to help his father gain entrance into the Rock n' Roll Hall of Fame.
On an early March morning in his office at the D-Backs Salt River Fields spring training facilty, Watson has a lot more to do than field questions about his father being the father of rap with his 1980 hit "Telephone Bill." Or, how Steve Miller covered and referenced the 1961 Watson hit "Gangster of Love."
But Watson is a patient man.
Before landing in Arizona, his baseball journey took him to Los Angeles (The Dodgers Vice-President of Player Development), Cleveland (Director of Professional Scouting, 2004-06), Cincinnatii (Reds Director of Scouting during the Marge Schott era  1998-2000) and even the Midwest League, where in 1987 he was a first baseman (and teammate of former Cubs-Sox pitcher Greg Hibbard) on the Appleton Foxes.
"This is fun," Watson says with a warm smile. "Working with Tony (La Russa, the D-Backs new Chief Baseball Officer) and Stew (Dave Stewart, the former A's pitcher and new GM) and the dynamic of relationship we are growing and building here." And some of the new building blocks are at Kane County, the D-Backs new affiliate.
Watson knows the Midwest League. He recalls, "My prior club we were in Midland, Michigan (the Great Lakes Loons Dodgers affiliate) so I know the competition. I don't consider it a 'Low A' league. 'A' ball is 'A' ball. The pitching is very competitive and a little more mature than first year players are used to seeing.
"I remember the Midwest League. I just saw Greg Vaughn (former Brewers first baseman) in Tucson. The year I was there he hit .305 and drove in like 120 runs (105 with 33 HR) for Beloit. Chip Hale (new D-Backs manager) was in the league when I was in that league. He played for Kenosha. When I worked for the Marlins (as a scout), we opened Kane County so I know how well they draw. (Former Seattle Mariner-Detroit Tiger) Rod Allen who was the (Cougars) hitting coach ('94 and '95). He's my cousin and he's now doing radio for the Tigers. I can't wait to get back to Kane County and see how it has changed over the years."
The D-Backs have as many Chicago connections as a cactus has needles: former White Sox GM Roland Hemond is a special assistant to the President & CEO, former Cub Joe Carter is Stewart's new assistant, former Cub Mark Grace is assistant hitting coach, former Cub Mike Harkey is pitching coach, former Cubs manager (1974-76) is senior advisor for Pacific Rim Operations and even former Bulls GM Jerry Krause has surfaced as a part-time scout.
Watson was destined for baseball even though his Los Angeles home was filled with music. Watson played drums as a boy and his father wrote the instrumental "De Jon's Delight" for his son. "Music was my dad's passion," he says. "I wanted to find my own path. Sports was my avenue to search and pursue.
"Not many people know who my Dad was and I usually don't say much about him. But as a kid I loved instrumentals. I always wanted him to do a jazz album but he would never do a jazz album. (Jazz guitarist) George Benson came by the house. Marvin Gaye was a close family friend. Natalie Cole bought me my first guitar. Barry White was our neighbor. I played Pop Warner football and Pony League baseball with his son (Kevin White). Don Buford, Jr was on our team. He's now an orthopedic surgeon (in Dallas). After he quit baseball he went back to med school." Buford, Jr.'s number was retired by the Daytona Cubs and he is the brother of former Cubs outfielder Damon Buford.
Watson listens to his father's music "often." He draws from a personal  catalog of more than 750 songs. "I Want to Ta-Ta (You Baby)' is one of my favorites," he says. "'Superman Lover' is a true classic. There's some ballads I like, 'Love Jones.' He was under the radar for sure. Me, my sister and brother are working on getting him in the Rock n' Roll Hall of Fame."
A scout's anthem would be Watson's gritty "I Got Eyes," recorded in 1953 in Los Angeles with session players like Harold Grant on guitar and T-Bone Walker drummer Robert "Snake" Sims. Watson was a musical pathfinder and also served up memorable album covers like when he was saluting in front of a jeep on "Funk Beyond The Call of Duty" and being pushed on a tricycle by three women in 1979's "What The Hell Is This," which included the comical pop-funk track "I Don't Want To Be President."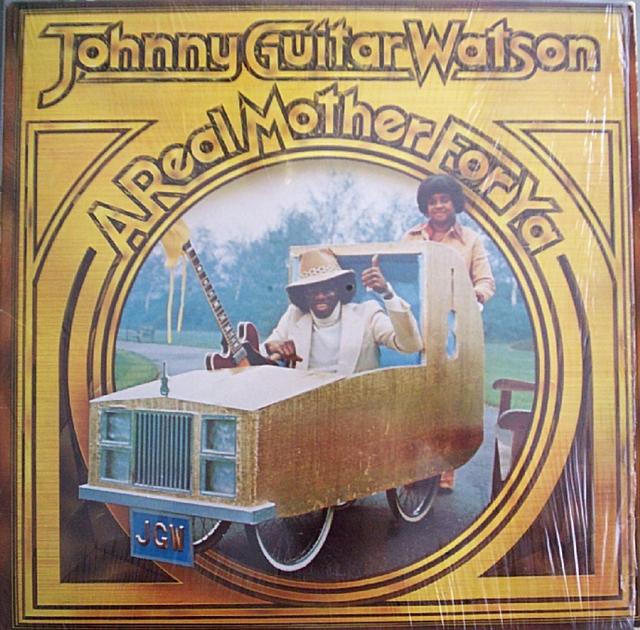 The musician taught his son to dream big.
Watson, 6'4," 190 pounds, played baseball at Santa Monica High School and at West Los Angeles Community College. He was a third round draft pick by the Kansas City Royals and played minor league ball for five seasons. He retired in 1989 and returned to school when he got a call to work in MLB's RBI (Reviving Baseball in Inner Cities).
"That's how I got back into baseball," he said. "Gary Hughes (the Marlins first scouting director in 1991) gave me my first job as a scout in the inner city of Los Angeles. That was during the (1992 Rodney King) riots, as a matter of fact. Some scouts were scared to go in the inner city. I said, 'Come with me, we'll  be all right.' You see guys getting chased through the parks but that's just part of it."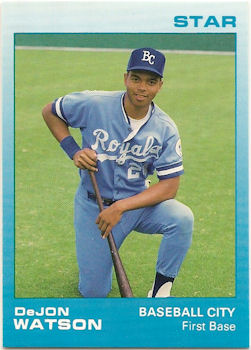 Watson is featured in the 2012 documentary "Harvard Park" with Darryl Strawberry, Eric Davis and Frank Thomas. Between 1982 and 1994 the park was an urban training ground for baseball prospects and minor leaguers. The documentary debuted on BET.
"If you were playing professional baseball we all met at Harvard Park (in South Central L.A.)," Watson explains. 'You'd hit in the order of where you were playing at that particular time, big leagues or Triple Guys would throw to each other. This was the grass roots of teaching. Shane Mack was there. Barry Larkin would come out, Kenny Williams. I was fortunate enough to go to scout school with Kenny.
"These guys would share their experiences. It helped us mature and grow to understand there were other young African-Americans going through the same struggles of trying to reach their goals. That's where I got my passion for this. They kept pushing me to keep pushing forward. I still talk to Eric Davis three times a month. He played for Tony (La Russa) and I knew they had a relationship. I told him I was interviewing so I called him and got some background information."
LaRussa heard many good things about Watson.
In a separate interview while looking for game tickets for his friend Bobby Knight, the Baseball Hall of Famer says, "It's a new experience for me being in the front office. So I contacted people I knew over the years for recommendations and De Jon was guys recommended quite a few times. It was the first time I had been around him. I can see why he got all those recommendations. He's smart. He has an extensive background from scouting director to player hard work. He's energetic and he has personality. We want to make sure nobody beats us in hard work."
Watson's work ethic pushed him forward.
Just the day before our conversation Diamondbacks GM Stewart tells U.S.A. Today, "Baseball is the greatest game there is, but baseball has had a tough time dealing with minority issues. And it probably still does."
The game has to reach out to minorities at a seed level. Watson says, "Today you have kids who are cookie cutter. They just play basketball. They just play baseball.  Basketball, AAU, they're taking our kids at 13 where they should be playing Pony and Colt league. We need to market the product. Major league baseball is opening up academies in different places. We'll provide education and opportunity for work and be able to enhance your talent pool. Right now there hasn't been a ton of ways for us to enhance the talent pool."
La Russa was also attracted to Watson's resume' because of his work in Latin America, particularly in Venezuela with the Dodgers. Kane County fans may see Cuban right hander Yoan Lopez this year. Lopez, 22, starred in Cuba's 18U national league in 2011 with a 1.74 ERA and 88 strikeouts in 78 innings. He signed with the D-Backs for $8.25 million. He told Baseball America that Arizona was his favorite major league team while growing up in Cuba. Lopez is 6'3" and weighs 190 pounds.
"He has a really clean arm and it works exceptionally well," Watson says. "He's up to 97. His first outing this spring he was 92, 93, but he was throwing strikes. He got hit a little and fiddled around a bit, but that's okay. He was by far one of the more advanced pitchers in the international pool. It creates more depth and the more depth you gives you a better chance to sustain success. Mike Bell, our farm director does a tremendous job of putting together strong rosters. We had five teams in the playoffs last year so I look forward to us having another competitive ballclub in Kane County."