MINNEAPOLIS—The legion of devotees to Nye's Polonaise restaurant and piano bar form a neon ribbon that runs from Hollywood to Manhattan.
Albin "Al"  Nye opened his Polish-American restaurant in 1964 at 112 E. Hennepin, just west of the Mississippi River in Minneapolis. Nye's charms have been how it remained a period piece in a forthright Minnesota manner. Nye's is Garrison Keillor with a lampshade on his head.
Earlier this year Nye's announced it was closing in the autumn. The date keeps getting pushed back and now what Esquire magazine once called "The Best Bar in America" is slated to remain open until January, 2016.
Nye sold his restaurant in September, 1994 and died in 2004 at the age of 89. Brothers Rob and Tony Jacob bought Nye's in 1999. In December, 2014 Rob Jacob told the Minneapolis-St. Paul Business Journal, "We have made the decision to close Nye's after careful consideration. In recent years, business has fallen off and it's been difficult for us to stay competitive."  (The Jacob brothers declined further comment for this story and our Aug. 29 WGN-AM segment on Nye's.)
Minneapolis media reported the brothers are working with a development company to build two fancy pants high rise apartments on the site. Updates can be found at the popular Facebook page Save Nye's Polonaise.
How do you keep the music playing?
Something bigger comes into play when a mid-20th Century place like Nye's goes dark. We lose our cultural memory. We lose track of gentlemen like Nye's bartender Phil Barker.  
"I've been here 46 years, three months and 20 days," Barker told me on May 20 in a conversation at Nye's "I had just gotten out of the Navy. I was sitting at home when Al Nye called me. He asked if I would come down and tend bar for him at lunches. The light went on. I thought, 'Why get a job where I gotta' behave myself?' It beats the heck out of being stuck in some office where you can't have any fun." Barker was 22 years old when he started at Nye's. He said he will find another bartending job in the neighborhood, but it won't be the same.
Barker grew up in Northeast Minneapolis where his father worked for a burglar alarm company. Barker's mother owned a grocery store. Nye's is in Southeast Minneapolis. "The street out front, East Hennepin Avenue divides northeast from southeast," he said as he peered out of the bar's daylight darkness. "This used to be the Skid Row area of Minneapolis. In the late 1940s they tore down all the flophouses on what used to be called 'The Gateway' into Minneapolis.
Barker is a direct connection with Nye.  He is the senior employee at the restaurant. Collecting voices like Barker's is why I do this website.
 "Al Nye was Polish and Austrian, " Barker said. "He was born in north Minneapolis. His father moved to Ladysmith, Wisconsin, which is where he was raised. He moved back here during the Depression. He worked at Minor Ford before World War II and got a job at Northern Pump (company, established 1929). They made ordinates for the Navy there. He started out by owning a beer joint in South Minneapolis. Then he bought this bar, August 1, 1950 from Jimmy Heffron. This (bar) building opened  in 1908 it was the Prince Street Cafe."
 Old regulars call the original bar "The Old Bar or The Old Side." Newer folks call it "The Polka Lounge."
 "The World's Most Dangerous Polka Band" plays on Friday and Saturday nights in the bar. The cozy bar with eight Naugahyde booths and a dance floor is open Tuesday through Saturday.  The bar only opens during the day (at 11 a.m.) on Friday and Saturday, when Barker tends bar.
Barker looked toward the dining room and continued, "He added on the restaurant—the first room– that opened December 23, 1964 at four-thirty in the afternoon."
Of course, old-timers call this "The New Side."
But it is technically The Polonaise Room. Diners slip slide away into the past while sitting in the gold vinyl covers of large booths. 
The iconic piano bar is part of the supper clubby room that serves Polish-American cuisine like cabbage rolls and pierogis along with strip steaks and walleye. Music starts at 8:30 p.m. Tuesday through Saturday. Folks sit around a curved piano underneath a portrait of 18th Century composer Frederic Chopin.
In a folksy Northern setting where more people are familiar with Harry Chapin, Nye loved Chopin. He wrote his polonaises mostly for solo piano. "Chopin lived in Paris and that's where the polonaise comes from," Barker explained.  "Chopin missed Poland so much he wrote the 'Polonaise' which means 'Poland' in French. So it's Chopin's Polonaise."
And so it became Nye's Polonaise.
Around Valentine's Day 2008 I hung around the piano bar listening to the playful Sweet Lou Snider sing standards of the 1950s and 60s. She sang Patsy Cline's "Crazy" for my date and I. Sweet Lou started at Nye's in 1965 and health issues forced her to retire around  Valentine's day 2011. She had been coming to work on crutches.
Sweet Lou met her future husband David, on Labor Day weekend 1959 while she was playing with the rock band Lanny Charles and his Harem at  the Casino Bar in La Crosse, Wis. David requested "It Had to Be You."
"I had to look it up," Sweet Lou told me as her eyes sparkled under multi-colored Flintstone-like lamps that were handcrafted in Winona, Minn.. What will become of these lamps when Nye's goes dark?
Where will these stories go?
Daina De Prez now sings at the piano bar between 8:30 and 2 a.m. Tuesday through Saturday.
A second dining area opened in 1967 in a former sign shop, and the third area [The 80-seat Pulaski Room, east of the Polonaise Room] used to be John's Café.  "Everybody still calls it John's," Barker said. " That opened in December, 1971, " Finally, the open-spaced Chopin Room seats another 80 people between the piano bar and the Pulaski Room.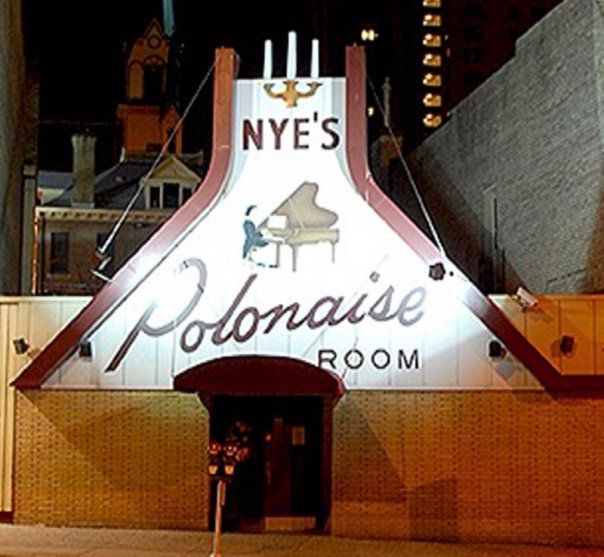 When I was working on The Supper Club Book  a few summers ago I debated on whether or not to include Nye's. It was a close call. I concluded the scene just seemed too large for a traditional supper club. Nye's reminded me of Chicago's Busy Bee restaurant on steroids.
"For the amount of food we serve and the number of people that come in here, it's a supper club," Barker said. "We still have relish trays. Family owners. Old Fashioneds are  popular again, especially  the Brandy Old Fashioned from Wisconsin. At one time like 51 per cent of every bottle sold in a Wisconsin liquor store was a bottle of brandy.
Barker said the Polish Vodka Martini is the most popular drink at Nye's. "And our Polonaise (with Chopin potato vodka! served with dry Vermouth and an olive)," he said.
Vodka was outlawed in Minnesota until 1957. "They thought you couldn't smell it on your breath," he said.  "And it smelled like lighter fluid. Another Minnesota spin is the addition of hazelnuts to a White Russian, another go-to drink at Nye's.
Nye's doesn't ignore its imported Polish beer.  You can find Zywiec, Okocim and Tyskie on a menu of 35 brews. "They're basically all the same," he said. "They have kind of a sweeter, hopsy after-taste to them from what I understand. I don't drink. I used to drink, I was my own best customer. I made a deal with the state highway department years ago. They let me drive a car if I quit drinking."
Barker has served several thousand people during his 46 years at Nye's. But he has not taken care of Minneapolis notables like Prince or Jesse Ventura.
 "I've served a couple vice-presidents," he said. "I talked to Hubert Humphrey when he was vice-president. It was on a Monday. We used to have a Teamster business luncheon here and he stopped in to ask a question. He ran in and ran out. We've had (former Minnesota Viking) Bill Brown. (The late and rowdy New York Yankees-Minnesota Twins manager) Billy Martin  had lunch here with (former Twins coach) Frank Quilici. Billy behaved himself."
But is the everyday people who made Nye's what it is. And it is the everyday people who will be missed.
.