WARSAW, Ind.—The meaningful solitude of driving reaches a higher level by taking a trip in a camper van. I don't mean an RV where you bring along friends and family, or even hitching up with an Airstream trailer. I mean a small camper van: where you are alone as a question mark, one bed, a workspace, a fridge and Greg Brown music about backroads and broken hearts.
And that's where I'm going.
While driving around America for the past 30 years I've learned how the real American pastime feeds the imagination. Reflections in the campground river are unfiltered. Driving puts dreams in motion.
Vicki Shepherd and her younger brother Scott Wiley are examples of this pursuit of happiness.
I connected with Vicki through her whimsical art work of camper vans and RVs on a dark January afternoon. As I was researching my next book I saw a stack of her prints in the corner of the gift shop of the RV Hall of Fame in Elkhart, Ind. 
I loved the bright colors and escapist nature of her self-taught work. Vicki draws on art paper with ink markers and sharpies. I bought a print of 16 campers on dual Ferris wheels. A carnival sign advertised "CAMPER RIDES." I had to find out more about her. Like twinkling neon around a gloomy corner, I made an authentic discovery.
Vicki, Scott and Vicki's husband Jeff Shepherd purchase old camper vans and trailers and restore them.
They call this "Camper Pickin'."
This summer and fall I'll be driving around America in my 20' by 8' Ford Transit conversion van. Ford did a similar job for the "American Pickers" television show from the new Ford plant in Kansas City, Mo.
Vicki will custom design the inside of any van, even mine. In the past, she has done baseball themes and Jimmy Buffett influenced campers.
Scott generally restores the exterior, although they also work separately on found vans. One of their jobs became a concession stand at the University of Notre Dame. Another restored camper is part of a Bed and Breakfast in Georgia. A Michigan photographer bought a reborn 1956 Vacationette to use as a studio.
Vicki has drawn 50 van/RV related pictures. She makes van drawings for friends, family and did one for Camping World. Vicki has restored about 55 camper vans and trailers. I'm asking her to do a subtle tiki motif for my van interior. Bamboo brings good luck.
During the late 1960s Vicki was a dancer (not a stripper) at the Cat's Meow in Fort Wayne. Ind. In sort of a Hooserized version of the Whiskey-A-Go-Go, she danced in white go-go boots along side music greats like Fats Domino, Brasil 66 and Wayne Cochran and the CC Riders. Little Richard headlined the downtown Fort Wayne club from April 21-26, 1969.
The Cat's Meow was an upscale club with catwalks and an illuminated dance floor. In her later years, Vicki was a hospice nurse, so I guess that's go-go to gone-gone. From 1984 to 1985 her brother was team chaplain for the NBA's Detroit Pistons. This is one remarkable family.
Their father Don Wiley was an industrial engineer who was plant manager at Magnavox electronics in Fort Wayne. He was best friends with Fort Wayne legend Philo Farnsworth, who invented the television system.
"The first thing I ever played with was a slide rule," Vicki cracked during a March afternoon conversation at Scott's log home in Warsaw. "I took it out of Dad's pocket."
Their mother Maxine Wiley was a Justice of the Peace in Auburn, Ind. who also owned the Carnaby Square Dance Club in Warsaw, about 38 miles east of Fort Wayne. During the 1960s the Chicago-based Buckinghams played Carnaby Square.
The kids lived large in Indiana's wide open spaces.
"In 1995 there was a resort park down by Silver Lake," Vicki said. "Friend of my husband's. He had these old trailers, 1920s, 30s and 40s. Nobody wanted them. He couldn't get lot rent. He said, 'How bout if I give you the trailer, you fix it up, sell it, and that way I'll get the rent.' None of this was popular then. If I had known then what I know now, I would have bought every one of them."
Vicki, Scott and Jeff restored them and sold them for $2,000 or $3,000.
She pointed out, "These weren't canned hams (tiny trailers hitched to a truck.) They were things like Lucy and Ricky's (1954 hit comedy) 'Long, Long Trailer'."
What is home? Where is sense of place? French psychoanalyst Oliver Marc spoke of how early man took possession of space. He wrote, "It is through self-expression that man sets out on the road back to unity. It is a road that passes through the exterior to reach interior unity."
The quest is the most exciting part of Vicki and Scott's self-expression.
"There's a 1958 Mallard I'm trying to get," Vicki said. "It's a hoarder's house. I mean it's in 'Deliverance' down there by (rural) Laketon. I go up to the door. Jeff wouldn't even get out of the car–he's a chicken. Dogs are barking and there's these great big geese. I didn't know they stretched their necks way out like that. Garbage bags everywhere. They had their Venetian Blinds on the outside of their house! They didn't answer. I left a note. I've been back there three times."
Vicki is retired and Scott has a full time job as Director of Development at Lakeland Christian Academy. His wife Debra is a 2nd grade teacher at the school and their daughter Baylee is a 10th grader at the school.
Scott keeps a vintage 1963 Trailerorboat" on his back porch that overlooks a small river and wooded area where blue heron, deer and a bald eagle can be seen. "There were only 18 Trailerorboats made," he said. "It's a little camper with a boat molded into the top. You take the top off when you arrive at the campground and use it as a boat."
Trailer-or-boat—get it?
Scott' collection also included the Camp'OTel ("For people who like going, not towing"), which he found, restored and sold. "It went on the top of your car," he said. "It folded out into a place to sleep, shower, it had a picnic table built in, a gas stove and a sink too. It even had a little front porch." The Camp O' Tel was manufactured in the mid-1960s in Fort Worth, Tx. An advertisement ensures, "Fits on 98 per cent of all cars…A woman can set it up."
Vicki, 70,  recruited her brother who previously restored cars and motorcycles.
Scott's showcase item is a 1964 Ford Fairlane four door called "The Spaceliner," where he removed the top and added sleek white bucket seat and dual bubble tops.
"Campers are fun and cute," said Scott, 55. "When we started getting into it people had no idea they were collectibles. We'd knock on doors and people would say, 'If you can get that hunk of junk out of here, you can have it.' People would give them to us. Or, we would get a camper for $200, put another $100 into it, clean it up and sell it for $3,000. It was a great profit margin. Now, it's becoming real popular. People are into tiny living."
Vicki said that 90 percent of the 55 campers she has restored were made in the Elkhart area, an hour north of Warsaw.
Scott explained, "A lot of cars were made in Northern Indiana. (The Detroit Pistons began in 1941 as the Fort Wayne Zoller Pistons before moving to the Motor City in 1957.) Because of tax breaks it was cheaper to build stuff in Indiana."
I learned that 85 per cent of America's RVs are manufactured in the Elkhart area.
Scott Wiley attended Spring Arbor College in Jackson, Mich. where he majored in Business Administration and Sports Administration. During his senior year in 1984, he obtained an internship with the Pistons. Scott's first job was editing highlight reels for halftime shows.
"I got to be friends with (Pistons center) Kent Benson," he said. "Kent was a Christian, I was a Christian. When I was with the Pistons it was Kent, Isiah Thomas and Ray Tolbert–all Indiana graduates. Bill Laimbeer  and Kelly Tripucka were from Notre Dame. I felt at home and they were all my age. I got to know Larry Bird. His point guard at Indiana State was Steve Reed. They called him 'The Bird Feeder' and he was our neighbor here in Warsaw. But it was Kent who asked me to be chaplain."
Sports lines run deep with Vicki and Scott. Their mother was a big Chicago Cubs fan. Their uncle Everett "Deacon" Scott  played in 1,307 consecutive major league games, a streak later broken by Lou Gehrig and Cal Ripken, Jr. Everett Scott broke into the major leagues in 1914 with the Boston Red Sox when Babe Ruth was a fellow rookie teammate. Everett's brother Walter Scott played for the St. Louis Browns.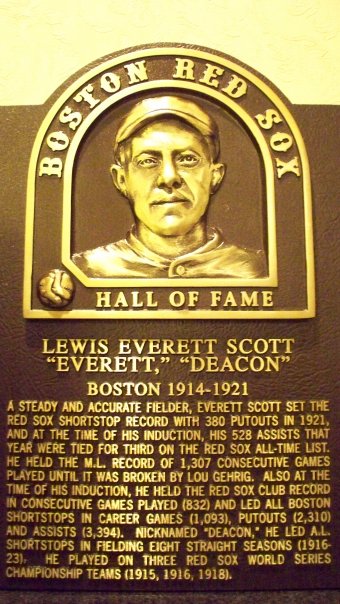 "Everett's roommate was Babe Ruth," Vicki said. "I have the rocker that Babe Ruth rocked my Mom in." Jeff added, "We had two (1923 Yankee World Champion) baseballs a long time ago. One was lost and never found."
Vicki added, "We had another ball and it went down the storm sewer in Auburn. Uncle Skippy was playing with it."
Uncle Skippy lived for the moment, just as you do in a camper van. 
When Mom Wiley was seven years old the Bambino gave her a necklace during a visit to Auburn. Scott recalled, "When her brother Skippy began dating, he gave it to his girlfriend!"
With an sigh, Vicki continued, "Now Uncle Everett suffered from carbuncles. Of all the things to suffer from. Carbuncles are like cysts. We in the family don't call them boils. He had a big zit on his ear."
Everett Scott was also an accomplished bowler, racking up 50 perfect games. Scott pointed out, "With a two finger bowling ball." After Everett retired from baseball he opened Scott's Bowling Alley in Fort Wayne. He sold that bowling alley to build Northcrest Lanes, in Fort Wayne, which in the 1950s was the biggest bowling alley in Indiana.
Everett died in November, 1960 in Fort Wayne. He was 67 years old.
 "Now this may be interesting to you, Dave," Vicki said. "He had a Sealy Posturepedic mattress in his casket. And a satin robe. It scared the tar out of me when I saw him."
Scott said, "Evidently he wanted to be comfortable."
Evidently interior design is also part of this family's DNA.
The camping world calls interior van decorating "Glamping." Vicki's children Kip, Matt and Katrina also help out with camper design. Husband Jeff assists with woodwork.
Vicki admitted, "Some glamping is so over done and tacky. I do things with Hawaiian lights. Bamboo on the counter tops. I don't do wallpaper unless I have to. If it looks good I keep what's inside. I don't keep the campers. Everybody thinks I'm this huge camper.
"Well, I've never gone camping in my life."