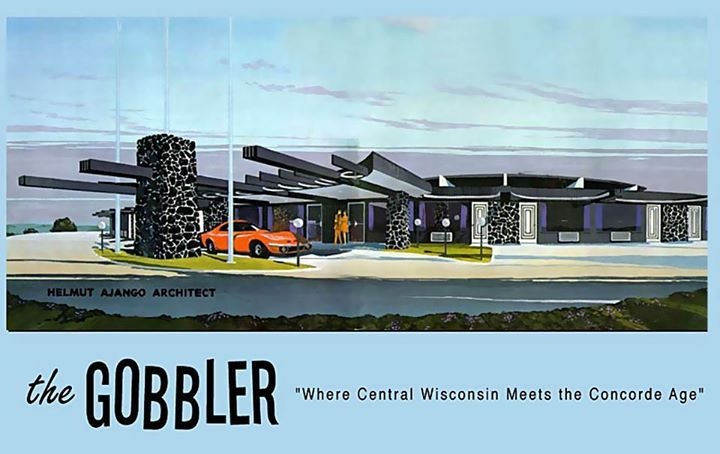 JOHNSON CREEK, WIS.—-The band Starship reopened the historically quirky Gobbler Theater Sunday in Johnson Creek, about half way between Madison and Milwaukee, Wis. Vocalist Stephanie Calvert channeled her inner Grace Slick reminding the older crowd to "Feed Your Head"  in the band's cover of the Jefferson Airplane 1967 hit "White Rabbit."
Only the late 1960s would be able to birth the Gobbler Motel and Supper Club.
Feed your head, indeed.
The Gobbler complex was created in 1967 by area turkey farmer Clarence Hartwig, who decorated his dining room in pink colors and pink shag carpeting. Late Wisconsin architect Helmut Ajango blended Mid-Century design with Prairie Architecture in a place that was advertised "Where Central Wisconsin Meets the Concorde Age."
The Gobbler served turkey 365 days a year, along with supper club staples like prime rim and seafood. From the ground, the Gobbler Theater looks like a compacted Houston Astrodome. From the air, it looks like a turkey, even with windows replicating turkey eyes.
Early into the band's hour long set, Starship lead singer Mickey Thomas remarked, "This is a beautiful venue–and very unique."
Thomas stared ahead to the original circular bar, formerly the Royal Roost Cocktail Lounge.
The bar was bathed in Princely purple light and still revolves like the Carousel Bar at the Hotel Monteleone in New Orleans. But the Gobbler bar moves in a more meandering hourly rotation than the Carousel. In the late 1960s Willie Nelson played in the Gobbler basement for $695 and he likely flew by more than once an hour.
The Gobbler sold out all of its 475 seats on opening night. In fact, I bought the last ticket at $35 about an hour before the 7 p.m. showtime. I was on I-94 back to Chicago by 8:15 p.m. Audience seating is circular and elevated, like a theater in the round. The  most distant seat is just 55 feet from the stage. Accented by a tall American flag in a stand, the stage is on the site of the former kitchen.
Food is not served at the Gobbler. Wisconsin beers are a reasonable $5 and $6, wines and Mike's Hard Lemonades are $4 and $6. The hilltop motel is gone but new owner Dan Manesis has done a remarkable job in restoring the Jets0n-like supper club into a fine music venue.
The best way to get George Lucas out of Chicago's hair is to send him to the Gobbler.
Manesis even looks like Lucas with a spiritual dash of Jerry Garcia.
Manesis's story is as unique as the venue's.
He owns a Milwaukee trucking and warehouse company and has been racing dragsters since 1980 at the Great Lakes Dragaway in Union Grove. Wis.
His team currently drives the Carol "Playboy Bunny" Burkett tribute car, a 1973 Ford Pinto, colored  pink for breast cancer awareness. Manesis, 62, attended University of  Wisconsin in Madison in the late 1960s where he obtained his business accounting degree.
"I would bring girls to the Gobbler supper club while at University of Wisconsin," Manesis said on the day after his successful re-opening. "A steak was $16 and I made $1.30 an hour, so I had to work a long time to go on a date. It was a miniature Playboy Club. The waitresses had neat little outfits and they had turkey feathers coming out of their suits instead of the little bunny tail. It was a high falootin' place."
Original owner Hartwig died suddenly and his family could not keep the establishment going. Under different ownerships The Gobbler became a rib shack and a Mexican restaurant–the outside consists of Mexican lava rock. It reopened in 1996 for a brief period as The New Gobbler before closing again.
In recent years the Johnson Creek Village Board vetoed the idea of a small Gobbler casino. In my 2013 "The Supper Club Book (A Celebration of a Midwest Tradition)" [Chicago Review Press], former Gobbler owner Marvin Havill said, "It could have been a Gentleman's Club many times over, but the village won't tolerate that. It's a perfect building for that. (It was going to be called 'A Gobbler-A-Go-Go'.) There's twenty inches of poured concrete. It's like a bunker. There's walls of petrified wood. Quartz crystal."
The Gobbler is to the Midwest what Gilligan was to the island.
Thank goodness for Manesis.
"About two years ago my wife was across the street at the outlet mall buying a purse," said Manesis, who now lives in Muskego, a suburb of Milwaukee. "I looked on the other side of the road and said, 'Look! It's the Gobbler!' She kind of  slumped down and thought, 'Oh no.' So we drove over here and saw the sign that said, 'Save the Gobbler, no reasonable offer refused.' That was on a Saturday."
The next day Manesis met with former owner Havill and his business partner. "I came in, looked at it for 15, 20 minutes and we made a deal with a handshake," he said. "The only contingency was to get an occupancy permit from Johnson Creek. The village board asked, 'What do you know about music?' I said, 'Nothing, but that I had people around me that would help me make this a success."
Remodeling the old bird was an 18 month process and cost more than $2 million.
"The place was structurally sound but all the mechanicals in the building did not work," Manesis explained. "We had to bring everything up to code. We wanted to do it right."
A 70,000 pound Gobbler dance floor with a disco ball hung over the bar from the ceiling.
Manesis removed that.
"We had to be very careful," he said. "We had to take it down in little bits, just like you put lugnuts on a tire. We had to keep rotating, otherwise we would have sprung the ceiling and the venue would have been junked. The dance floor was made of plywood, steel and tons of drywall and plaster. A two-story kitchen was where the stage is. That kitchen served the main floor and it was a way to bring food to people upstairs. All that had to be removed."
"I remember guys coming here in tuxedos and gals in evening gowns for dinner. But time has passed. I just looked at it as an auditorium because it is round. I never planned to serve food. It was not designed as a supper club, but as a theater. Our research showed Clarence (Hartwig) changed his mind to make it a supper club at the last minute."
Located on 10 acres of land just off of I-94, the Gobbler hosted a couple of private events in February and Manesis donated the space to the Johnson Creek school system for a play. The Starship gig was the first event open to the public.
Although Mickey Thomas briefly referenced the spaceship feel of the venue, Manesis said the Starship booking was mere coincidence. "I liked them back in the day," he said. "Mickey and Stephanie are great singers. The age of the people here were between 45 and 60. We have a state of the art sound and light system. The band was happy because it was so welcoming. There's not a bad seat in the house. Players from the Milwaukee Bucks used to come here. It was a celebrity destination. We found pictures of John Glenn and other astronauts who came here."
The Starship evening was cosmic.
The crowd pleaser was "We Built This City" where much of the audience stood up and clapped while blocking the views of rural Wisconsin from aquarium like windows. Wearing a sharp suit and tie that accented his beard and playful Jerry Garcia like face, Manesis watched from the side of the stage with the satisfied smile from a Thanksgiving day feast.
Earlier in the show Thomas put his foot on a monitor, looked to the retro skies and belted out the Starship hit "Find Your Way Back" as if he were at some arena show in Europe.
But he was at the Gobbler Theater.
Before the concert, I met Laura and Ron Oldenhofn of Lebanon , Wis. 
They honeymooned at the Gobbler Motel and Supper Club on Dec. 1, 1979.
"The bar, ceiling and windows are the same," Laura she said as she looked around the theater with approval. "Dining tables were around the bar (where concert seating is now.) I don't remember lights around the bar. We stayed here for three days. That was our honeymoon and that's all we could afford."
Ron added, " I remember we had a water bed in our suite." Ron is a retired welder and Laura is an office manager at a vet clinic. She reflected, "We came here tonight for the music, but it was fun to come for the memories We were laughing about it all."
I loved the Gobbler experience so much, I'd come back to visit even without live music.
Manesis said that's not in the cards.
He is looking at booking folk, country and legacy rock acts. No further public shows have been announced. "Tonight we have it rented for a corporate event," he said on Monday, April 24. "It's available for any type of commercial party. I'm putting a call into (the rock band ) Kansas. Bands want a nice place to play at between Chicago and Minneapolis and many places in Madison and Milwaukee are bigger than this."
The B-52s would be perfect for this place.
"This idea really started about four or five years ago when my son played as a warm up to a band at the Rave in Milwaukee," Manesis said. "It was sort of seedy and I asked a friend who was a ticket broker why there wasn't a nice place in the Milwaukee or Madison area that could seat 400, 500 people. He told me if I had something like that I could get up and coming bands or established acts that were starting to slow down and they would fill a venue of that size. The hunt began. I originally looked at a vacant movie theater, but it didn't have any personality."
Personality struts its stuff at the Gobbler.
"The first year we are trying to establish the Gobbler as a going business," he said.
"Making money is far behind giving folks a good time at an affordable price. I'm a living Jerry Garcia. We want to have fun."