GREAT FALLS, MT.–The wide open spaces of Montana can spawn the tallest of tales.
Located in sleepy downtown Great Falls, the mid-century O'Haire Motor Inn is anchored by the Sip n' Dip Lounge. Guests walk up a short flight of stairs past traditional western lithographs into the lounge.
The dimly lit bar has a tiki motif replete with a 1960s bamboo ceiling. On Wednesday through Friday nights "Piano Pat"  Sponheim is playing lounge music with a subtle polka beat. She has been the Sip n' Dip headliner for more than 50 years.
Piano Pat faces the bar and a large window that is adjacent to the motel swimming pool.
This is not some cowboy cantina.
On a steamy June evening she is playing a polka version of the boogie George Thorogood version of Hank Williams "Move it On Over." A silver disco hangs above Pat. A major league baseball game is playing on a television set directly behind her. Pat is in her own world.
I order a cold bottle of beer, the kind with threads of perspiration rolling down the side like creeks down a mountain.
Two beautiful mermaids with eight feet long tails are swimming inside the pool. One mermaid waves at me. This is not a wet dream.
"The most surprising thing is that we have mermaids in the middle of landlocked Montana," says Sandra Thares, General Manager of the motor inn and lodge in an interview the day after my visit. "Our mermaids are in there six to seven days a week." The mermaids start swimming at 6 p.m until their shift ends around 10 or 11 p.m.
Piano Pat singing "Margaritaville" while all this is going on is pretty overwhelming. Pat plays piano with one hand and organ with the other hand. About ten people can sit around her piano, not unlike the late great Lou Snider holding court at the late great Nye's Polonaise Room in Minneapolis. "Pat is the heart of the Sip and Dip," Thares says. "She's been playing at the piano every single week except for vacation for more than 50 years."
Locals also talk about the lounge's "Fish Bowl," an anti-freeze blue concoction of 10 to 12 shots of rum and fruit juice served in a  64-ounce fish bowl. "If you're coming to drink one of those, you probably should get a room," Thares says. "But they are meant to be shared with friends. And every tropical drink you can think of you can get here."
The O'Haire Motor Inn opened in the fall of 1962 at the corner of 7th Street and 1st Avenue South back when downtown Great Falls had great dreams. The motor inn had the only public parking garage in town. Thares' stepfather bought the complex in 1968.
"Pat can't quite remember the year she started," says Thares, 46. "Its 1963 or '64. We've been trying to get her in the Guinness Book of World Records but we can't find any paperwork. She would be under 'Longest House Gig of a Bar'. The keyboards have always been her domain. She politely declines any assistance from guests, but there's been a few guests over the years. (Country singer-songwriter) Phil Vassar was one." And so was Julliard professor and composer Phil Lasser. I'd love it if Lasser and Vassar bumped into each other one night at the Sip n' Dip.
The motel was built by brothers Bill and Edgar O'Haire. Edgar was a Montana contractor before opening the motel. "They traveled the U.S. for an entire year finding everything they liked wherever they stayed," Thares says. "They bought it back here and put it into this motel." My room had a ceiling-sized mirror above my bed.
But there were no mermaids in my room.
"The idea for the mermaid windows actually came from the Playboy Club in Chicago where they had a set up similar to this," Thares says. She is referring to Hugh Hefner's original Playboy Mansion at 1340 N. State Parkway in Chicago. Hef held court in this 72-room space between 1959 and 1974 before moving to Los Angeles. The downstairs classical French style indoor pool featured swimming Playboy bunnies. The bar could be reached by shimmying down a fireman's pole.
This gives a different meaning to 'Great Falls.'
The entire motor inn  is made of concrete which translates into quiet rooms. The O'Haire brothers even built a helipad above the pool.
"That was back when oil barons would fly in and out on helicopters," Thares says. "They were building the ICBM (Intercontinental Ballisitic Missile)  silos n the area in the late '60s. We had the contract to house the government crews. They would come in on helicopters every night. The port has been disassembled. It was shaking the building a little too much." The motor inn still has 64 rooms. Each room has a souvenir yellow rubber ducky in the bath tub.
"We did not start the mermaids until 1996," Thares says. "But before that many a guest was swimming in the pool and putting on a show (for the bar). Keep in mind it was during the time of the three martini lunches. And we had a beauty shop down the hall. Women would get their hair done and men would come to the bar and have a cocktail or two while waiting for their wives. You never quite knew who was going to walk in the pool."
The Sip n' Dip soon became known for its Skin n' Dippers.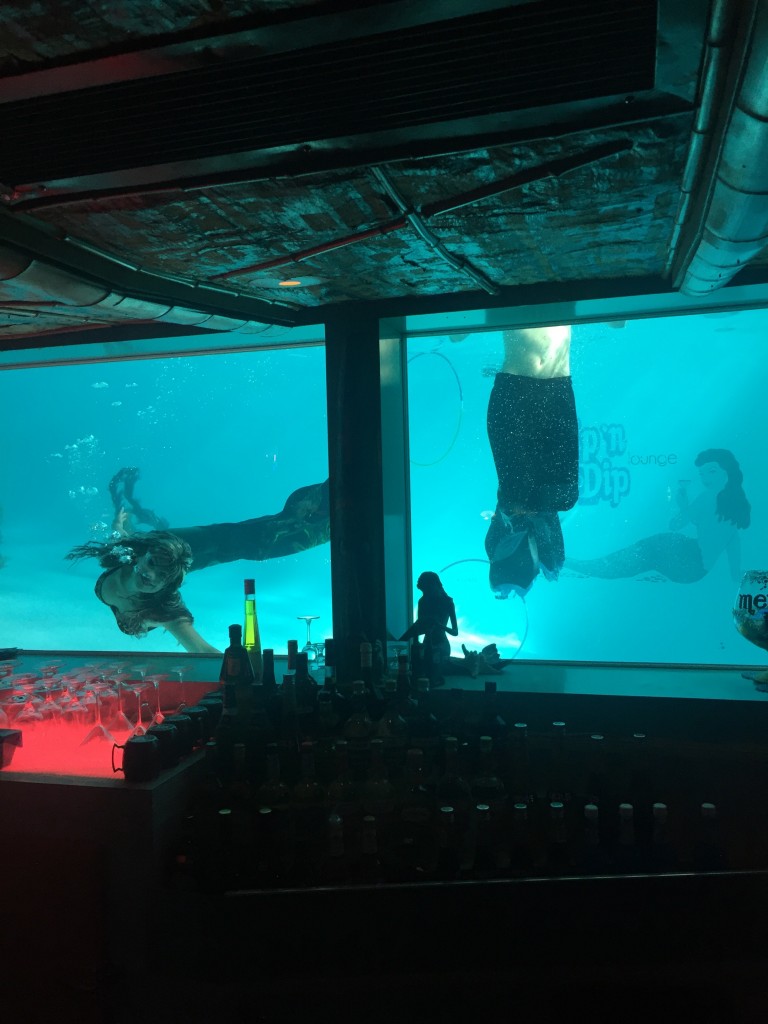 The pool is eight feet deep at its deepest end. The pool is now locked and closed to the public when the mermaids perform. But the occasional guest gets in on the action.
Texas comedian Ron White jumped in with the mermaids while he was fully clothed. Actress Daryl Hannah put on a mermaid costume when she was in town filming the acclaimed 2003 film "Northfork" with Nick Notle and James Woods. Hannah co-starred with Tom Hanks in the 1984 mermaid flick "Splash."
"It was in the middle of the week and quiet in the lounge," Thares recalls. "Maybe four people. Daryl Hannah told the bartender, 'I want to be the mermaid.' We went and got her tails. She swam for about 15  minutes, got out, autographed the window and away she went. Unfortunately about six months after she autographed the window, the window cracked and it had to be replaced."
Thares even designs and makes the vinyl, velvet, beads and sequin mermaid tails.
"If I had known how much work it would be I probably would not have started it," she says. "I spend about eight hours a week working on the mermaid tails. Each of the mermaids picks what they want it too look like."
It is hard work being a mermaid.
Each tail weighs between 10 and 15 pounds. Thares explains,  "They're dragging that extra weight around off their waist. They're not allowed to use their feet because they're in a tail. They're mermaids. They don't have feet.
"Most of them swim in four to five  hour shifts two to three days a week. We get criticism from people who say, 'Mermaids don't wear goggles!' The reason our mermaids wear goggles is so they can see everyone in the lounge and have that crowd interaction.
A large fish-bowl tip jar stands behind the bar for customers who want their picture taken with the mermaid–and with this being all P.C. 2016–mermen.
Mermen appear on Tuesday nights. "We put mermen in the pool a few years ago and it was an epic failure," Thares says. "Last year we started getting the request again. They started the first of March and it has been a huge success."
And in recent months the Sip n' Dip even added a Sunday "Mermaid Brunch" for families. An all you can eat brunch is offered on the first and third Sunday of every month, featuring blue Mermosas. Of course.
Everyone cannot become a Sip n' Dip mermaid or merman.
First off, applicants need to know how to swim.
"My 'merpeople,' Thares says with a light tone of sarcasm, "Because we can't be gender specific, the merpeople have to complete an application at the front desk. Then they go through a half hour interview process about their swimming background. The first checkmark is if they have to hold their nose under water. If they have to hold their nose under water they are ineligible to be a merperson. Why do they want to be a mermaid or merman?
"From there they go into a 10 minute swim tryout, based on swimming ability and audience appeal. Can they smile under water? Can they blow bubbles? If they survive that 10 minutes, then we put them in a tail for the next 10 minutes and hope they don't drown. At that point we're really looking for swimming ability.
"We don't care what they look like. They can be heavy, thin, it doesn't matter. We can do anything with the tails. It's really about if they're going to have fun when they're in there swimming."
On the night of my visit Tracy Nesbo is training rookie mermaid Alex Strom. During the day Tracy is a nurse's aid assistant in Great Falls. She has been a Montana Mermaid since Oct. 28, 2012. This will be Alex's first night. She is also a server at a Great Falls Applebee's and is studying to become a midwife.
Tracy explains,"I will show her how to put on our tails, jump in the pool and start acting like we're mermaids. You get into your zone. You go to the bottom of the pool and give the customers the 'fishy face.' You act like you're going to fish for them and reel them in. It's very therapeutic. It's a great workout."
"You have to keep your legs together (in the tail) so its mostly your upper arm strength, The hardest part of being a mermaid is sinking because you want to float to the surface. You learn how to stay down in the water. That's the hardest part. I think I can now hold my breath for a minute."
The Sip n' Dip is clearly the most breathtaking place in Great Falls.
The motor inn and lounge has an engaging, organic feel of authenticity. The Sip n' Dip did not just tumble out of the Big Sky like a hipster Chicago tiki bar with a wait line. 
It is a real place.
Thares nods her head and explains, "I always tell my staff, 'Don't promise more than what we are.' We are face value. People go, 'You don't have authentic tiki totem poles.' Well, I'm sorry about that, but you know what, I'm not changing that.
"Or, 'You should put the mermaids in a big rubber suit with a tail so they look more like a mermaid.' First of all, I hate to break it to everybody but mermaids really aren't real. We get asked that question 50 times a night.
"So maybe it doesn't look a lot like a mermaid—but it looks like our mermaid."
Thares was born in Great Falls and moved to Billings, Mt.. Her stepfather bought the motor hotel and lounge in 1968. "I became  part of his family in 1974," she says. "In 1976 he and my mom were in a very bad accident. We had to move in with my grandmother in Spokane. A cousin took over the business and he ran it until 1994. We were living in Billings Dad said, 'Do you want to  move to Great Falls and run the family business?' I said, 'Hell no,' but yeah, here I am 24 years later.
"Downtown Great Falls was thriving when this opened. We had J.C. Penney's downtown. Woolworth's, Bon Marche', which was a big department store. As with any other downtown in any other small town, it hit on hard times, But it's coming back. A microbrewery came in downtown. There's some new development. Its fun for us because we've always been the cornerstone of downtown Great Falls. And we've weathered the storm. We never meant for this to become a tourist attraction. And it has become that and we're trying to wrap our head around that."
And don't keep your head above the water.