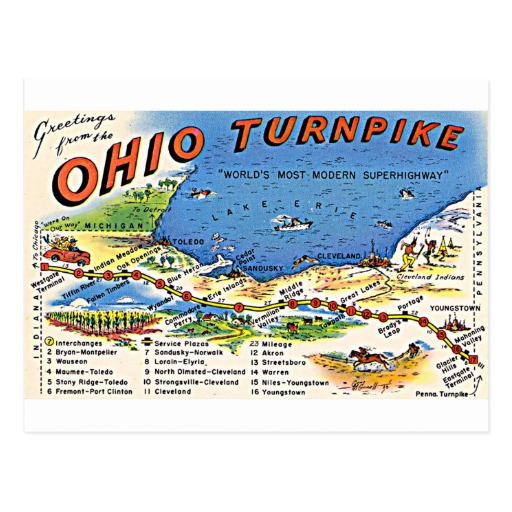 CLEVELAND, OH.–It is 347 miles from Chicago to Cleveland, Ohio
And 71 years.
Slow down and enjoy the ride. Don't let third base coaches Wendell Kim or Tony Muser wave you home.
Are we there yet? Are we there yet?
That's the call of the Cubs fan.
The autumn drive from Chicago to Cleveland is as humble as Kyle Hendricks. You cross the Calumet River, dart through the green, gold and yellow trees near Michigan City and see where homes are for sale at $499 a month at Arrowhead Lake near Toledo.
The red barns of western Ohio look like tomatoes on plates of wheat bread. Duck Tape World Headquarters are on I-90 outside of Cleveland, sealing the deal that this is no fancy trip. You can see for miles.
Open roads lead to open minds.
You play some good music, preferably Chicago singer-songwriters Steve Goodman, Mike Jordan and bassist-jazz violinist [and National Barn Dance musician] Johnny Frigo, who wrote the 1969 Cubs theme song "Hey, Hey, Holy Mackerel."
Take time to look in the rear view mirror. And smile. This journey is an extension of the past.
If you're like me you may see your parents, Fred and Stephanie bantering from the bleachers, Simon the Usher, Bob Beck, Carmella Hartigan and Mike Royko.
Our first year as Cubs season ticket holders was 1985 and we sat in the shadows of the grandstand near Royko and porn star Seka, a hot tomato who was dating Cubs pitching coach Billy Connors. It was cold down there. Mike Jordan called them good hangover seats. We moved to our current sun drenched seats in the southeast corner of the ballpark where we have a fine beer vendor named North.
Swerve around all the goats that have become road kill. It is 347 miles from Chicago to Cleveland, Ohio (I've also driven to Cleveland, Mississippi.)
There have been three dramatic passages in my life: Marriage in 1986, my parents deaths in 2016 and rebirth found in the 2016 World Series. Time moves fast. Remember that Opening Day 2013 lineup card at Wrigley with Cubs David DeJesus in left field, Nate Schierholtz in right and Brent Lillibridge at second base. Edwin Jackson started that home opener and lost 7-4 to the Braves. Thank Edwin Jackson, whose consistently lousy pitched allowed the Cubs to appear in this World Series.
My brother Doug and I grew up at Wrigley and we'll always remember attending the Cubs Rick and Paul Reuschel game in August, 1975–the only time in Major League history brothers have combined for a shutout. The last time I had a bed sheet banner confiscated from Wrigley was in 1979 when my dear friend Steve Lord and I rolled out a "Fire Franks" message during the reign of Cubs manager/Mike Vail hater Herman Franks. I dated in the right field bleachers during the summer of 1984 and again in Section 242. Like the Cubs, some day I will get it right.
These memories are what slows us down in the moment. Devotion is the compass on the 347 miles from Chicago to Cleveland.
In recent years Doug and my friend and old season ticket partner Angelo gave me copies of "Baseball as a Road to God" [Gotham Books] by John Sexton, president of New York University. Sexton has a PhD in History of American Religion from Fordham Univesity and teaches about the spiritual life of baseball in NYU courses.
When you fall down over and over you get up over and over. And then you search for what it all means. One of Sexton's starting points is the word ineffable (popularized by late Eastern philosopher Alan Watts), the things we know through experience rather than study. Sexton writes, "The word signifies the truths known in the soul."
The Cubs have shaped the soul more than any team in professional baseball. The drive to Cleveland is fueled by compassion, forgiveness, loyalty and hope. 347 miles and 71 years of hope.  Angelo and I were in the bleachers and I were in the bleachers on Aug. 29, 1989 when the Cubs came back from a 9-0 deficit to beat the Houston Astros 10-9 on a Dwight Smith 10th inning pinch hit. Dave Smith was the losing pitcher and of course he went on to become a Cub. Dwight Smith was also a fine singer and he knows soul is a feeling.
Soul is love. Soul is purpose. And soul is curated over time. The length of the baseball season lends itself to a community that is filling in some missing parts. Cubs fans are not alone in their quest for the end of the road. Cleveland hasn't won a World Series since 1948 when Bill Veeck owned the team.
Our collective memories and thoughts create a joyful kaleidoscope. This World Series is a chippy unifier for two maligned Rust Belt cities.
I got to Saturday's game early to take in the joy of a beautiful autumn afternoon. I was alone, but only in a physical sense.
I brought along "The Way of Baseball (Finding Stillness at 95 MPH)" by former Dodgers-Blue Jays outfielder Shawn Green. In his chapter "Gratitude" he writes. "When you peel away the layers of the ego and subdue your expectations regarding how the world should be, what's left?
"Only life itself."
That's how it is now for me. I'm on the road to Cleveland and I can see a little clearer. I saved my hand crafted Dominican Republic cigar from the Cooperstown Cigar Company for Saturday's post game events. I have one more cigar for this trip. On the way home I may roll down the window and smoke it. For no reason. For now life is a celebration and that's how the Chicago Cubs play America's game.