"Bobby" Lloyd Hicks.
What a great name, what a great man.
Bobby Lloyd Hicks–it sounded like he came from somewhere big and dusty, like Texas, an old Kansas City steakhouse or a Gary Cooper western. But no siree Bob, the modest Mr. Hicks was born in 1947 in tiny Marshalltown, Iowa, where in 1852 future Baseball Hall of Famer Adrian "Cap" Anson became the first European born in the farming community.
And Mr. Hicks was an ace of hearts.
He was the drummer-vocalist for the Skeletons/Morells/NRBQ and about 63 other bands, including the Ozark Mountain Daredevils where revolving members are known as "Sparedevils." Mr. Hicks died early Sunday in his adopted home town of Springfield, Mo. He had been fighting lung disease.
Springfield mayor Bob Stephens named Jan. 22, 2017 as Bobby Lloyd Hicks Day in Springfield and that night the local music community turned out in force for a benefit-tribute concert at the Fox Theater in Springfield to pay back for Mr. Hicks' goodwill towards Springfield arts. In the more than quarter century that I've been documenting the far-reaching Springfield  music scene, Mr. Hicks was a reliable vessel for history, insight and networking, He always returned calls and e-mails, even last week. He always smiled.
In the 1980s and 90s the Skeletons and Morells gained attention in Rolling Stone magazine and other national media outlets because their engaging sound was a hybrid of the mystical flotsam and jetsam in Springfield, the birthplace of Route 66. Mr. Hicks was the loyal time keeper that revealed a spirit with no musical prejudice. How do you describe the music he played to someone who never heard it? Beach Boys/Ramones/Dictators/Waylon Jennings/The Box Tops/Swingin' Medallions/Monkees/Sonny & Cher and that is only a beginning. The beat goes on and on.
The deep musical well was not lost on Grammy winning singer-songwriter Dave Alvin, who had kept in touch with Mr. Hicks over the last few months. In 1991 Alvin hired the Skeletons as the touring band behind his "Blue Boulevard" album. By 1993 Mr. Hicks was playing drums alongside iconic rhythm and blues saxophonist Lee Allen on Alvin's "Museum of Heart" record. From 1993 through 2006 Mr. Hicks and Skeletons keyboardist Joe Terry were part of Alvin's Guilty Men band.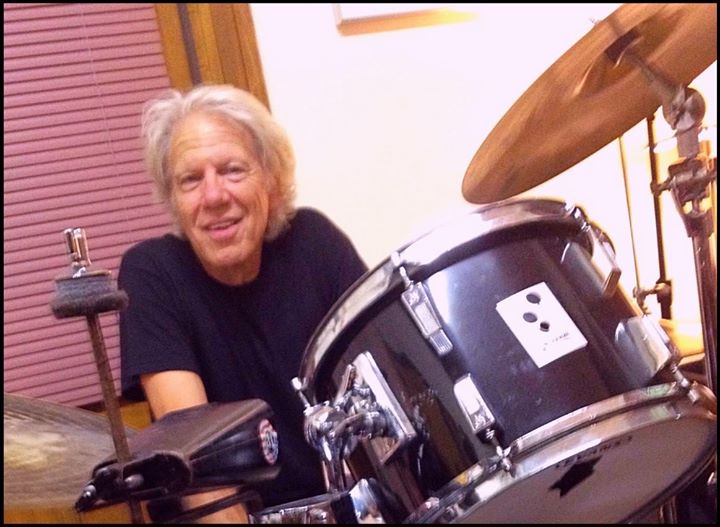 " I can throw anything at them and they can play it," Alvin once told me. "When we did that (1998 North American) Bob Dylan-Joni Mitchell-Dave Alvin) tour, Joni had Brian Blades playing drums, who was just amazing. His brother plays in Spyboy with Emmylou Harris. Those are the two best drummers I've seen in a long time and I'd put Bobby right with them."
"A lot of drummers don't understand harmony. Bobby understands music theory. I don't. And (the late) Donald Lindley (Alvin, Lucinda Williams) and Bobby were two of the best guys ever for understanding what it takes to be a song—different from just coming up with a drum part–to actually listen to the song, listen to the lyrics."
Over the years, under the considerable charms of late Skeletons and Morells bassist-producer Lou Whitney, Mr. Hicks, keyboardist Joe Terry, keyboardist Kelly Brown, guitarist D. Clinton Thompson, harmonica-vocalist Nick Sibley and others became Springfield's own "Wrecking Crew," playing behind the likes of Eric Ambel Scott Kempner, Andy Shernoff (The Del-Lords), Robbie Fulks, Jonathan Richman, Syd Straw, Boxcar Willie just to name a few.
Mr. Hicks moved to Springfield in 1965 to become a music teacher. His father William Herschel Hicks was raised in the Ozarks by Mr. Hicks' grandfather, an itinerant preacher. During the summer the family would travel from Iowa to the Springfield area to see family and enjoy the pristine lakes.
William Herschel Hicks managed the Kresge department store in Marshalltown. When Mr. Hicks was two years old William Herschel and his wife Genevieve gave their son a children's record player from the store.
The deal was done.
"The fascination of those spinning disc and the sound coming out of  the box," Mr. Hicks told me several years ago. "My Mom said I was on my knees all day. Then I'd take my records to bed. It was those (children's) Golden records but my parents had a lot of '78s. Big Band stuff and the crooners. We had a lot of novelty records too, for some reason."
This is probably why Mr. Hicks would sign holiday greetings, "Merry Christmas Cousin and a Happy Doodle-ee-dee!"
Mr. Hicks did not recall hearing African-American rhythm and blues and soul music in Marshalltown. "Black people all lived in one little neighborhood in Marshalltown," he said. "When we got in hight school we discovered WLAC (AM, nighttime rhythm and blues out of Nashville, Tn.) Wolfman Jack and all of that."
The family had a Grand piano in the living room. Genevieve was an accomplished pianist and Mr. Hicks' two older sisters took piano lessons along with Mr. Hicks. "But the Beatles changed everybody on what was fun to play," Mr. Hicks explained. "In fourth grade I went to play drums. We had a little band in high school called the Cooties. We played high school dances and stuff."
Mr. Hicks always remembered the first two albums he bought: Sandy Nelson's "Let There Be Drums" and the Jose Jimenez comedy LP "The Submarine Officer." He laughed, "I don't know which one had the biggest influence on me. But both of them did."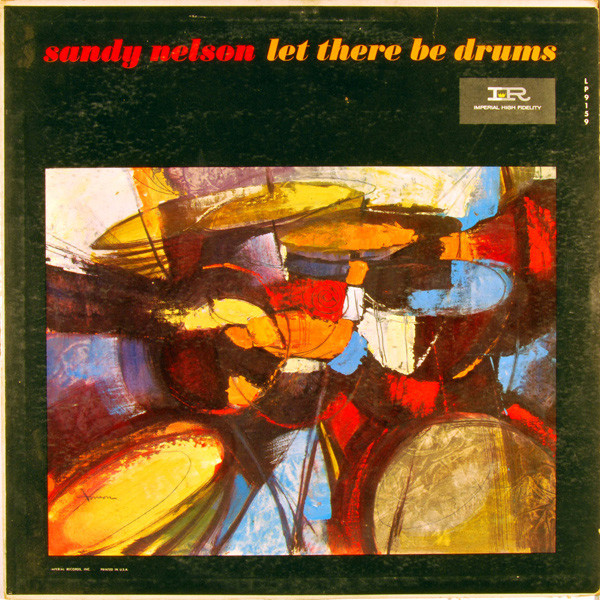 His parents were very religious. "They would rarely go to dances and movies," Mr. Hicks said. "They would complain every time I bought a rock n' roll '45, 'You're throwing your money away!' that kind of thing."
Later, behind the parental scenes, Mr. Hicks idols became jazz drummers Joe Morello (Dave Brubeck) and Louie Bellson. "Gene Krupa of course," he said. "I admired those guys but by fourth grade you're thinking you need real big sticks and rubber pads. I never had jazz chops. Bossa nova came along in the early '60s and that was fun and easy to play. But I've never had a good left hand. It was February, 1964 when the Beatles came out. Everything changed that night. In fact, in early 1964 we had a little folk group that won second place in competition at Grinnell (College in Grinnell, Iowa). The top three finishers got to do a spring concert with the Gateway Trio from San Francisco. In the meantime the Beatles had come on Ed Sullivan. So when we came back with our 'folk group' we had drums, Beatle jackets and we did 'She Loves You.' The judges were aghast."
In a deep folkloric drawl, Mr. Hicks loved to tell stories of the late 1960s rock music scene in Springfield when anyone could be a star. Mr. Hicks' measured manner and gentle country grin made him something of a Mark Twain character. He found that small town dreams were always approachable in Springfield.
"Oh yeah, to have a '45 here was a big deal," he said. His best pal through the 1960s was local soul-saxophonist Mike Bunge. "He had a band with horns, steps and suits, kind of like Bob Kuban and the In-Men (the St. Louis outfit who had the national 1966 soul hit with "The Cheater)," Mr. Hicks recalled. "They were called Lewie and the Seven Days. And there was only six of them"
Mr. Hicks enrolled at Southwest Missouri State University to obtain a teaching degree, but music got in the way. "It was a vibrant music scene in the late 1960s," he said. "A lot of bands.  No DJs. There was an atmosphere. In college it was mandatory to take two years of ROTC. So no guy in this town could grow hair over their ears. The first band I was in was Lord Mack and the Checkmates (band names were even awesome in the 1960s).  We made a contract where you can't play with other bands,  you have to make practice several times a week. And we buried way down there, 'Cannot cut hair for the contract year.' I took this to the ROTC commander and he signed a little paper that said I didn't have to cut my hair.. So there was only three of us on the entire campus of 3,000 that had long hair. I got stopped all the time by student officers. I'd have to get out my wallet, show them the paper and they'd get pissed.
"It was fun even though Viet Nam was looming overhead."
Mr. Hicks played Animals, Beatles and Rolling Stones covers. "Then I saw Lewie and the Seven Days," he said. "I thought, 'Yeah, this is where it is at. Really tight.' And they were managed by Si Siman and Si booked our band too."
"Si" Siman was a conduit for the Springfield music scene. He started the "Ozark Jubilee" television show in 1955 on ABC-TV. The Ozark Jubilee was the first television show in America to feature country-western music. The show was broadcast live on Saturday nights from the  since-razed Jewell Theater in downtown Springfield. Patsy Cline,  Johnny Cash and Webb Pierce all appeared on the Jubilee. Rockabilly singer Carl Perkins made his television debut on the Jubilee.
"Mike and I would get out of theory class and go hang out at Si's  office," Mr. Hicks recalled.  "Every day. (Late Springfield songwriters) Ronnie Self and Wayne Carson would come in We'd read Billboard magazine. They had a mono recording studio upstairs. Ronnie and Wayne recorded a lot of demos there. The radio station (KTWO-AM), "Keep Watching The Ozarks" was there." Siman was the station's vice-president.
Carson and Self wrote for the Earl Barton Publishing Company, also co-founded by Siman. Self wrote the Brenda Lee hits "I'm Sorry" and "Sweet Nothin's," and his "Waitin' For My Gin To Hit Me" became a Skeletons staple, while Carson was Barton's biggest success penning the Box Top hits "The Letter" and "Soul Deep," the late Gary Stewart country hits "Drinkin' Thing" and "She's Acting Single (I'm Drinking Double)" while co-writing the Elvis Presley smash "Always On My Mind," also a hit for Willie Nelson.
Mr. Hicks was going to school.
Dave Alvin was sold on Mr. Hicks' musicology while recording his acclaimed 1994 acoustic album "King of California." "I didn't have money in the budget to have Bobby on the whole sessions," Alvin said. "We at least got him out for a couple days of vocal harmonies because he is such a great singer. We had gone through two or three great drummers, Donald Lindley being one, that could not come up with a drum part to 'King of California" We cut that track live with the exception of the drums. Bobby walks in the studio, He'd never heard the song. He plays this drum part that is absoultely genius. And that was it. I feel this way about the Morells and Skeletons: if they weren't living in Springfield, if they were living in Nashville or Los Angeles, they'd all have been session guys making major money."

Between 2013 and 2015, Mr. Hicks was  drummer for the fine  pop-rock band NRBQ. When he was off the road with the Q, he gigged around Springfield. In the fall of 2014 I drove in from Chicago to see Mr. Hicks play 1950s-60s country music at  Luttrell's Auction and Live Music Barn on the north side of Springfield, There was little money in this gig. Mr Hicks promised this would be a memorable experience and he delivered.
Auctions started in the small, rickety barn in 1955, making it the oldest auction house west of the Mississippi River. Leona Williams, former wife of Merle Haggard was an occasional guest vocalist.  If  you liked the joyful old RR Ranch in downtown Chicago, you would love Luttell's Auction and Live Music Barn.
During my visits, the auction barn band featured Ozark Jubilee steel player Roger Blevins and country jazz guitarist Jerry Menown, sort of an Ozarks version of Speedy West and Jimmy Bryant.. "I bring the rock," Mr. Hicks told me after the show. He even sang a sterling version of the 1954 La Vern Baker hit "Tweedle Dee,"
Mr. Hicks smiled and said, " We play from 7 until 9. They like to get home early so they can go to church the next day. When these guys take a lead you have to smile because they still got it. Fat chords. Swing stuff. It's a joy to do it. My older brother lives in Detroit and came out for a show. He said, 'Man, this is a time warp.' People applaud anybody's solo. It's like a Porter Wagoner show from 1963.
"It's still unfiltered here."
One of Mr. Hicks' many gifts was to hear such purity even through the static of contemporary culture. Commitment and honesty always helped Bobby Lloyd Hicks recognize the American beat. That is no small thing.
Visitation for Bobby Lloyd Hicks is 5-7 p.m. Feb. 27 at the Gorman-Scharpf Funeral Home, 1947 E. Seminole St. in Springfield. A celebration of life begins at 5:30 p.m. Feb. 28 at the funeral home.