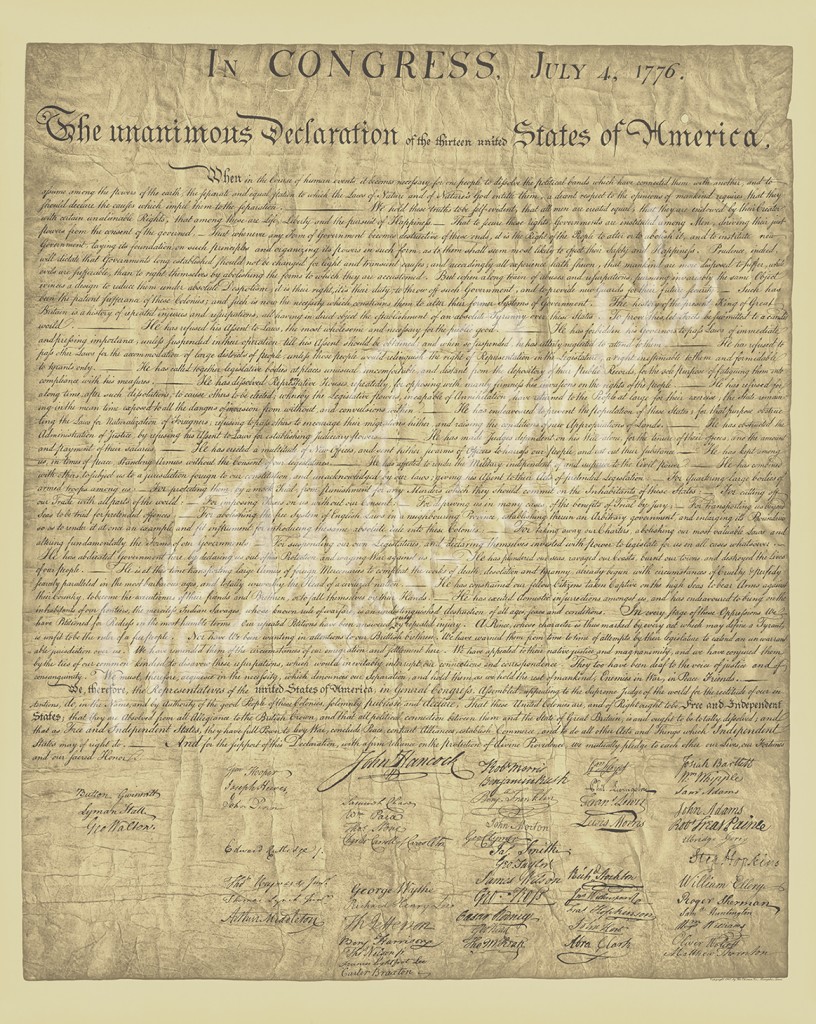 MOUNT MORRIS, Ill.–Ken Foss had a dream of opening a music store in a warehouse in rural Kingston, Illinois, about 20 miles from Rockford.
Foss changed his tune, when in the process of cleaning out the facility, he unearthed the American dreams of Theodore William Ohman.
Ohman was a lithograph printer.
His life was a symphony of red, white and blue.
A native of Czechoslovakia, Ohman was proud of his late 1930s  immigration to America as a little boy. As a grown man, he visited the Library of Congress to see the original Constitution and Declaration of Independence. Ohman viewed them in their tattered condition and vowed to reproduce the originals and spread them across America.
Back in America's more tranquil 2011 era, Foss found a dozen wooden crates filled with Ohman's press plates, glass negatives and positives used for the Constitution and Declaration. The previous warehouse tenants went bankrupt and walked away from the space. Foss opened the crates and also discovered negatives and positives of Ohman's relief maps of the United States from the late 1930s and early 1940s that were sponsored by Coca-Cola.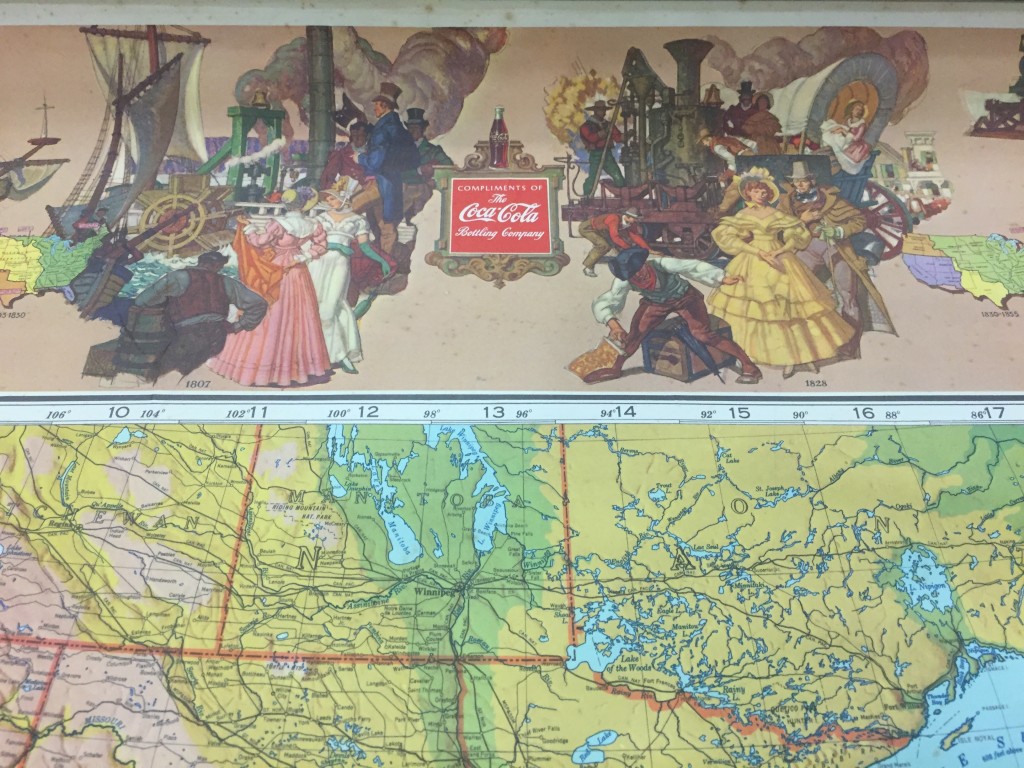 "I want to pick up where Theodore Ohman left off," Foss declared during a mid-May conversation at his cafe in Mount Morris. "HIs goal was to put these in every school across America. And that's what we're doing. I just had a couple come in and buy a Constitution to donate to the Oregon School District. Our country needs this. New plates have been made and we want to offer these to the American public. Our constitution is important.  I'd like to see these go to the schools, attorney's offices.
I'd like to see these go to the current occupant of the White House.
Foss sells 26" by 40" reproduction prints on parchment for $99 each at Wethepeopleprints.com. Shipping is free.
"We started doing research," Foss said. "I started calling a lot of places to authenticate. I had never seen anything like (black ink) on glass." Wisconsin appraiser Mark Moran worked with the Antiques Roadshow series. Foss paid for the appraisal and Moran estimated the Declaration lithographs created from Ohman's plates at $650 each. For his Declaration lithograph, Ohman used an engraving plate from 1823 and the last negative of the original Declaration before it was permanently sealed in the National Archives in the early 1900s.
No one knows how Ohman made copies of the Constitution, but Foss  discovered more than 10,000 Constitution copies in the crates. Those were done in 1953. "We believe he got sick and passed on and was never able to distribute the Constitution," Foss said. "Theodore Ohman had two kids who are deceased. He started his printing business in Memphis, Tennessee and move to Fort Lauderdale, Florida where he passed away. His printing plates, negatives, positives and maps went up for auction in Fort Lauderdale. A gentleman in De Kalb (Ill.) purchased all of it. And it was brought to his printing business here. He passed away, that estate sold and  this stuff got moved from one warehouse to another warehouse.
"And it got forgotten."
HERE is a nice trailer from videographer Melissa Tassone:
Foss, 57, is owner of McKendrie Street Cafe, a sandwich and coffee shop, ironically on 500 Evergreen Dr. in Mount Morris (pop. 3,100). He also owns the Below Zero ice cream and smoothie shop in downtown Mount Morris. Below Zero is across the street from the community band shell that features Wednesday and Friday night summer concerts.
Mount Morris is a cozy borough about 35 miles southwest of Rockford and 100 miles west of Chicago straight out on Route 64 (North Avenue.) A Mount Morris welcome sign on Route 64 says, "Let Freedom Ring!" Mount Morris is the home of the Illinois Freedom Bell, located in the town square. I have spent some time in Oregon, a small town about five miles east of Mount Morris, but I had never been to Mount Morris. If you want to pull the strings of a Mount Morris resident, just call their town a suburb of Oregon.
Village Trustee Jerry Stauffer met us at Foss's cafe. It was a big deal for me to drive my camper van out from Chicago.
Stauffer is a life-long Mount Morris resident who had been on the city planning commission for more than 40 years. His father was the town optometrist.
"Mount Morris lays in the middle of the cornfields out here," Stauffer said. "It is tranquil. It's safe. White Pines State Park is just south of us. There's also three other state parks in our vicinity. We have an old (seminary) college campus downtown. The college closed in 1938. Those buildings are still standing.
Ironically, Mount Morris roots are in printing and publishing. The Kable Brothers Printing Plant was the first and best known operation in Mount Morris.
"When they closed in 2011, it was 114 years of that establishment being here," Stauffer said. "At their peak they employed 1,800 to 2,000 people. We had firms in town that supported the industry. With the printing, the (Pinecrest Manor) nursing home and support places, we had 2,500 jobs in this town with a population of close to 3,000. That balance was unheard of.
"During the Depression it was said that Mount Morris and Hershey, Pennsylvania were the only two towns that were flourishing because everybody wanted to read and everybody wanted to eat chocolate. When everybody else was looking for work, that printing plant was going seven days a week, three shifts."
Foss said, "It is kind of crazy that all the stuff I found in the warehouse pertains to printing."
Stauffer added, "What's funny is that lithograph is a process we never did here. Offset and flatbeds in the old days."
With the land so flat with cornfields, where is the mountain in Mount Morris?
Stauffer smiled and answered, "I don't know how that came about but I do know we are the third or fourth (natural) highest spot in Illinois." I fact checked Stauffer, and indeed Mount Morris is 909 feet above sea level, while the hills of Galena, Ill, are 633 feet above sea level. Mount Morris is about 45 miles from the Mississippi River in Savanna, Ill.
Foss came to Mount Morris in the winter of 1979. He currently lives in Byron, about 12 miles from Mount Morris. Foss recruited Deanne Mazzochi of the College of Du Page Board of Trustees as an investor who underwrote the new print run and assisted with operational costs.
"We want to take this nationwide," Foss said. "To a level that Theodore Ohman had a hard time doing because the technology wasn't there. He reproduced the Declaration through purchasing a negative and a copy of the Declaration he found at a sale. He purchased it after 'much negotiation.' Well, if  you found one of those copies today it is worth $4 million. We don't know where the one he found is."
"His intentions were to donate his Declaration to the National Archives in Washington, D.C. We contacted them and they have his copy of the Declaration and Constitution but they don't have one of his prints. Thejeffersonians.com  (historians) says Theodore Ohman was the only person to reproduce the Declaration to its original condition."
Packaged within the crates was a certification pamphlet circa 1953 where Walter O. Mahan wrote "The Story of the Restoration."
Reproductions of the four page brochure are included with each We The People purchase. Of Ohman, he wrote in part, "…He saw his native land win the right of independent self-government as the Czechoslovakian Republic, and then, become prostrate and crushed by the might of vile dictatorship. He well knows that all the hope of the World is centered here in America, and today, with renewed confidence, he looks forward to the establishment of a World Peace, which shall guarantee for all, those principles set forth in the Declaration of Independence.
We need this.
Now.