NASHVILLE, Tn.—The guitar shaped electronic scoreboard always struck a chord with me.
It was a sweat-crawling evening in 1993 when I saw my first game at Herschel Greer Stadium, the home of the Class AAA Nashville Sounds. The 53-feet tall, 60-feet wide guitar scoreboard offered an immediate sense of where you were.
Music City. Big dreams.
The big ax in center field would be like having a handgun shaped scoreboard in Chicago. Or a parking meter.
On my first visit to Greer I heard about Conway Twitty being a part owner of the Sounds and that resonated with me. I liked country music then more than the pop stuff I hear on the radio today.
Well, now Conway is dead and Greer ain't feeling too good either.
After 37 years, Greer is making its last call. A new downtown stadium is being built on the historic site of Sulphur Dell (Athletic Park) where baseball was played between 1870 and 1963.
Greer is the third oldest Class AAA ballpark in America, behind McCoy Stadium in Pawtucket, R.I. (1942) and Cheney Stadium in Tacoma, Wash. (1960).
Greer is going out quietly. There is not a lot of fanfare and farewell promotions. I planned a late June Nashville trip to get a commemorative Greer Stadium giveaway. Something went wrong in production and I walked away with a Don Mattingly Sounds tee shirt. He played for the Sounds in 1981.
My favorite minor league baseball scoreboard was not up to par. The temperature section of the scoreboard did not work because old parts are hard to find. At one time a Jack Daniel's logo adorned the pegheads on the neck of the guitar. Now there are yellow smiley faces.
Die-hard locals talk about the ramshackle condition of the stadium (cap. 10,300) as if it were a crazy uncle. Bleacher seats are weather beaten. The concourses are Greer are moldy and rusty. That's why I find Greer so beautiful.
Everything doesn't have to be clean and pretty. The best country music is ragged but right.
Honesty was in the air when I visited Greer and that is a good thing.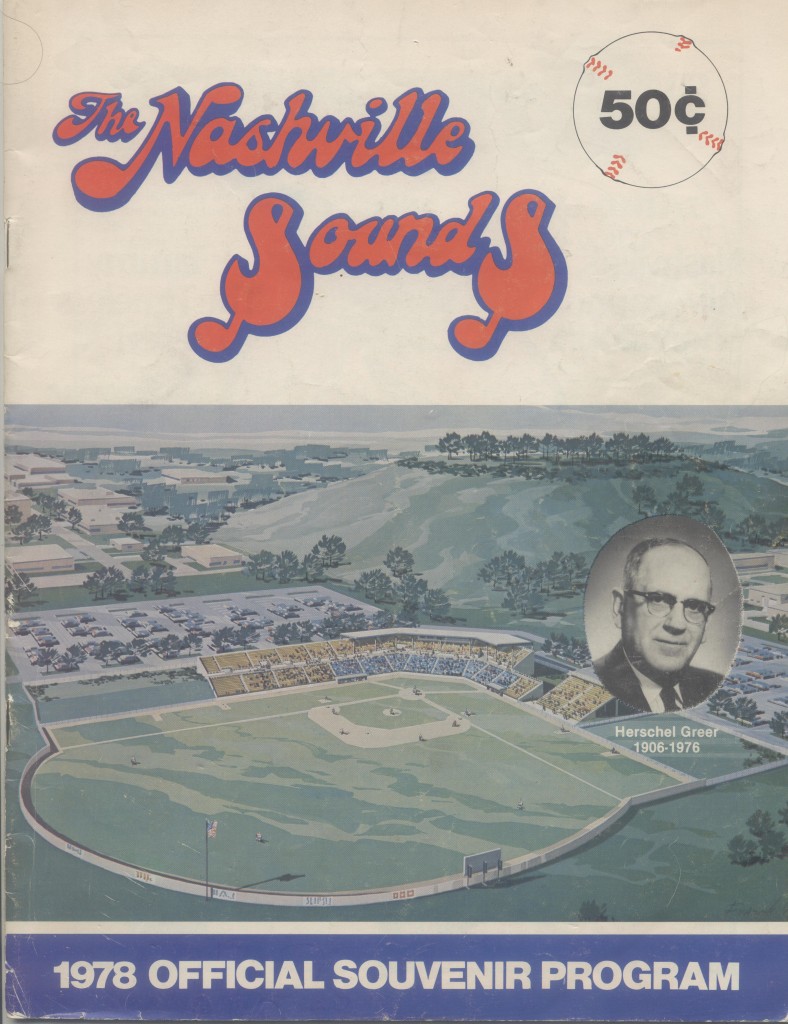 I met Farrell Owens, the first Sounds general manager (1978-82). His father Leonard was a Church of Christ minister and Owens speaks with the deep and pure rhythms of a preacher. I met Sounds historian Bill Traughber, a thorough man who sends me background stories in the middle of the night. Memories always come alive in the dark. I watched the game with my brother Doug, who lives in Nashville. We kept score.
"For when the One Great Scorer comes
To mark against your name,
He writes – not that you won or lost –
But how you played the Game."—Grantland Rice.
Doug and I discussed the idea of writing this dispatch in the overly poetic style of Tennessee sportswriter Grantland Rice. It was Grantland who tagged Athletic Park with the name Sulphur Dell. Athletic Park was built in an area known as "Sulphur Springs Bottom" because of a natural sulphur spring.
"The story goes that in 1908 'Dell' made it easier for him to find words to rhyme with," Traughber said.
And during my June visit a gentle rain came over Greer towards the end of top Brewer prospect Jimmy Nelson's 5-0 masterpiece over New Orleans.
Evoking the spirit of Grantland, I told my brother the raindrops were honey-soaked tears in my beer at Greer. He did not walk away.
Before my final game at Greer I met Owens and Traughber in the grandstands behind home plate.
Owens looked out at the stadium and said, "It's changed some but the guts are the same. We didn't have suites."
Owens pointed to a cluster of faded blue seats behind the first base dugout. "We got those seats from the (Fulton-County Stadium) outfield from the Atlanta Braves," he said.  "We were not a new stadium when we were new. We didn't have electricity 30 minutes before the game. But people came, drank their beer and ate their hot dogs. We won. Everyone was happy." Nashville beat Savannah 12-4, even though Sounds relief pitcher Larry Rothschild gave up three runes in one-third of an inning.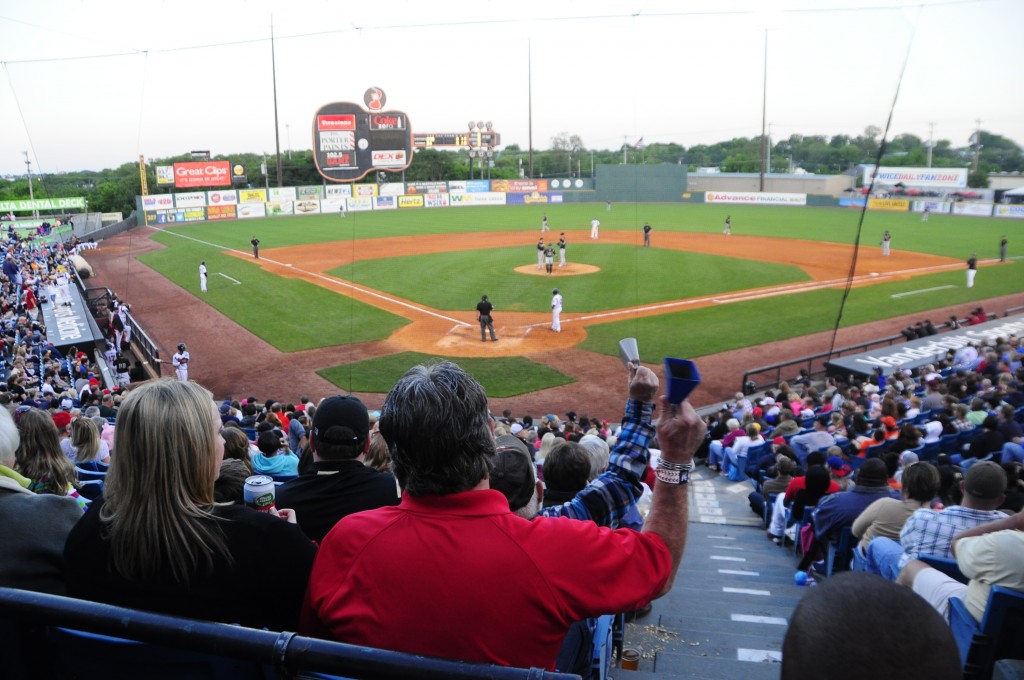 Herschel Greer (1906-1976) was a successful Nashville financier and huge baseball fan. He served as the first president of the Vols, Inc. which kept professional baseball alive in Nashville.
The Vols (Volunteers) were the name of the team that played in Nashville between 1901 and 1963 and included alumni like Kiki Cuyler and future Cincinnati Reds Jim Maloney and Jim O'Toole. Greer Stadium was built for $780,000 in seven months on the site of four church league softball fields.
Larry Schmittou was the original owner of the Sounds. He operated the team from its 1978 beginning until 1996 when he retired from minor league baseball. "It was the mid-1990s (1993) when he wanted to do that scoreboard," Owens said. "At the beginning Larry and I thought we were going to sell enough season tickets and we couldn't. We decided to form a partnership."
The major investors included country stars Twitty, Larry Gatiln, Cal Smith, Jerry "Amos Moses" Reed and Richard Sterban (bass singer of the Oak Ridge Boys). This is why they are called the Sounds.
"(Bill Anderson, Dottie West drummer) Snuffy Miller liked the idea," Owens said. "He talked to Conway about it. Conway loved baseball. Conway said he'd get Cal Smith, the country bumpkin. Know him? Conway took 20 per cent. Conway would call wanting to know what the score was. I don't know where he was calling from." Miller retired from the music business and became a bus driver for the Sounds.
Owens said, "Richard Sterban started coming to every game. He kept wanting me to sell my seven and a half per cent. So I sold him two and a half. He was in until this new regime (East Coast real estate developer Frank Ward bought the Sounds after the 2009 season.) A couple years ago the Sounds had a Richard Sterban bobble head night. "National Anthem" guests have included country stars Lorrie Morgan and Boots Randolph.
"Roy Acuff just loved coming here," Owens continued. . I remember seeing Emmylou Harris and NRBQ'S Joey Spampinato  (who was married to the late Skeeter Davis) sitting behind the Sounds dugout during one visit. "Emmylou is here a lot," Owens said.
"Barbara Mandrell was here all the time. She's a sweetheart. Loretta Lynn. Charley Pride (former Negro League player) was here, not as much as the others. We don't think anything about it. But Jimmy Bragan (late Southern League president) and his brother Bobby would get star struck if they saw country stars in the stands. When we got ready to bring pro ball back to Nashville that really helped us. They would say, 'Do you know Roy Acuff? We didn't but after the first pitch we got to know him. It was a place to be seen. Hopefully when we get the new stadium it will get back like that."
Some beloved ghosts will be left behind at Greer.
Joe "Black Cat" Riley was the colorful type of fan who stands out in the intimacy of ramshackle minor league ballparks. "He went back to Sulphur Dell, selling programs, whatever," Owens said. "He had some intellectual disabilities. A loveable guy. He thought he could put the black cat on you. When George Steinbrenner came here in 1980 (as a Yankees affiliate) they became instant friends." Riley told Steinbrenner he always wanted to be a Yankees bat boy. For the next few years Steinbrenner brought Riley to spring training in Florida to serve as the team's bat boy, wearing the classic pinstripes.
Orioles manager Buck Showalter was the Sounds 1980 opening day DH when they were a Yankees affiliate. Showalter was more reserved than he is today and shyly told Owens he was interested in dating a "Soundette" cheerleader named Angela.
They have now been married 31 years.
The new Sulphur Dell stadium will be called First Tennessee Park. It is scheduled to be completed by opening day, 2015. First Tennessee Park is just north of downtown and along the Sulphur Dell banks of the Cumberland River. Ironically, Nashville is a member of the Pacific Coast League.
Sulphur Dell's right field fence was only 262 feet from home plate and the base of the fence was just 25 feet above the infield. Pitchers called the place "Suffer Hell." In 1954 future Chicago Cub Bob Lennon hit 64 home runs for the Nashville Vols, establishing a Southern Association record. Lennon, who was left-handed, smacked 42 of his taters at Sulphur Dell.
Owens, 70, grew up going to games at the Dell. "I thought every field was 262 to right and had a dump in right field," he said. The sulphur spring beyond right field was stinky but that didn't prevent residents from filling up buckets of spring water for medicinal purposes. Hee-Haw!
"We heard stories that when Babe Ruth came here they wouldn't let him play right field.," Owens said. "They moved him to left. My Dad would hold summer time revivals to get us through school, buy our clothes I guess. The revivals would start at the same time the ball game did. But when church was over, we'd go to Sulphur Dell. Because you could always get in by the seventh inning stretch. It was free. I remember hearing Jim Maloney throwing the ball. You could hear the pop in the catcher's mitt on the radio."
Archaeologists are monitoring the building of the new ball park.
Earlier this year Native American pottery, ceramics and animal bones were discovered while unearthing the site. No human remains have been found. First Tennessee Park is not the first baseball stadium to be built on an ancient burial ground. Many reports say Wrigley Field is "an ivy-covered burial ground," as late Chicago songwriter Steve Goodman put it in "A Dying Cub Fan's Last Request."
No one is sure what will happen to the dying guitar scoreboard at Greer. It was estimated to cost nearly $1 million to move and restore it to the new stadium. But a new, 4,200- high definition scoreboard will be featured at First Tennessee Park. It will be one of the largest scoreboards in minor league baseball.
"That is an  absolute must," Toronto pitcher and Nashville native R.A. Dickey said in the Nashville Tennessean. "I might have boycotted all future games if they changed it. I grew up with that scoreboard. So many great memories." Shredders unite. As Grantland Rice might write, it's a new highway to Dell.