A couple weeks ago I saw my pal Jimmy Rittenberg at Gibson's Bar and Steakhouse, 1028 N. Rush for an interview on the most comprehensive book about Disco Demolition you will read.
Rittenberg was the impresario of Faces, 940 N. Rush, arguably America's best known disco. It certainly had a longer run  (1971-89) than Studio 54.
Like a Frank Sinatra ballad, our conversation floated off into the dreamy 1970s memories of Rush Street; a time when footsteps were lighter and the Jack was stronger.
Soon we were joined at our table in the bar by comedian Tom Dreesen.
This guy is everywhere.
He was on my WGN Nocturnal Journal radio show in May  and now he was in Chicago to throw out the first pitch at a Cubs-Dodgers game.
Dreesen told a few good stories at Gibson's  but I loved his recollection about his bit role in the 1971 movie "T.R. Baskin," which starred Candice Bergen as a young woman from rural Ohio who meets sleazy guys in the big city.
The mostly panned movie was shot in Chicago and included scenes at the now-gone O'Connell's Coffee Shop on Rush street. The coffee shop wasn't far from Punchinello's, 936 N. Rush, a popular after-show spot for acts at the Shubert  Theater and Mr. Kelly's—now Gibson's. The second floor Punchinello's is also where comedienne-singer Pudgy got her big break.
 "I just had a couple of lines," Dreesen said. "But in the movie with me was a gay kid who worked at Punchinello's. He was one of the first gay guys back in those days who buffed, who wore the tight shirts and everything. And his name was Bon-Bon which I thought was the greatest name for a guy in a movie. Everybody liked him and he was a likeable kid.
"George Maharis was working at Mister Kelly's. He goes down to Punchinello's and he likes Bon-Bon. But George wasn't out of the closet in those days. I don't if he ever was out of the closet."
Rittenberg leaned over and said, "He is now!"
Actually, Maharis was arrested in 1974 for  on a sex perversion charge with perfectly named male hairdresser Perfecto Telles in the bathroom of a Los Angeles gas station. Just a year earlier Maharis posed nude for "Playgirl" magazine.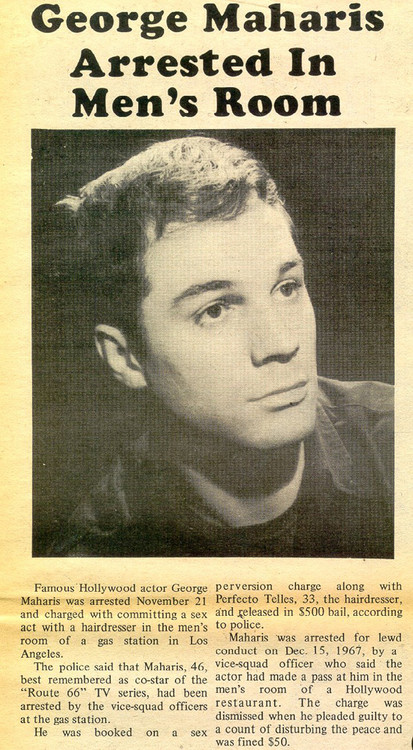 "George Mahraris was (Buz Murdock) on Route 66," Dreesen continued. "So Maharis sees Bon-Bon and makes a move. He says, 'Would you like to go out later?' Well Bon-Bon says 'Yes!, are you kidding?' Bon-Bon tells Maharis he's going to get off in five minutes and Maharis says 'I'm going to leave, meet me on the corner."
Dreesen looked over his shoulder to distant characters on a different Rush Street.
With impeccable pacing he continued, "Bon-Bon was disappointed because he wanted his friends to see him. So Maharis is walking through the restaurant going out and Bon-Bon starts walking behind him."
And Dreesen started tip toeing around the crowded restaurant bar, smiling with sealed lips as he pointed to an imaginary Maharis. "All the other gay guys are applauding Bon- Bon," Dreesen said. " And Maharis is beaming and going 'Thank you, thank you!'
"It was a scene I could put in a movie."
Rittenberg and I took it all in.
Rittenberg was born in 1943 and grew up in West Garfield Park. His father James, Sr. was a Jackson Boulevard bus driver for Chicago Motor Coach, his mother Lucille was a telephone operator. "My Mom was a music buff but I hated a lot of her music," he said. "I remember breaking 'Sentimental Journey' by accident on purpose. Then when '45s came out I ruled the roost, 'Razzle Dazzle' by Bill Haley, Chuck Berry and Little Richard was my favorite. I played 'Lucille' and my mother hated it."
He broke onto the Rush Street scene tending bar at the original Store, 1030 N. State, which previously had been the Gate of Horn, where in 1962 Lenny Bruce and George Carlin were arrested on obscenity charges.
"Rush Street was different than State Street," Rittenberg explained. "Rush Street was a little dressier. I made $6 a night in tips bartending at the Store, when I moved to Jay's (1026 N. Rush) I was a school teacher so I only worked Friday and Saturday nights. I made a $150 a night."
Rittenberg taught sixth and seventh grade and coached baseball and basketball for six years at St. Francis Cabrini at Sacramento and Polk. "I go back to the Marienthals, Chez Paree," he said. "I learned from those guys." George and Oscar Marienthal owned Mr. Kelly's, the Happy Medium and the London House in the north Loop. Rittenberg declared, " Rush Street has been destroyed.  I tell (Gibson's owner Steve) Lombardo that all the time. No more hookers, no more jazz joints. Its turned into restaurant row and now clothing."
And life is more fun when you peel back the layers.