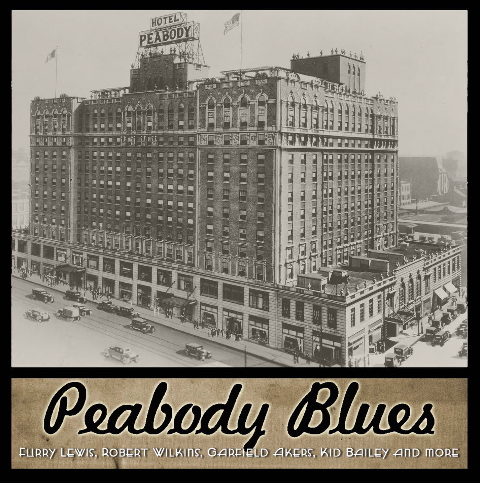 MEMPHIS, Tn.—Some evocative field recordings were done in the South's finest hotel.
A couple months ago "Peabody Blues" was released on the new Nehi Records label out of London, England. The Delta blues and string band  recordings were made Sept. 22-25, 1929 in a guest room at the Peabody Hotel in downtown Memphis for the  Brunswick/Vocalion label.
Artists include Furry Lewis, Mississippi bluesman Charlie McCoy and Robert Wilkins, whose "That's No Way To Get Along" was poached by the Rolling Stones for their "Prodigal Son" on the 1968 "Beggar's Banquet" LP.
The 26 single-CD recordings were issued as '78s and it is from copies of those 78s that the "Peabody Blues" material was gathered. The '78s were in the collections of blues enthusiasts.
Russell Beecher is the Nehi owner and "Peabody Blues" is his debut project. In an e-mail he explained, "The original recording equipment in 1929 would have been a  conventional microphone recording process, going onto an acetate  master that would then be used as the source for all of the issued  78s. The 78s were in varying shape but we tried our best to find the cleanest source and then put the versions we  had found through two different mastering processes to try and clean  them up as well as possible without losing any of the integrity of  the original recordings."
A segregated Beale Street was jumping just a couple blocks from the Peabody.
The original Peabody opened in 1869. The current Peabody with its marble fountain and swimming ducks opened in 1925 in downtown Memphis.
Between 1927 and 1929 the Beale Street Shieks (Guitarist Dan Sane and Frank Stokes) were popular street performers on Beale and, in fact cut their 1927 debut record for Paramount Records. Paramount was based in Grafton, Wis. and last year was honored by Jack White in the 800-MP3 track "The Rise and Fall of Paramount Records."
Did any of the Peabody musicians come from the Beale Street scene?
"I wouldn't say any were 'discovered' on Beale Street but plenty played there," Beecher answered.
"Some, like Furry Lewis and Jenny Pope, lived in the city. Hernando, not far away, in North  Mississippi, provided quite a few of the artists such  as Robert Wilkins and Garfield Akers. The talent scout who arranged  the sessions, H. C. Speir, was based in Jackson, Mississippi, and so  some of the artists were known to him from there such as Walter  Vinson and Charlie McCoy. Jackson had a very vibrant blues scene."
Beecher's spinoff from "Peabody Blues" is "Jackson Stomp," which features McCoy, one of the most important figures in pre-war Blues, via his own work or backing others. Beecher wrote, " McCoy's versatility meant that he was in demand from influential artists such as  Bo Carter, Johnnie Temple, Sonny Boy Williamson, Will Weldon, Memphis Minnie, and many others." Furry Lewis delivers intense alternate takes of "John Henry *The Steel Driving Man) and country blues singer Jenny Pope begins "Whiskey Drinking Blues" by asking, "Have you ever woke up with whiskey drinking on your mind?" Her material is just as vital as today's Fat Possum catalog from North Mississippi.
The new-fangled development of portable recording enabled companies to branch out into music.
The Vocalion label for which the Peabody posse recorded were also instrument makers. Paramount Records was born in 1917 as a subsidiary of the Wisconsin Chair Company. Wisconsin Chair also made wooden cabinets for Edison phonographs. Artists like Louis Armstrong and King Oliver recorded for Paramount and the chair company even built a pressing plant along the Milwaukee River, 10 miles southwest of Port Washington, Wis.
Beecher is 36 years old. He said he has been listening to blues since the age of 11. He has been  involved in the production of hundreds of albums for his  own labels, as well as for other companies, including assembling the Snapper Records 'Complete Blues' series that accompanied  the Martin Scorsese series of blues documentaries. Beecher also co-wrote "Barrett," released in 2011, the definitive work on Pink Floyd co-founder Syd Barrett.
The Peabody has a strong history with music apart from the rock n' roll bands who stay there today.
Sun Records founder Sam Phillips engineered live broadcasts of Glenn Miller and Tommy Dorsey from the Hotel Peabody Skyway from 1945 to 1950, when he opened a "very modest" recording studio called Memphis Recording Service in a former radiator shop at 706 Union in Memphis. That turned out to be Sun Records.
Once the studio was open, he would use the big-band income to stock his studio.  So the Peabody was the first Kickstarter campaign for rock n' roll.
"I would buy a little piece of equipment at a time,"  Phillips told me in a 1987 interview in his modest Memphis home "Gosh, I had a little four-position mixer to begin with."
Phillips was hooked.
"There was a religious fervor to experiment," he said. [The full Sam Phillips interview can be found under the MUSIC tab of this website.]
In July, 1956, not long after Presley left Sun photos of the future king were taken in a 6th Floor guest room at the  Peabody. These pictures were part of a series of photos taken in Memphis for a story in "Parade" magazine.
Kelly Earnest, director of public relations for the hotel said, "According to journalist Lloyd Shearer, Elvis referred to them as 'my first glamour pinups' and asked not to be photographed while smiling.And the hotel's recent research uncovered the fact that Elvis Presley signed his November, 1955 RCA recording contract in the hotel lobby.
The Peabody is still discovering archives from when the hotel was closed on April 1, 1974. There were 53 guests in 617 rooms on the final business day.  in the 1970s and slated for demolition. The restored Peabody reopened in 1981. I began hanging around the Peabody in 1985, even when I wasn't a guest.
The Peabody is offering a Summertime Blues & BBQ package that includes the CD, at $209 a night plus tax, double occupancy along with a downtown trolley pass, self parking and athletic club access. Call 1-800-PEABODY and ask for the package. The Peabody Blues CD is also on sale in the hotel gift shop.
Years ago I used to drive to Memphis to see the Memphis Chicks play Southern League baseball in Tim McCarver Stadium and then catch Booker T & MG's offshoot The Coolers on the weekly rooftop party at the  Peabody. The traditional event is still going strong, and may I recommend the Molly Ringwalds on May 22. Here is the full Peabody Rooftop Party schedule.