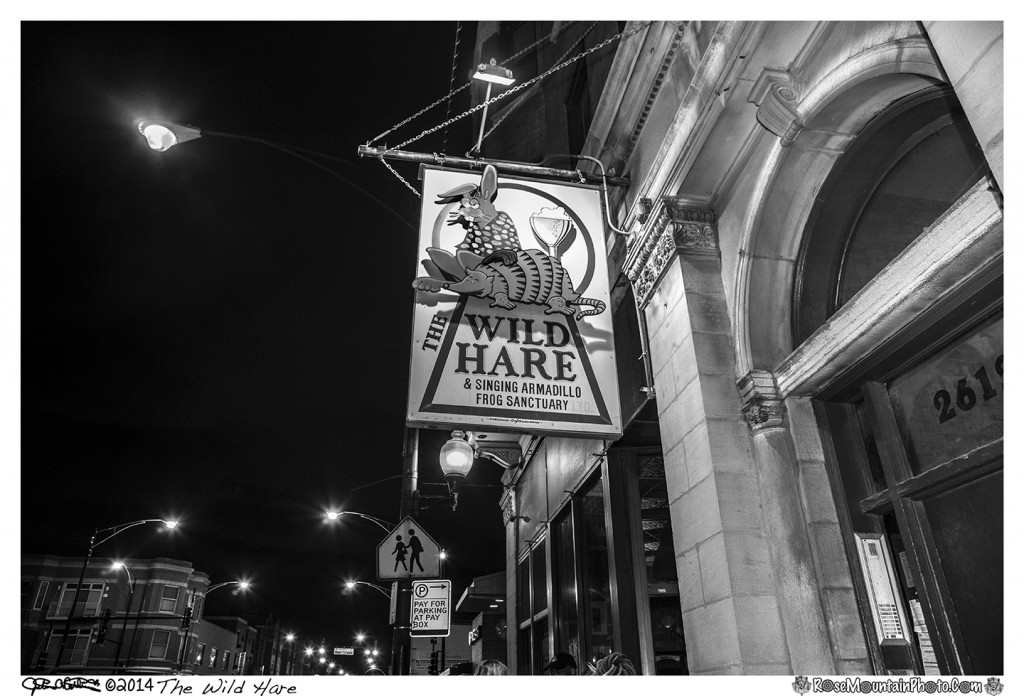 Get up. Stand up.
Live music is back at the iconic Wild Hare reggae club.
A two-year battle to present concerts at the Wild Hare, 2600 N. Halsted in Chicago, culminated on July 29 when the club announced a series of free shows to begin on Aug. 1.
The popular Chicago reggae band Gizzae will appear with Dub Dis, Fucha and Friends at 9 p.m. Aug. 1. Indika, Gizzae with vocalist Ugoch, a.k.a. "The African Butterfly," , Drea, Boombostic and friends will perform at 9 p.m. Aug. 2. A bunch of local musicians will jam out with roots reggae music in a Lollapalooza after party on Sunday, Aug. 3.
Expect live music on Thursdays through Sundays, according to partner Asrat Selassie. He co-founded the original Wild Hare in 1985 at its 3530 N. Clark St. location in the shadow of Wrigley Field.
Over the past two years efforts to obtain a PPA (Public Place of Amusement) license had been denied at least three times by the city.  Alderman Michelle Smith (43rd) said her constituents were concerned about traffic and late live music hours—even though the Wild Hare is just a block north from the Kingston Mines blues club (open until 4 a.m. and 5 a.m. Sunday) and B.L.U.E.S.
The Wild Hare had been arguing for the right to have live music since it opened in mid-July, 2012 in a former Notre Dame-themed sports bar.
I bet they weren't noisy at all.
Nosiree Bob. Marley.
"The city wanted a compromise proposal and our attorney (Thomas R. Raines) advised us we could settle this out of court," Sellassie said on Tuesday night.
The Wild Hare came up with a compromise and the city accepted it.
The major pivot point was the club's agreement to end live shows an hour before 2 a.m. closing on all nights but the 3 a.m. Saturday closing. The Wild Hare also is providing free parking validation or voucher for any patron with paid admission for a live concert  at the Home Depot across the street. On other days the lot will offer  $5 discount parking.
For the past two years the Wild Hare has been serving Caribbean food and the only music has previously recorded tracks. Don't miss the authentic pimento wood-smoked jerk with seasoning and pimento imported from Jamaica.
Sellassie said the dragged out court fight cost the Wild Hare "about $100,000."
Why did the Wild Hare hang in there?
"First, we thought we were right," he answered. "Second, we had committed to a (5-year) lease. There was no way out of it. We would have lost a lot more if we had just walked out. We didn't want the Wild Hare to die."
The Wild Hare is arguably one of the most historic reggae clubs in America.
It is at least important to Chicago's emerging world culture as a Star Wars museum on prime lakefront property.
Toots and the Maytals, Billy "Caribbean Queen" Ocean and Jimmy Cliff appeared at the Hare. In the late 1990s Lauryn Hill met her future companion Rohan Marley at the Wild Hare after a Fugees concert. Toots and the Maytals headlined the club in 2008.
The club's first national booking are  The Meditations on Aug. 16. The Meditations laid down background vocals for Bob Marley, Gregory Isaacs and others.
The Wild Hare is a point of entry for tourists and Caribbean immigrants to Chicago.
Selassie was born in Ethiopia and came to the United States as a pre-med student in 1973, attending Illinois Wesleyan University in Bloomington. I met him in 1982 when he was drummer of the Ethiopian reggae band Dallol, which played its first show at the Wild Hare & Singing Armadillo Frog Sanctuary–then a country music bar. Selassie and his bandmates took over operation of the Wild Hare in 1985.
About 3,000 Ethiopians live in Chicago, many of them refugees who fled the Communist regime of  Mengistu Haile Mariam (1974-1991).
In late 2012, the Wild Hare delivered to the city a petition of nearly 1,000 signatures of support from across the country. Musicians such as Stephen Marley, Junior Marvin of the Wailers and Toots Hibbert of Toots and the Maytals came out in  support of the Wild Hare's quest for live music.
The entire club holds 260 people. The 155-seat concert room is smaller than the original Wild Hare's capacity of 400 people. In order to accommodate neighborhood concerns, soundproofing measures have been taken to a higher level.  A floating three-layer sound proof ceiling has been installed in the music room. A high stage features double curtains including the original velour Wild Hare stage curtain that baffles sound behind the performers.
Besides Selassie, current partnership consists of audio engineer Joel McCarthy, Ruphael Woldermariam, who is Gizzae's keyboardist and William V. Glastris, Jr., a Chicago private equity investor and former concerts director for the A&O Board at Northwestern University. Glastris said, "We tested the sound system to make sure we were good neighbors. We had the city , the alderman, building department and our neighbors in and showed them the work we had done. We were very well received."
On Wednesday afternoon Mika Stambaugh, Director of Communications for the city's Business Affairs and Consumer Protection (BACP) said, "A plan of operation is in place to ensure the concerns of the community continue to be addressed. The City Of Chicago is committed to keeping responsible businesses open and healthy throughout all neighborhoods."
Glastris said, "We are so excited for the artists, local fans and many visitors who have long come to Chicago to see live reggae. We were very fortunate to have so many supporters in Chicago and all over the reggae world who stuck with us and are very thankful that we were able to work out an agreement with the city that was fair and responsive to the needs of the neighborhood.  We are all about harmony – everyone is truly welcome at The Wild Hare. This was a community  effort.
"This weekend is going to be a feel good event."
Selassie added, "The support was sustaining. At no time did we ever feel alone."