Fiona Prine knows a few things about turning the page.
It has been 21 years since she moved to the United States. Fiona Whelan met her future husband, Maywood, Ill.-born singer-songwriter-storyteller John Prine when she was working in a recording studio in Dublin, Ireland. They married and she moved to Nashville, Tn. where they have raised three boys.
Fiona has said she heard all the words in the old country then found her voice in this country. Her sense of discovery takes her to San Francisco this weekend to visit Chilelan novelist Isabelle Allende in support of the Nashville-based Thistle Farms charity for which she is a full-time volunteer.
Meanwhile, at 8 p.m. Nov. 1 her husband will be appearing at the Pabst Theater in Milwaukee. John's good rockin' brother Billy and his band will be opening for Heartsfield at 8:30 p.m. Nov. 1 at FitzGerald's in Berwyn.
You will hear songs of hope, from here to there.
Thistle Farms manufactures and distributes natural bath and body products, available in more than 200 stores nationwide. It employs residents and graduates of Magdalene, a Nashville-based residential program for survivors of prostitution, human trafficking, addiction and streets with dead ends.
Thistle Farms is a timely topic for the Chicago area with this month's discovery of the murders of several prostitutes in Northwest Indiana. A convicted sex offender is in custody.
"I make no secret of the fact I'm in recovery," Fiona said earlier this week in a conversation from Nashville. "This appeals to me on many levels. These are women who are recovering from very many things. The fact that many of them came off the streets drug addicted is part of their story, but not the whole story. I have connected with them my own journey of recovery from childhood trauma, my own alcohol abuse and the rest of it. It was a no-brainer.
"And the fact it is all-woman focused was appealing to me. When I came here I had no family. Essentially it was John and the family we built together. Once John's mother died there was nobody else here."
Fiona became involved with the organization in 2004. She actually learned about it through her son Tommy, who became best buds with Caney Hummon, the son of Thistle Farms founder Becca Stevens. They were classmates at University School of Nashville (disclaimer alert–where my nephew Jude attends school). Stevens is an Episcopal priest who is married to Nashville singer-songwriter Marcus Hummon.
"The thistle is a perceived weed that will literally grow anywhere," she said. "Then there's derlict, dirty streets that the women walked when they were still out there. Thistles will grow between the cracks of the pavements. Becca noticed this. So now people all over the country send thistles to us. We use thistles to make our paper." The paper is used for greeting cards, tee-shirst and very handsome bookmarks……
……..To remember where you have been.
Thistle Farms has an annual October fund-raiser and during her early years with the organization Fiona helped recruit artists. Jeff Hanna of the Nitty Gritty Dirt Band, Jennifer Nettles and oh yes, John Prine have performed t the events. "Magadelen and Thistle Farms take no funding from any governmental source," she said. "It is all private donations. John played the second or third year I was involved and things got amped up a little bit. Gretchen Peters did a beautiful concert for us. So has Marshall Chapman. Becca is a very compelling and visionary character. Her message is simple.
"Love is the most healing force on the planet."
Sometimes the planet appears as a shattered childhood ornament. "The women come in and they are broken in every imaginable way," Fiona explained. "Physcially, emotionaly, spiritually, psychologically. The very simple thing of a woman getting out of prison, typically at two in the morning. They are at the front door with their plastic bags. They've been in maybe a week, maybe three months. Unless there is someone there to pick them up, bring them somewhere safe to sleep that night, they're going to go right back in the neighborhood."
Becca's idea was to secure a house as a safe place for women off the streets. No charge. No strings attached. A "Hello In There" kind of place. The place is called Magdalene and women reside there for two years.
"They are given a key to the house and it is a model that has worked," Fiona said. "When she has been in the program for three weeks she starts earning a stipend. That money is given to her so she doesn't have to turn a trick to buy a pack of cigarettes. We've never had any break-ins, we've never had a murder. More than eighty per cent of the women who stay for the two years are still clean and sober two years later. We have lots of resources in the community. We have relationships with doctors. Dentists. One woman just had all her tattoos removed from her face. It's not just, 'Come in here, get clean and sober and you'll be great.' They need more than that."
So these beautiful women leave Magdalene and then what?
A below minimum-wage job? Where is your resume?
So the next step was to establish a work venue for the women, which is now centered around a 11,000 square foot manufacturing space at Thistle Farms.  "At first it was in the basement of a church making candles," Fiona said. "It has grown from that to 2014 where we had our first million dollars in annual sales. More than 60 women are now employed at Thistle Farms (est. 2001). We have the candle making, the bath and body, sewing studios and the Thistle Stop Cafe coffee shop."
The Thistle Stop Cafe and lunch room includes hundreds of tea cups and saucers donated by supporters from across the country. Program graduates staff the cafe.
"Terri, our barista won the opportunity last year to go to barista school," Fiona said. "She told me, 'I've never won anything in my life. I left school when I was 14.' It's heartlifting. It makes looking at CNN like all that is happening on another planet."
The cafe is located next door to the Thistle Farms manufacturing facility, a former warehouse at 5122 Charlotte Pike a few miles west of downtown Nashville. Earlier this year John Prine and Pat McLaughlin played a cafe party to celebrate Fiona's 21 years in America. When you stop by the cafe be sure to ask for some of Terri's thistle-made brew.
Mary Baker is CEO of Monroe Harding, Inc., a residential program facility for boys and one of the oldest non-profits in Nashville. "Coming out of addiction is not easy," she said in a Thursday phone interview. "The community that surrounds these women and that they've become a part of helps them grow into a whole human being and recognize that there are behaviors and choices they have made that will continue to trip them up unless they change those behaviors.
"Think of the community as a scrum if you think of Australian football. You are in the middle of a pack and it carries you along. When you first get off the street and you are clean and sober you don't know what the heck is going on. Thistle Farms has created that community not only among the women but among the people who volunteer for the organization, the people who buy products, the people who come in to have coffee and get to know each other as well as the women who work there." The cafe is a relatively new coffee and lunch destination in Nashville and Baker has found it as a valuable meeting place.
Just last month Thistle Farms expanded its operation to the Shared Trade Alliance (A Fair Share for Women). "We've partnered with 14 individual like-minded organizations," Fiona explained. "The criteria is simple but specific. They have to be a woman-focused organization. A lot of them are run by women who have left America after their post-grad work and have gone to India, Cambodia and Africa to see if they can make a difference in the world. And they are."
Organizations that are part of the alliance will put a Shared Trade sticker on their products to tell the consumer they are buyng something that moves women forward from poverty to independent living. Groups from Ecuador, Ghana, Kenya and Nashville already have signed up for the alliance.
Fiona and Becca are visiting Allende in San Francisco because the Chilean author has pledged $80,000 to the shared trade initiative. "I'm  helping put on a market place in San Francisco," she said. "As a matter of fact John was helping me load boxes for the UPS today." At the same time Magadelene's Thistle Farms integrated model has been replicated in St. Louis, Houston and New Orleans, according to Fiona.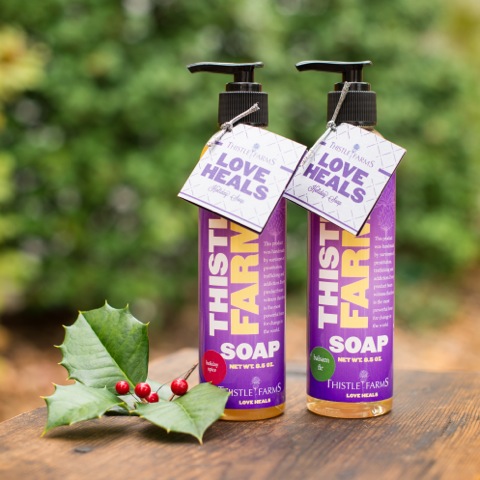 "One of the big reasons this model works is that you have to have the community behind you," Fiona said. "There's no way this could happen without the help of the Nashville community. Becca will say, 'It took a community to send a woman out on the streets. It will take that same community to bring her home.
"This is timely because we have been making contacts in Chicago. We had a Shared Trade MarketPlace on Oct. 12 in Nashville which was part of our second annual Thistle Farms Conference. We sold $28,000 worth of products in two days. That workshop and marketplace is what I want to take to Chicago.
"Ours is a big story. We were brainstorming about using social media to get more help. ALS had a simple message; dunk yourself with water and send ten dollars or whatever. The story is so big at Thistle Farms sometimes it can be difficult to narrow down."
What has Fiona learned in her decade with Thistle Farms?
"I've learned that, without exception, all of these women coming in off the streets were sexually abused as children," she answered. "They were raised in addictive homes. A lot of them suffered physical and emotional abuse. That's a very typical story. My story doesn't cleanly dovetail into that, but my father died when I was 13 leaving my mother and six girls. I was the oldest. I understand the poverty that came out of that. My mother had no resources. And then I understand displacement. Even though it was by choice that I came here, I was propelled."
After Fiona met Prine she was gung-ho about coming to America. "But we had no idea the isolation I would feel and the difficulty it would be to keep in touch with my family in Ireland," she explained. "I'm a late bloomer. I have a wonderful family, I used to work in the music business in Ireland, I have a son who came with me here that John subsequently adopted. I became connected to who I was in America. I've uncovered myself more than recovered. John and I talked about moving to Ireland because he loves it there and we would have had the children finish their education when they were in middle school. But I couldn't fo it. Home was here."
Their sons are 19, 20 and 33. The oldest son  is about to be a father. "We're going to be grandparents for the first time," she declared. "John Prine is just besides himself. He says, 'Great! I can go to Toys R Us again."
Gifts are everywhere when you take time to let love into your heart.