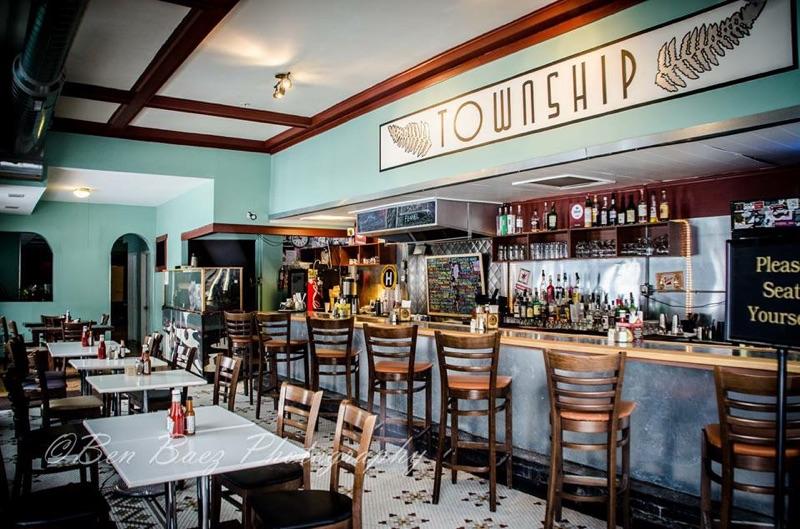 Mark "Max" Brumbach has a gift for me.
Because of that he has a gift for you, too.
As I walk into Brumbach's new version of the music room-cafe Township, 2200 N. California Ave., he hands over a copy of the Images of America book "Chicago Entertainment Between the Wars 1919-1939." The picture book is filled with stuff like an ad for Bert Kelly's Stables, 431 Rush St.: Free Drinks Every Nite As Many As You Wish–no charge for dancing. Our waiter sings. Our Cook Dances. NOW FREDDIE KEPPARD World's greatest colored jazz cornetist and his great dance band…."
Brumbach is a fine musician, keyboardist with soul legend Otis Clay (1973-78) and a cultural preservationist. In 1993 he opened Smoke Daddy, 1804 W. Division St. when Wicker Park was a no man's land. He outfitted that music room-restaurant with booths and bar stools he bought at an auction from Chic Rick's social club on South Michigan Avenue. Brumbach saw jazz organist "Brother" Jack McDuff three times for no cover during the late 1970s at at Chick Rick's. In 1998 Brumbach restored and opened the California Clipper, 1002 N. California in Humboldt Park.
Brumbach took over Township around Thanksgiving and has partnered with previous Township co-owner Tamiz Haiderali to recalibrate and repaint the entire place. Gone are all the stickers, graffiti and stench that resembled the Empty Bottle.
The new Township retains the front diner that still serves excellent French Toast with honey chevre mousse and the Saag Paneer Scramble (spinach, paneer, potato cake, almond sauce and two pooris, which are an Indian fried flat bread.) Haiderali brought over the paneer scramble and a couple of other items from his excellent Treat restaurant, 1616 N. Kedzie. Haiderali sold the restaurant in April, 2011.
The Woodlawn Four (Scott Dirks, Willy Greason, Justin O'Brien, Dave Waldman) will migrate up from Jimmy's Woodlawn Tap in Hyde Park to play blues alternate Sunday afternoons in the 80-seat Palmer Room and dining area (as it faces Palmer Street). The main "Jungle Room" holds about 120 people for live music.
"We're going to have one of the best sound systems this side of Lincoln Park," Brumbach says in a lunch time conversation. "The best sound I've heard in town is Lincoln Hall. Genius. Here, you'll be able to every instrument, every word somebody is singing." The sound is being designed by Matt Edgar of AIS (Audio Integration Services) in Chicago. Brumbach says, "We are going to have a mixed array of music. Its going to be hard to brand this place. It is no longer going to be a rock place."
Brumbach retained the Township name because of the cafe's reputation for great neighborhood brunches. "To do what I'm doing is a huge undertaking," he says. "And a very expensive undertaking. Even changing the name would be a lot. What we're doing here is almost like building a club from scratch. But this is a great location. And we're going to have entertainment seven nights a week." DJs Frankie Vega, Gabriel Palomo and Eddie Riot "soft open" the Jungle Room with electro, industrial and techno dance music on Feb. 13. Nashville singer-songwriter Rorey Carroll appears Feb. 21 at Township.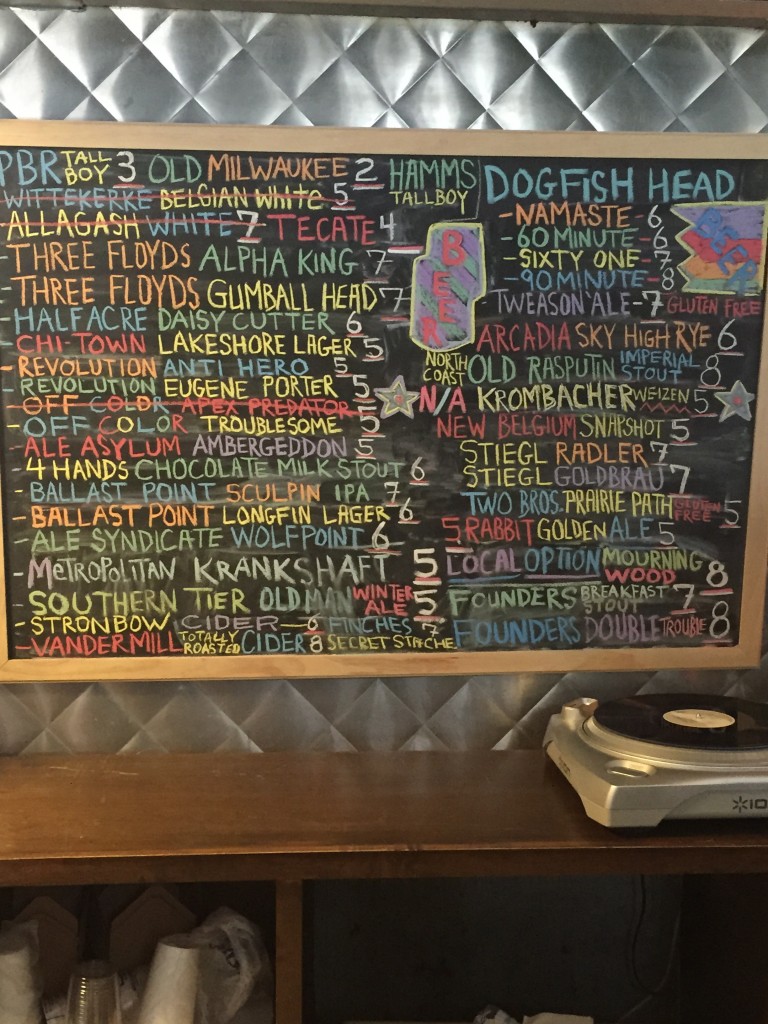 Township isn't the first room Brumbach has brought back to life.
"I bought the building and was the contractor for Smoke Daddy," he says. "I took a derlict space that had been a Polish bar called The Midnight Inn. You know who used to drink there? Your friend from Weeds (that would be Sergio Mayora). What a great guy. He would come in in his overalls with his sidekick Angel. At one time there were 50 taverns on Division Street between Ashland and Damen." The strip was called "Polish Broadway."
"I learned a lot from doing Smoke Daddy," Brumbach continues. "I opened it July of '94 and sold it in the fall of '02. Then I bought the California Clipper from the old Italian brother and sister whose late brother had started it right after Prohibition. I found out that building was built in 1911 as a Nickelodeon.
"Humboldt Park was a Jewish-Italian-Scandanvian neighborhood. I always try to imagine a space. Smoke Daddy was all out of my head. The Clipper was already there. The murals, lights and booths were there."
Although each space is now under different ownership, they retain Brumbach's eye for evocative romantic lighting, Chicago muscle and a clear sense of mid-century history—and not nostalgia. It will be interesting to see how Township develops.
Brumbach, 63, is a native of near west suburban Franklin Park who began playing guitar and harmonica in 1963. His first gigs were with Chicago blues greats Wild Child Butler and Sunnyland Slim. He first recording was on the 1970 Darrel Fletcher '45 "Power to the People!" in a session that featured Chess Records session legends Phil Upchurch (guitar), Louis Satterfield (bass) and Donny Hathaway (keyboards).
Brumbach played a tour of Canada with the late great Jimmy Reed and has vivid memories of appearing at important Chicago clubs like Burning Spear with Otis Clay.
"Our home base was the Burning Spear," he said. "That had been the Club DeLisa. It still had the elevator stage from the days of Count Basie and Duke Ellington. It was the premiere 'Black & Tan' club. The Club DeLisa wall murals were still covered with cigarette smoke and dirt."
One of the frequent guest Club DeLisa artists was Hi-Fi White, a 300 pound transvestite comedian who wore a dress and sang. Hi Fi was a protoge' of Redd Foxx.
"We had a good looking Iranian saxophone player named Fred for about a year," Brumbach says. "Dark wavy hair, kind of a Romeo looking guy. Hi Fi would go, "That's my husband, Fred.' And Fred would get so embarrassed."
After Brumbach sold the Clipper in 2002 he continued to play music and he built houses in the Chicago area.  He played piano alongside Elvis Presley guitarist James Burton and harmonica great Charlie Musselwhite on 2004's "Back in the Saddle Again" from former Calumet City strip joint rockabilly singer Matt Lucas (Ten-O-Nine Records). "I've been trying to keep my nose clean," Brumbach says as the rays of a promising sun slide through the windows of Township.