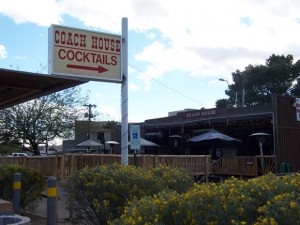 SCOTTSDALE, Az.—The Coach House is the oldest tavern in Scottsdale.
It is as old as the Go-Go White Sox.
The easy going road house is celebrating its 56th anniversary in April. The Coach House is tucked away at 7011 E. Indian School Rd. on the outskirts of the trendy Old Town district filled with art galleries, high end cafes and the new Hula's Modern Tiki restaurant.
[Old Town is also the home of the Rusty Spur, a cowboy joint that opened around 1951, making it the oldest "saloon" in Scottsdale–just covering all bases.]
When you get out of the desert sun and sit in a quiet corner of the indoor bar at the Coach House, light is shed on the  benevolent soul of late owner and founder Bob Brower.
A faded black and white picture of members of the Boston Red Sox hang on a wooden wall. Pictured are Felix Mantilla, Dennis Bennett and Lenny Green, taking a break from spring training. Everyone but Mantilla is smiling.
Mantilla was Puerto Rican shortstop and  roommate of Hank Aaron when they played for the 1953 Jacksonville Braves, one of the first two integrated teams in the southern United States. Green was a left handed hitting African-American outfielder from Detroit, Mi. The late Bennett was a white starting pitcher who played for the ill-fated 1964 Phillies.
The photo was taken in 1965.
Integration was not common around Scottsdale.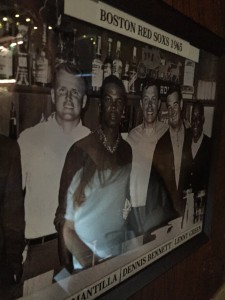 In 1959 the Red Sox became the first team to train in Scottsdale and just the fourth major league team to hold spring training in Arizona. The Cubs moved to Mesa in 1952, the New York Giants came to Phoenix in 1958. As early as 1945 Bill Veeck brought his Cleveland Indians to Tucson because he thought there was more racial tolerance in Arizona than in Florida.
By 1966 the Red Sox would relocate Spring Training to Florida.
"Baseball was a proving ground for civil rights in general," Cactus League historian-journalist Charles Vascellaro said last week. "When black ballplayers joined white players it didn't take long to win these guys over and to be treated as equals among their peers. That is what you see in looking at the Coach House picture. The (now-shuttered) Buckhorn Baths in Mesa (a favorite of Ernie Banks and Billy Williams) was also a fully integrated establishment at the time.
"In Florida, a lot of spring training facilities were segregated. The year (1957) Hank Aaron won the MVP award with the Milwaukee Braves he was not allowed to stay with the team in (Bradenton) Florida."
Bob and Mary Brower were from Cleveland, Ohio where they ran the Silver Inn bar on the east side of the city. The Browers befriended former Cleveland Indian Roger Maris. The home run king broke in with the Tribe in 1957 before he was traded to Kansas City.
"My parents and Roger Maris had the same amount of kids (four boys and two girls)," their daughter Irene recalled last month after a Giants spring training game. "That's how the kinship started. My dad was an Indians fan, but he loved all baseball. He had one radio downstairs and one radio upstairs and he would run up and down the stairs to hear the different scores. My Dad had such a relaxed atmosphere at the bar it reminded spring training players of home."
Irene manages and operates the Coach House, which holds a cozy 175 people inside and out. Her father died in 1991, her mother Mary passed away in 2005.
The Coach House is open from 6 a.m. until 2 a..m, 365 days a year.
Irene is unsure how the Coach House got its name, but a couple of old timers told me the tavern is on the site of a former stagecoach house.
Bob Brower had asthma which is why the family relocated to Arizona.
"I was born in Ohio in 1957, but my parents traveled across the United States when I was one year old," Irene said. "Growing up, my Dad would open, my Mom  would bartend  in the afternoon. All six kids cleaned on Sundays and helped with special events. I remember sweeping –outside on the sidewalk. I asked my Dad, 'Why do you want me to sweep the sidewalk?' He said, 'People notice activity, anything to lead people here.' There were a lot of dirt lots around here back then. A few businesses.
"When the Red Sox were here, they didn't make a lot of money. My dad took them home, fed them lunch and took them under his wings. They would come to our house and play ball with my older brothers. (Cubs-White Sox-A's announcer) Harry Caray came here. Ernie Banks. His kids went to Loloma (grammar) School."
Between 1967 and 1969 the Cubs stayed at the now-renovated Hotel Valley Ho, an Art Deco treasure that is within walking distance of the Coach House. Robert Wagner and Natalie Wood got married at the Ho.
No word if they adjourned to the Coach House.
Modern day ball players do not come to the Coach House. "(Giants pitcher) Matt Cain comes in once in a while," Irene said. "But today with social media everybody tries to slip under the radar."
A fire slipped through the grand old Coach House in 1982. "It went more from a white building to the western facade you see today," Irene said.  "We still have the same Coach House tavern sign. The inside of the bar is exactly the same footprint. We extended the patio in the 1980s. People love being outside."
In 1998 the City of Scottsdale named the Coach House an official landmark and in 2001 the city honored the Coach House as one of the city's founding businesses. Irene explained, "In the 1990s the City of Scottsdale wanted to widen the road. They took businesses that had been here for years and gave them a few bucks to go away. We were destined to be gone, but hundreds of patrons of the Coach House went to city hall and said, 'Not the Coach House.' We won a huge battle and we became a landmark for Scottsdale."

The Coach House is one of the most affordable watering holes in Scottsdale. There's always $2 PBRs and $3 draught beer. A free barbecue is held every Sunday afternoon on the outdoor patio. The Coach House is also known for the thousands of Christmas lights, garland and 50 candy canes that adorn the bar starting in late November. The tavern is always rated as a top 10 destination in Arizona for holiday decorations. Irene figured the bar spends $1,500 a month to keep the lights illuminated.
Bob Brower was born on Christmas Eve. "Every inch of the inside is filled with a light, ornament or decoration," his daughter said. "It literally is like being inside a Christmas tree. My dad was the original networker. Everybody came into this place. He knew city council people,  government workers, business owners. If someone came in and needed work, he'd say, 'I know so and so, he was just in here.' At Our Lady of Perpetual Help church if someone new came to town, the pastor would send them our way. It wasn't just a bar. It was really a home to a lot of people."  Bob Brower and former St. Louis Cardinals catcher and television announcer Joe Garagiola, Sr. were ushers together at Our Lady of Perpetual Help.
So was the Coach House an inevitable path for Irene?
"I graduated from the University of San Diego with a degree in sociology," she answered. "About eight years ago my brother (Jim) called and said he needed some help.  And I've been here since.
"I feel it is destiny. My dad and I were very close. He wanted me to have my education and a few other things, but it is an honor to be part of something that my mom and dad started."