Like petals in a basket, I carry so many shades of life from my mother's gallant journey. One of the most emotional snapshots of Irene Helen Brush Hoekstra came on April 9, the day after my father died. Although my mother battled dementia she managed to find her gold wedding ring. She slipped it on her finger without any of us knowing about it.
And the gold ring remained on my mother's finger until the moment she passed over from heart failure Friday night in her Naperville home.
Mom was 93 years old.
All moms are amazing and so was ours. She was placed into home hospice twice and discharged once. Last August the hospitalists at Edward Hospital in Naperville told me she had "two to three weeks" to live because of her congestive heart failure.
Later, a hospice nurse told me she would never walk again. Up until a few days ago her head was down with determination as she walked slowly on her walker with the assistance of our caregiver.
Irene Helen Brush Hoekstra was was tough that way, a plainspoken coal miner's daughter from Carlinvllle, Ill.
Only six weeks separated the deaths of our parents.
They stayed strong for each other.
In recent years as the sun set, my dad would hold my mom's thin hand, colored purple by Coumadin. She would look ahead, blinking her eyes into the approaching darkness. And he would kiss her good night. Every night.
They lived a deep love I may never know.
Mom and dad got hitched late in life, at least for their generation.
They were married 65 years. Their wedding dinner  and honeymoon night was at the Edgewater Beach Hotel on the far north side of Chicago. The sunset pink colored hotel was pegged as the "Site of America's Most Successful Meetings." When my mom opened the door to her hotel room she found a surprise from my father–a bouquet of a dozen roses.
Our mom loved flowers and over the past six weeks we were bringing flowers to my dad's gravesite. She sat in her wheelchair, gently twirled the ring around her finger and looked at the family plot. She always asked me when the headstone would be ready. It is not up yet, but it will be identified by a gold ring linking their names. Mom battled macular degeneration but that did not stop her from having me park the car in the driveway after our trip to the cemetery. She would blink repeatedly at the white magnolia in our front yard. It is an early and fast bloomer and you have to pay attention.
Mom often got a charge out of the short Zumba dancing sessions I'd throw down with our Ghanian caregiver. (I'd say we had about 30 caregivers over the past eight years.) Mom was lost in mid-stage dementia but when we started shaking our stuff she would smile, clap her hands and say, "Do it again. Do it again." Who doesn't want another dance? The power of music can cut through dementia.
Our mom secretly typed out her 26 page autobiography in 1989. I found it in the bedroom safe of their Naperville home. 
Of her wedding day she wrote in part, "The bride wore a rose-pink satin tea length gown and carried a dainty bouquet of white roses. The groom wore a brown suit and a rose and brown striped tie with a white carnation boutonniere….The bride commented it was the happiest day of her life. The day was perfect–sunny, bright and happy."  The way my mom wrote in third person narrative illustrated her humility.
I also discovered a sidebar essay she wrote in 2000 after we celebrated our parents 50th wedding anniversary at the Drake Hotel in Chicago. Mom began, "Once upon a time there were these two introverts who met, fell in love and got married…Well these two are still around today and you guessed, it, celebrated their golden wedding anniversary on Feb. 11, 2000….After considerable time packing, as old folks are apt to do, they were off to the Drake Hotel. It was there that they planned to meet their two boys, one boy's (my brother Doug) wife and the other's (me) friend. You see, their sons had planned the celebration, and it was with their compliments. And of course, the parents were looking forward to "living it up" for the weekend."
The weekend was full of surprises, including dinner at the old Jilly's on Rush Street. "This is a well known night spot where Frank Sinatra and people of his ilk made famous," my mom wrote. "It was fun to be in a place where the clientele was somewhat out of the ordinary."
My mom was of very ordinary means.
Her Lithuanian parents came to America to work in the Union Stock Yards in Chicago and the Peabody Coal Mines in downstate Illinois. Mom was born on Dec. 10, 1921 in Carlinville, Ill. When the mines around Carlinville closed in 1925 the family moved 45 miles north to Taylorville, where my mom grew up.
She was a first chair clarinet player in the Taylorville High School Band and in her senior year was awarded first prize for an essay she wrote about her high school. This led to her interest in journalism, which she later studied in night school at Northwestern University in Chicago. During the day she worked as a stenographer at Gulbransen Pianos and as secretary at Ziff-Davis Publishing Company, which produced magazines like "Popular Photography" and "Modern Bride."
In 1946 my mom met my dad at a dance at Northwestern. He was also attending night school at Northwestern. She wrote, "After all these years I can still recall that he was wearing a navy blue suit and that he made an impression on me because he was so witty and personable."
Mom and Dad didn't travel much when we were growing up. Dad was a purchasing agent for Swift & Company in Chicago and mom stayed at home. I've been listening to the oral history CDs Doug made in 1993, spending several hours interviewing my parents. I am forever grateful to him for doing that. My folks said they didn't travel because they were saving money for a house. The first house they owned was a small ranch house which they purchased in 1952 in Westchester, Ill., just outside of Chicago.
In the early 1960s Swift transferred dad to Columbus, Ohio. I used to ponder the "Leave it to Beaver" dynamic of our household. We had two boys, no pets, a nattily dressed father heading off to work and a stay at home mother –who owned pearls but rarely wore them. Several  years ago I talked to the creators of "Leave it to Beaver" and they said the show was indeed based on their experiences in "Central Ohio." After my brother and I finished high school my mom found secretarial work at Amoco Research Center in Naperville and it was a job she loved.
This modest pedigree leads me to one of my favorite stories about mom. In 1993 the Chicago Sun-Times assigned me to shadow Frank Sinatra during his appearance  at the Paramount Arts Centre in Aurora, Ill. I asked my mom to be my date. She was 72 years old. Frank was 77. We went to the concert where Frank told his fans he would do "nothing new because no one writes anything anymore."
We followed Frank to a post-concert dinner across the street to the Cafe Harlow restaurant in the Hollywood Casino. Frank enjoyed sliced veal, onion rings and French Fries. He washed it down with Jack (Daniel's) and ice water on the side. As he left the dinner table around midnight the casino security staff cleared a path by our table.
Although I was told not to bother Frank, I started to say hello. Frank ignored me.
Then he smiled and winked at my mom.
Now he did it.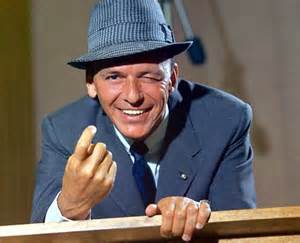 Mom was not ready to go home. We all went to the casino's Directors Lounge to hear the late great singer Frank D'Rone. The other Frank had another Jack. My mom was having a blast and my dad was getting worried.
I finally dropped mom off in her Naperville home in the wee, wee hours of 2 a.m. Every time I repeated this story over the years my mom  scolded me for "not letting me talk to Frank." My mom radiated measured class and even Frank Sinatra saw that. We played Frank Sinatra CD's by her hospice bed.
The best way to conclude this essay is to use the end of my mom's autobiography: "My parents came to the United States for better opportunities and a better way of life. They strived and worked hard for everything. I, too, have worked hard and tried my best to do things right and to make a good life for my family. "Perhaps one might call these memoirs ordinary and not too exciting–but just think. If these two people had not come the many miles from Europe, if their paths had not crossed, then I would not have the privilege to be here and write the tale of my life for you to read." Her privilege will continue.
My brother and I have spent our lives making a living with words and now my mother's nurturing spirit will inform all the words that follow. She is here.
She is the gold ring around my heart.
Deep thanks to all of you who have visited this website over recent years to help me navigate my parents journey. For more on music and dementia, listen to my WGN-AM Nocturnal Journal  show on the subject. Share it with someone who is traveling a similar path.
Services for Irene Hoekstra are at 10 a.m. May 27 at Grace United Methodist Church, 300 E. Gartner Rd.  in Naperville. Visitation is 9 a.m. at the church, services are followed by a luncheon at the church. Burial immediately after the luncheon at Naperville Cemetery. In lieu of flowers, donations can be made to the Morton Arboretum in Lisle.