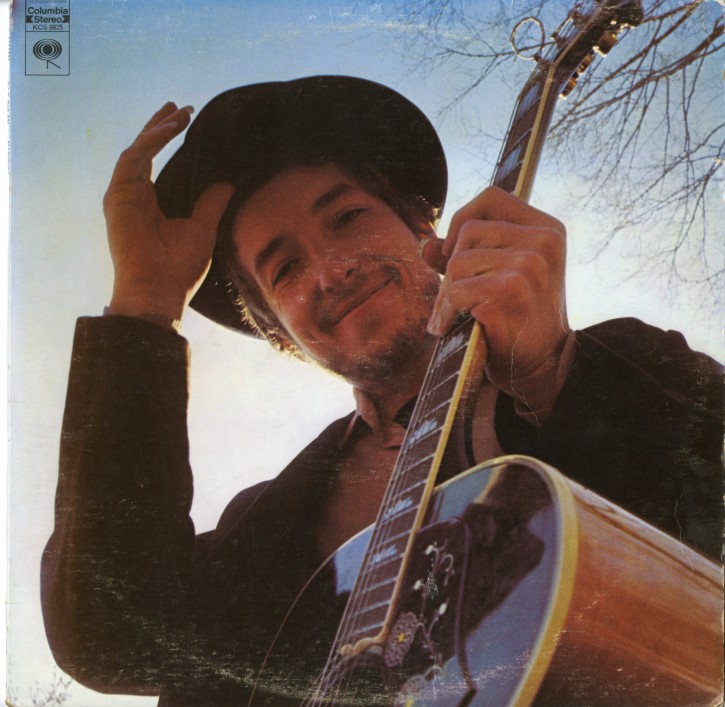 NASHVILLE, Tn.–Bob Dylan began recording "Blonde on Blonde" in the fall of 1965 with the Hawks, the Ronnie Hawkins band that was still navigating the departures of Garth Hudson and Levon Helm. The sessions were sluggish and producer Bob Johnston moved the show (with Robbie Robertson and keyboardist Al Kooper) to Nashville, Tn. 
Country Music Hall of Fame member Charlie McCoy became the connector.
The Nashville session player was visiting New York in the summer of 1965 to see the World's Fair when Johnston invited him to play acoustic guitar on the 11-minute "Desolation Row" for Dylan's "Highway 61 Revisited" album. McCoy helped open the doors to one of the most prolific eras of Dylan's career. Dylan recorded "Blonde on Blonde" "John Wesley Harding" "Nashville Skyline" and "Self Portrait" in Nashville with generous session players that became known as the "Nashville Cats."
Dylan also buddied up with Johnny Cash, which is the point of the new "Dylan, Cash and the Nashville Cats: A New Music City" that runs through Dec. 31, 2016 at the Country Music Hall of Fame and Museum in Nashville. The cats were popularized in the 1966 Lovin' Spoonful hit "Nashville Cats." Cash taped his ABC television series "The Johnny Cash Show" between 1969 and 1971 at the Ryman Auditorium.
McCoy had been a member of the Escorts that also featured 'Nashville Cat' drummer Kenny Buttrey. Dylan likely heard the root source of the Escorts that he was looking for in the Hawks. Dylan also found a recording process that was more democratic and less rigid than New York studios, which begins to explain how the double-album "Blonde on Blonde" zig zags through country, rock, folk and rhythm and blues.
During a charming interview in late April at the Country Music Hall of Fame (the same day Dylan appeared with his pop combo a few blocks away at Andrew Jackson Hall) McCoy figured Dylan knew of his harmonica playing on the 1962 Escorts hit "Harpoon Man." The exhibit companion CD was released this week and includes "Harpoon Man" as well as a previously unheard Dylan outtake of "If Not For You."
"Somehow I didn't see Bob Dylan checking out the country charts," McCoy said. "It was a strange deal. He never talked in the studio. And I'm the leader so I'm supposed to be the go between between the artist, producer and musicians. Every time I asked him his thoughts about what we're going to do, his answer was, 'I don't know. What do you think?' I told Bob Johnston, 'Listen, I'm not getting any answers from him so I'm going to quit asking. If he doesn't like something, maybe he'll speak up. He never said a word. Ever. So that's what we did."Maybe I should have been paid as producer."
The cats were led by McCoy but also included Charlie Daniels, guitarist-producer Norbert Putnam (J.J. Cale, Linda Ronstadt) and many others. McCoy did the arrangements on "Blonde on Blonde." "You listen to 'Blonde on Blonde', there's not a lot of solos," he said. "A lot of songs are real long, too. It was just another session. But it was a strange session for us. In the country world, nobody had budgets to have a room full of musicians sitting around all night."
McCoy's favorite track remains "Lay, Lady Lay." "The (Pete Drake) steel on it was magical," he said. "Many people swear we overdubbed, he did not over dub. I sat there and watched it." McCoy went on to play bass on "John Wesley Harding," "Nashville Skyline" and "Self Portrait."
Michael Gray, museum editor and co-curator of "Dylan, Cash and the Nashville Cats" said, "When Dylan and others were coming in the late 1960s they were working with that second wave of studio musicians. Bob Dylan was 24 when he first came to Nashville. The musicians he was working with were about that same age. 'Blonde on Blonde' is a much different record than 'John Wesley Harding' or 'Nashville Skyline'. It's more of that R&B based rock n'roll. I think Dylan was impressed with the fact Charlie McCoy and the Escorts, the core band on that album were a white R&B band."
Dylan, McCoy, Johnston, Robertson and others began recording in Columbia Studio A, 34 Music Square East. Cash, Dolly Parton and Patsy Cline  found magic in the studio walls and relaxed atmosphere that includes a living room.
In 2014 the studio was restored and reopened through an estimated $10 million donation from the Curb Family Foundation. Studio A is closed to the public but in recent months Ben Folds and Kacey Musgraves have recorded there. After hosting Dylan, Studio A became home to folk-rock artists.
"The great thing about Dylan is that it exploded the town," McCoy said.  "The 'A' team guys (The Nashville "A-Team" session players included Floyd Cramer on keyboards, Bob Moore on bass) were as full as they could get. They couldn't do anymore. All of a sudden there's this new  volume of recording. There became a need for a lot more players."The studios started springing up right and left."
This is where "Dylan, Cash and the Nashville Cats" gains traction.
For example the exhibit pays homage to Paul McCartney, Neil Young and others who came to Nashville to record as well as the outsider's Quadrafonic Studio, a.ka. "The Quad" where Steve Goodman's self-titled 1971 debut album was recorded with Putnam and Kris Kristofferson.
"Quad" co-owner Putnam produced the early hit records of Jimmy Buffett at the studio that also attracted Jerry Jeff Walker and J.J. Cale. "They built that studio thinking they would be the home for hippie artists with their 'alternative' lifestyle," McCoy explained. "Because smoking grass and all that was absolutely not allowed in mainstream studios here. Although I did not agree with it I think David (Briggs, co-founder) and Norbert were smart in they let guys do what they want."
The Nashville A-Team had already sat the bar so very high.
"Pursuit of excellence," McCoy said. "Those guys were doing three or  four sessions a day, cutting hit after hit. When I started playing in 1961 my first session was with the A team. I was inspired by their work ethic–in a relaxed way. And it was all good. Of course the music was relatively simpler then. It was incredible.
"One day on three back to back sessions for Mercury they cut three number one records with three different artists: "Ahab the Arab" for Ray Stevens, "Wooden Heart" on Joe Dowell and "Walk on By" for LeRoy Van Dyke. In the same day."
Bob Johnston's name appears as producer on Dylan, Simon and Garfunkel and Leonard Cohen records, but he did not have the high profile of a modern day Don Was or Joe Henry.
"Bob was a songwriter from Texas who came to Nashville to demo songs to get into Elvis movies," McCoy said. "That's how he and I knew each other. I was leading sessions for him with Kenny, Pig (Robbins, keyboardist)–that group. He took songs they turned down for Elvis to New York. The Columbia producer said, 'These are great demos. Where did you record these?' He said he did them in Nashville. He then asked the age old question, 'Did you produce these?' And he said 'Yes.' Don't say 'no' to a question like that. Say 'yes' and figure it out later."
So Johnston was assigned to produce Patti Page in Nashville. He later  became the head of Columbia's Nashville division. "He revived Patti's career and made him the golden boy for Columbia Records," McCoy said. "That's when they offered Dylan to him, after the Patti Page record. Bob (Johnston) was a smart guy. He wasn't totally musical but he had a good instinct for tempos and grooves. He could converse with these artists and make them feel like they were in the right place. He stayed out of the way of musicians, too." Johnston, now 83, went on to produce Jimmy Cliff's 1978 "Give Thanx" reggae record and Carl Perkins' 1996 all-star record "Go Cat Go."
Chicago artist-country-rock musician Jon Langford contributed the exhibit's artwork, CD cover and the engaging rustic atmopshere of the museum rooms.
Gray said, "We considered different artists and painters. The staff here knew Jon Langford had done paintings of Johnny Cash, Hank Williams and Bob Dylan. We knew he understood the story and had a love and appreciation for it. We called him out of the blue and said, 'Would you be interested in creating the art for this exhibit?' The primary piece we commissioned is a picture of Dylan and Cash together and the names of the Nashville cats are scrawled all around it. Shortly before the exhibit opened he sent us another painting he did on his own because he has a passion for this, and that one was of all the Nashville Cats that we feature in the exhibit." The museum took Langford's look and style to the exhibit graphic designer who used the same feel and fonts to create the rest of the exhibit.
Langford, country singer Deana Carter and others were guests in a Nasvhille Cats band led by McCoy during the exhibit's opening weekend in late March.
McCoy was born on March 28, 1941 in Fayette County, W. Va. "The same town Hank Williams died in," he said. "I got my first harmonica when I was eight years old. I saw an ad in a comic book, 50 cents and a box top for a harmonica. So I conned my mother out of 50 cents. After about a day she said, 'Could you take that thing outside?' That same year I got a guitar for Christmas.
"My Dad lived in Florida. My Mom lived in West Virginia. I was kind of an anemic kid and they figured the warmer weather would be good for me. I went to school in Florida in the winter and went back to West Virginia in the summer."
On one lonely night at the age of 15 McCoy heard the grinding blues of Jimmy Reed on WLAC out of Nashville. "It was so strange," said McCoy, who was also listening to Elvis Presley and Carl Perkins. "My father didn't like rhythm and blues music. So there was a kid in the neighborhood whose Dad was a ham operator. He took my clock radio and put an ear phone jack on the back of it. So I could listen to WLAC late at night and my Dad wouldn't hear it. I'd hear Howlin' Wolf. All the blues stuff. Then I discovered Little Walter and that was it.  He's still the greatest for blues harmonica."
McCoy came to Nashville in 1960, the day after he graduated high school and by May, 1961 he was hired for his first session. McCoy played harmonica behind singer-starlet Ann Margaret. "It was like I  died and went to heaven," he said. "There's God. Chet Atkins. His disciples, the Nashville A-Team. There's the heavenly choir, the Anita Kerr Singers. And there's an angel–an 18-year-old Ann  Margaret. The bass player on that session asked me if I was free Friday. I was free the rest of my life. He said, 'Come back to the studio and record Roy Orbison.' So we did 'Candy Man.' (Elvis Presley sideman) Scottie Moore was playing guitar. Floyd Cramer and Boots Randolph were on it. After that record became a hit my phone started to ring.
"It was like a charmed, magic dream that I'm still in."
McCoy played empathetic harmonica on the George Jones hit "He Stopped Loving Her Today" and in 1995 some of his  fellow Nashville Cats (Pig Robbins, Buddy Spicher on mandolin, the Jordaniares singing group) backed alt rockers Ween on their excellent "12 Country Golden Country Greats" tunes that included "Piss Up a Rope" and the peppy "Japanese Cowboy." The 10 song project was recorded at Bradley's Barn in Nashville under the production of Ben Vaughn. "They did their homework," McCoy said. "They came here and knew all about everybody which was amazing especially how young they were. Some of their lyrics were over the top, but musically it was good. And they were nice guys."
McCoy also was the long time  musical director for the hit Buck Owens-Roy Clark variety show "Hee-Haw."
"First I was called in to play one show behind Ray Charles," he said. "At that time they were filming in a television station in downtown Nashville. They would tape for a month and every time they would tape the City of Nashville police department had a field day writing department tickets. There wasn't enough places at that station for their own employees more less 60 or 70 people that it takes to do a major TV show.
"A year later the producer called me back and asked me to consider playing in the band. I was working around the clock. I tried one shot and 18 years later I was still trying one more shot. It was such a great show and every day you went to work you were surrounded by legends. Buck Owens, Roy Clark, Grandpa Jones, Roy Acuff, Minnie Pearl.
"Later it became evident to me how important this show was to country music. Today, when I go out and play people say, 'We miss 'Hee-Haw'. It was our Saturday night routine. If you can't laugh at yourself, that is too bad. That's what we were doing. We were laughing at ourselves."
No session player in Nashville had the gritty blues textures of McCoy, a fact that was not lost on Dylan. "In my formative years I was trying to play as much like Little Walter as I could," McCoy said. "For a while here (in Nashville) that  was a novelty. Then it started to wear thin. I'd get comments like, 'Could you play maybe not quite so funky? That nasty tone and all that stuff.' I realized if I was going to stick around I'd have to do something different. I started copying fiddles and dobros and cleaning up the sound. I tried to play melodies. You don't hear many harmonica players play melodies. The combination of all that stuff together gave me a sound. 
Bob Dylan? I didn't realize he was playing tonight. The last time I saw him was when he did 'Nashville Skyline'."
Look at this resume of Charlie McCoy, (he's playing the Hatfield-McCoy Reunion tonight in West Virginia.) McCoy took a long pause at the end of our conversation. He looked around the room, smiled ever so gently and added, "You know I worked with so many artists and Steve Miller (McCoy is blowing harmonica on Miller's 1970 "Number 5" record)  was the only one who has given me a gold record."