DAVENPORT, Ia.—Sometimes you reset the odometer.
I buried my parents in  April and late May and in early June my 2005 Pontiac Sunfire stopped running at the toll booth on a trip from Naperville to Chicago, a journey I had been making weekly over the last 18 months. Finis. The car was as loyal as an old mare and left only after it had done its job. I've spent 30 years writing road stories of small towns and gentle intentions and never had to call a tow truck.
I needed a lift.
When it came time to drive to the Quad Cities for my Midwest League baseball column I deployed my parents 2006 Hyuandi Sonata. You learn a new car, you learn a new way of life. I had used the four-door Sonata for all of my parents doctors appointments. My Pontiac only had two doors and a back seat full of half read Sunday New York Times.
The measured cadence of baseball lends itself well to being in the moment. Keep your eye on the ball. Embrace every blade of green grass of a Midwest League field because soon it will be winter for all of us. But on the drive out to the great Mississippi River I could not deflect recent moments, especially on my mother's final visits to the Naperville Cemetery.
I would remove her black Drive wheelchair from the trunk of the Sonata. The caregiver and I helped my mom out of the passenger side of the car and into the wheel chair. I would wheel mom over the grass to my father's grave. My parents are buried around stories much sadder than theirs.  Mom  got as quiet as a broken radio. Sometimes I looked away. She never wanted to stay long but she always wanted to arrive. Mom and Dad were married 65 years.
Rivers have a timeless nature which is why I wanted to see the Quad Cities River Bandits after all that I had been through. Rivers are always going somewhere and I feel a greater sense of history in Mississippi River towns than I do when I am along the ocean in Key West and Myrtle Beach -although Coney Island is an exception.
I drove alone to Davenport, at least in a physical sense. I brought along a river mix CD I made in 2012:  "Kern River" by the great Merle Haggard, "River Bends" by Tim  O'Regan," "Get Down River" by the Bottle Rockets, and "Moon River" by Andy Williams, a song my parents liked.
The first thing I did when I got to downtown Davenport was visit the Quad Cities Visitor's Center, housed in the former Union Station, 102 S. Harrison St. The center features souvenir books, locally made food and drink, postcards and bike rentals that are perfect for the riverfront.
I found the River Music Experience (RME) museum and performing arts center thriving at 129 N. Main St. in downtown Davenport. The two-floor RME is in the former Von Maur department store in the  Redstone building, erected in 1872. I first visited RME right after it opened in 2004 and it continues to amaze me Davenport can feature such a fine music museum while Chicago cannot get its act together to honor its important music heritage. In fact, RME is expanding to honor coronetist-composer, Bix Beiderbecke, born in 1903 in  Davenport. (Sun Ra sideman Pat Patrick was from East Moline, Ill.)
RME presents an all-ages and free "Live @ 5" series on the museum courtyard; Hal Reed & Mississippi Journey play today, followed by Fickle Filly and the Haymakers on Aug. 7, Wicked Liz & the Belly Swirls on Aug, 14 and the Ellis Kell Band on Aug, 21 (Kell is also a long-time museum staffer.)
I walked along the Mississippi River.
I had been to the former John  O' Donnell Stadium several times but I had never found the time to  carry my thoughts along the river and Le Claire Park. I made discoveries. I saw a plaque that commemorated Aug. 22, 1963 when the  Catholic Interracial Council and other area organizations held Iowa's  largest civil rights rally at the 400-acre park. Nearly 2,000 marchers listened to speakers like John Howard Griffin, author of "Black Like Me," who spoke in the park's since-refurbished band shell.
The march was a warm-up to the August 28, 1963 March on Washington (D.C.) which drew more than 250,000 people to hear Dr. Martin Luther King and others.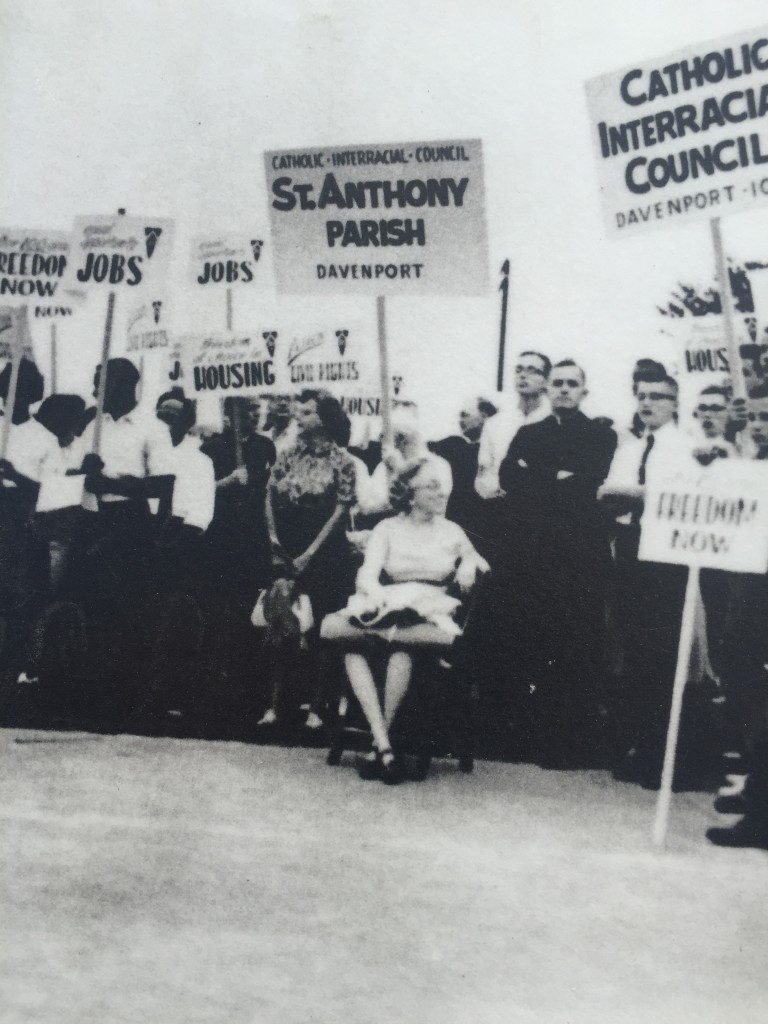 Finally, everyone can enjoy a nice picnic in the park and walk to what is now  called Modern Woodmen Park. The fraternal financial services company  scored naming rights in a 20-year deal worth $4.5 million. The 84- year-old "Modern Woody" often makes national news for getting flooded  out. Home plate is 400 feet from "The Big Muddy."
The stadium was doing fine in June. A removable flood wall was created in June 2013 with a removable bridge that provides pedestrian access from the floodwater to the stadium. It is one of the three longest installations of its type in North America and the wall can be installed by six people in less than 24 hours.
June was the wettest month in Illinois history with 8.9 inches of rain, a fact not lost on my blue mood. I sat through an 86-minute rain delay before the game was suspended after four innings  with Quad Cities (Astros) leading Beloit (Oakland)  1-0 (Quad Cities  won 2-1 the next day.)
Earlier this year Modern Woodmen Park was voted "Best of the Ballparks" in Class A baseball by fans and readers of Ballpark Digest, which conducted a bracketed online voting competition of all Class A venues.
Modern Woodmen is the oldest stadium used continuously by a current minor league baseball team for more than 50 years. Davenport's baseball history is one of the most storied in America, going back to 1879 when Davenport was a member of The Northwestern League that included Rockford, Ill. Dubuque, Ia. and Omaha, Ne. Northwestern is acknowledged as the first league west of the Mississippi River.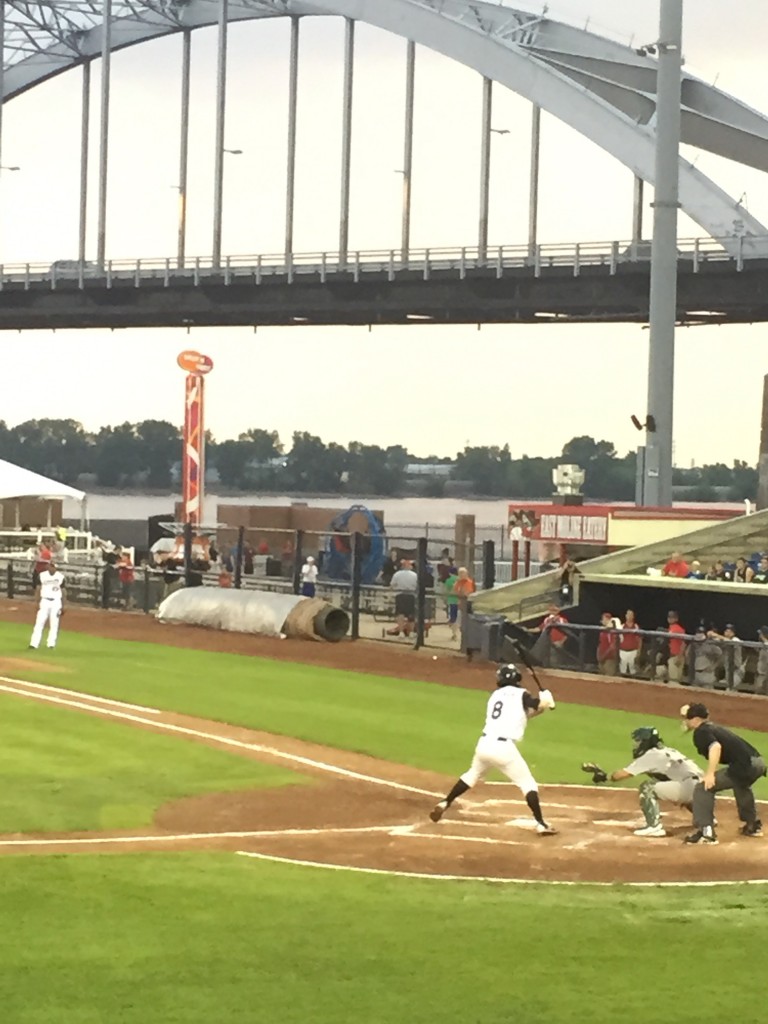 My brother recently gave me the 2013 John Sexton book "Baseball as a Road to God (Seeing Beyond the Game)" which cites a 1956 poem John Updike wrote for the New Yorker while sitting in the Yankee Stadium bleachers:  "Distance brings proportion…From here the populated tiers as much as players seem part of the show….."
Sexton wrote how Updike saw unity in time and place within the framework of baseball.
I last visited the riverside park in 2004 when the team was known as the "Swing of the Quad Cities," which always sounded like some kind of private kinky club. The improvements are impressive and memorable.
In May, 2014 a new 110-foot tall $1 million Ferris wheel was erected beyond  the left field fence. The wheel was shut down during lightning and thunder, but it is easy to see that you can see views of the Mississippi River and the humble Davenport skyline. Why didn't Tom Ricketts think of this as part of his left field renovation? The Cubs have been spinning wheels for generations. There is a $5 charge to ride the wheel.
A children's amusement area is being built in the right field corner, bringing a bit of the wonderful Brooklyn Cyclones-by Coney Island experience to Iowa.
The latest addition for this season is a tiny cornfield in the left field corner beyond the bullpen. Bumper cars will be added in the right field corner before the season is over.
It is clear that River Bandits owner Dave Heller is all ears for just about anything. He realizes the shortened attention spans of today's younger baseball audience.
"When I get five or six innings out of my kids I feel like I've really accomplished something," Heller said from Connecticut where he was tending to his ill father. "If we're in someone else's park and they're tired, we can leave. But when it's Quad Cities and I'm in charge, leaving is not an alternative. Part of it is understanding first hand the struggles parents have to carve out affordable family friendly entertainment for themselves and their families. We wanted to do things that hadn't been done before in minor league baseball to provide enough other attractions to keep them there for nine innings."
Heller is a life long Democratic political media consultant. He attended Yale University where he completed his Master's thesis and taught an undergraduate seminar on 20th Century American Politics.
"I've worked for 25 different members of congress," said Heller, a native of Cleveland, Ohio. "I'm working on a number of campaigns include Congressman Alan Grayson who is running for the U.S. Senate in Florida. I still love politics. But I joke that I've spent my entire life selling something nobody wants to buy and now I get a chance to sell something people really enjoy—baseball." And sometimes, something people really need.