NASHVILLE, Tn—The meat and three experience is as unique to Nashville, Tn. as the wigs on Dolly Parton. Despite upscale growth, the metropoliatan area embraces at least a half dozen traditional meat and threes, ranging from Arnold's Country Kitchen to Wendell Smith's (no relation to the late African American baseball journalist.)
Meat and threes are exactly that: meat (baked ham, baked or fried chicken, fried pork chop) with a choice of three vegetables such as cole slaw, fresh turnip greens, fried corn, squash, candied yams, snap peas, pinto beans, okra and more.
The meat and three is the country cousin of the blue plate special, where compartments on a china plate divided meat from  vegetables.
The meat and three is crossing over and out of Nashville. This fall New York chef Harold Moore (of the late Commerce) is slated to open Harold's Meat and Three in SoHo, the first meat and three in the Big Apple.
"Meat and three, soul food and country cooking is bascially the same thing," said Benji Cook, owner of Wendell Smith's, 5300 Charlotte Ave. on the west side of town. "I'm a country boy, I have a soul food cook and we're serving meat and threes." A meat and three at Wendell Smith's runs $8.07. Folks can order a meat and two, but it is only 50 cents less than a meat and three.
The stamped brick restaurant opened in 1952 on the site of a former open air farmer's market . Wendell Smith's was popular in the blue collar neighborhood where many residents worked at the nearby Ford Glass Plant.
"They also built a state prison (Riverbend Maximum Security Institution) down here," said Cook, whose father and retired owner Benji Cook is Smith's son-in-law. "That's how West Nashville started. Now its transitioning into these hipsters. They're tearing
down these little $60,000 houses."
It's okay to slip across the street for dessert at Bobbie's Dairy
Dip, a vintage mid-century ice cream stand and sandwich shop. Don't miss the ice cream cone with chocolate dip and rainbow sprinkles.
"Bobbie's was originally Harper's Dairy Dip," Cook said. "My grandmother was good friends with the Harpers. They ran boats on the Cumberland River together. Claire (Mullally) was an attorney who did all this research and got the best ice cream, the best angus beef and it became the ultimate dairy dip. Then she sold it and it is still doing well."
Meat and three is a big deal all over Nashville. Arnold's Country Kitchen, 605 Eighth Ave. South is within walking distance from Jack White's studio, Swett's, 2725 Clifton Ave. is on the north side of
town and is popular with nearby Fisk University students and the Kleer-Vu Lunchnoette is the go-to spot in Murfreesboro 30 miles outside of Nashville.
"It's the way we eat here," Cook said. "There's the Bible Belt so maybe we have the meat and three belt." Due in great part to its industrial heritage Birmingham, Ala. has a modest meat and three scene and Cook pointed out, "Cracker Barrell is a meat and three but I'm not a food critic."
Wendell Smith's holds about 110 people including 13 at counter stools. A hand scrawled sign at the front door declares "No Saggy  Pants, Thanks Management." An adjacent liquor store sells Tootsie's
apple pie moonshine. Steve Smith, co-owner of the historic Tootsie's honky tonk is good friends with Cook. "He says he's going to open a meat and four and put me out of business," Cook said with a laugh.
Wendell Smith's is a favorite stop of former Chicago songwriters John Prine and his brother Billy. In the late 1960s Dolly Parton and Porter Wagoner would adjourn in the rear of the restaurant after
doing their WSM television show. Benji Cook was a golfing partner of Wagoner's. Parton still orders out for the turnip greens.
The menu changes daily at Wendell Smith's. Roast beef, baked ham and pit bar-b-que are served daily. "Roast beef is our number one seller," said Cook, 50. "We serve it hot open face over white bread, wheat bread whatever. We make our own cole slaw. We sell a lot of turnip greens. We peel 10 to 12 five gallon buckets of potatoes by hand every day."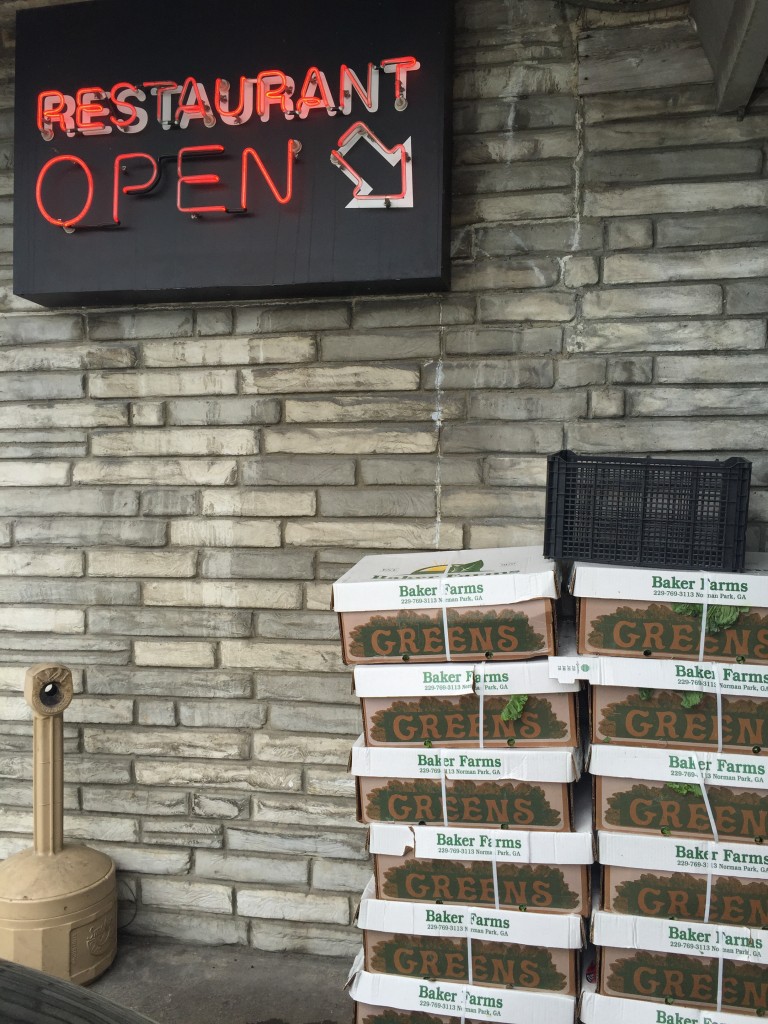 What is not be part of a meat and three?
"Jello," he answered. "We make it ourselves. We put fresh canned fruit in it. We sell a lot of it."
Wendell Smith's also makes its own cheese sauce for some killer macaroni and cheese. "We take 20 pounds of smooth melt (American) cheese, put four gallons of milk in it, put it in a double bowl and melt it down," Cook explained. "We pour a little roux in, put it inthe cooler and pour it over the cold pasta. Then we bake it oven as needed.
With the name 'Cook' on the table, was taking over the family business inevitable for Cook?
"I was working on big boats and probably wasn't going to do that the rest of my life," he answered. "I was a deckhand on a private yacht. I was in Europe and the Caribbean. It's a good time when you're young." He returned to the restaurant in 1994.
His cook Dolleene London started at Wendell Smith's when she was 24 years old. She has been at the meat and three for 27 years. She learned how to cook from her grandmother.
"A meat and three is based on the cooking you would get at home," said London, who was born and raised in Nashville. "Southern baked chicken with home grown turnip greens. You can get the cabbage, a good old home southern soul food meal. I cook with care and pride. I would want everybody to eat the way I eat. I care about my job.
" Everybody loves my baked chicken. Now, I'm not going to give you my recipe, but I don't skin it. I season it well and bake it off. I have a dressing I put on top of it when its ready. It is my personal
touch, gravy and all."
And the personal touch is the fourth ingredient of the beloved meat and three.
Wendell Smith's is open from 6 a.m. to 7:30 p.m. Monday through Saturday, (615) 383-7114; breakfast served all day.