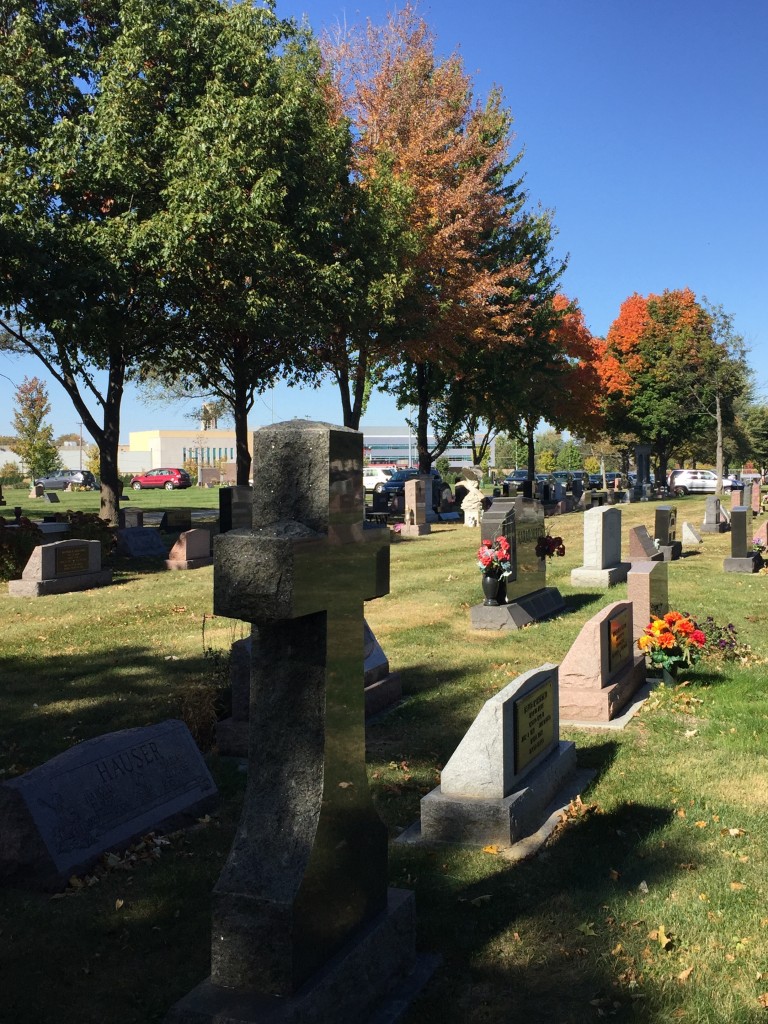 In the early afternoons of late autumn days, the shadow of a fading  sun creates a path from the cemetery driveway to the plot where my parents are buried. A little less than six weeks separated the deaths of my parents this spring.
My Dad died first and in the time my Mom  had left I would take her to the cemetery.
Every chance she got.
I pushed her wheelchair through tall grass to the gravesite where  seeds were waiting to sprout. Mom never got to see the headstone she was so curious about, but she did fire off a zinger to the headstone salesperson as we picked out the marble bookmark.
Although she was battling dementia, Mom said, "The next time you see me I won't be here."
My Mom never said much when she got to the place of her gravesite. 
She never wanted to stay too long. Was she thinking of the 65 years of marriage she spent with my father. Die she wonder where she was going? Was she in a hurry?
Sense of place is an important component of books I have written; soul  food restaurants on the civil rights trail, supper clubs and even minor league baseball in small town America. But place has grabbed my attention in the five months since my mother's death.
Place seems to be all over the place.
This week we are getting an appraisal for the house I grew up in. My parents are buried within walking distance of my high school and the chapel where I was once married. On Sunday I sat on the back porch and saw red-breasted robins I do not see in the city.
My Mom loved birds, for their place is everywhere.
Mom died peacefully in my old bedroom. Not long ago I was stuck behind an ambulance on Western Avenue in Chicago. Suddenly my  thoughts jumped to the April morning when we put my father into an ambulance to take him to hospice care in Barrington. He died three days after the ride up Route 59. He never returned to the place he  called home.
 I didn't think I would be a cemetery guy, but every time I travel to the western suburbs I check in at the gravesite. When they were alive I didn't know where my parents had picked out their plot. I did know Mom was happy that it was by the shade of oak and maple trees,  so beautiful in the autumn.
This 173-year-old cemetery is a new place for me.
I meditate there. I thank my parents. With the diversion of baseball  over, I look at th charcoal clouds and brace myself for my first holiday season without them. I think how fortunate I am that they lived so long. My Dad's 95th birthday would have been Nov. 17; my Mom's 94th birthday would have been Dec. 10. Damn, they did everything together. Why am I alone in this place?
Suddenly, I see my parents in all kinds of places; the cemetery, back at the house, in Section 242 of Wrigley Field and the LaQuinta  between the Cracker Barrel and Waffle House in Nashville, Tn., the  motel where they stayed to visit my brother and nephew. George Jones loved that Waffle House on Harding Place. My Dad loved Shirley Jones.
My brother and I told our folks how lucky they were. Some markers for their cemetery neighbors read:
"A candle that glows twice as bright burns half as long." Dead at 30 years old in 1992.
"I will always be a dreamer," 1949-1999
"Chatter & Tank" (Chatter 1946-2005; Tank 1944-2007)
"Our beautiful baby girl" (April 15, 2003-May 4, 2003)
"Do not stand at my grave and weep/I am not here, I do not sleep/ God's angels have carried me to heaven above/and now I watch over the ones I love.
I am not here, I do not sleep."
A tree by the side of the driveway was planted in honor of one of my high school classmates. His small marker says he left this earth at  age 37. A silver water pump sits not far from the tree. Last week an  older man parked his car near the pump.  He got out of his car, filled up a plastic jug with water and walked over to a gravesite. He emptied the jug in front of the headstone and stood there for less than two minutes. He then walked back to his car, got in and drove away. Leaves fell  in unison and they made a crackling, rhythmic sound that soon  will be stilled, only to return next year.
People count on defined places: church, the neighborhood diner, Wrigley Field, a  corner bar and a grandmother's home.
But every place has a path that once was new.