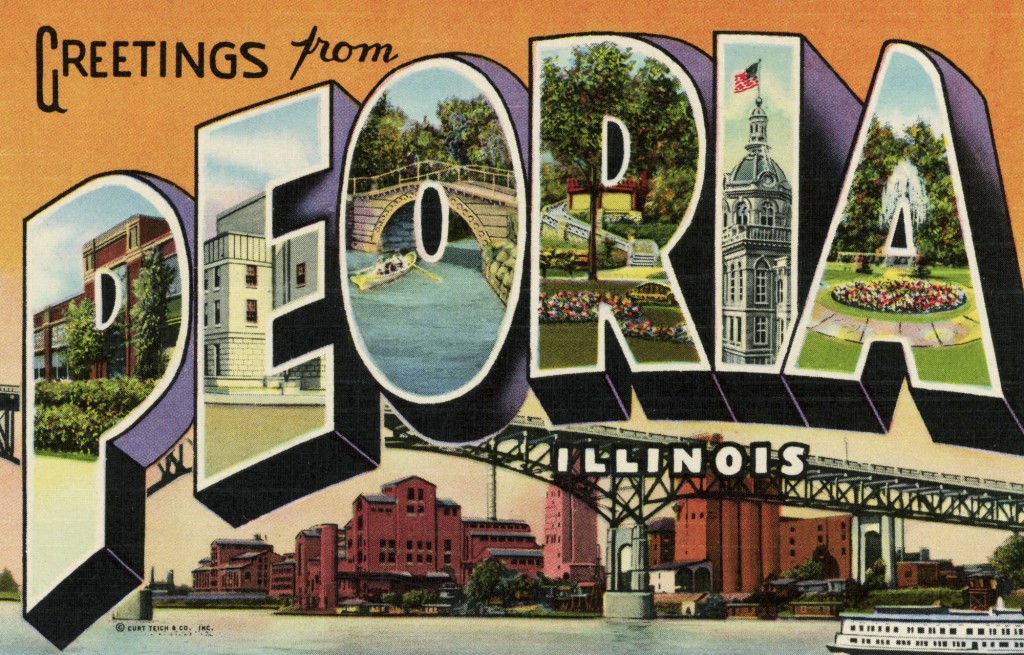 PEORIA, Ill .–The earth moves but it doesn't shift quite as fast in Peoria, Ill.
As you roll into Peoria on I-74 across the Illinois River, you are met by a humble skyline that consists of the 50-year old Mark Twain Hotel, AFL-CIO headquarters and Caterpillar headquarters. Nestled beneath all that faded promise, like nuggets of gold in a stream, is Jim's Steakhouse–or Jim's as locals call it.
 Jim's has been around since 1960. The late Peoria Chiefs owner Pete  Vonachen, his baseball bud Harry Caray and Peoria native Jack Brickhouse were Jim's regulars. I've been going to watch Midwest League baseball in Peoria since 1985 when future Cubs Hall of Famer Greg Maddux played for the Chiefs. How could I miss Jim's?
Jim's is at 110 S.W. Jefferson, in the lower level of the six story  Janssen Building. Diners walk off a gold elevators and enter a hallway filled with hundreds of autographed celebrity photographs. It is the Peoria Pump Room. There's photos of late Peoria native, singer-songwriter Dan Fogelberg, Warren Zevon and Elton John. There's Larry King and Fabio (I presume they weren't dining together). The Dallas Cowboy Cheerleaders.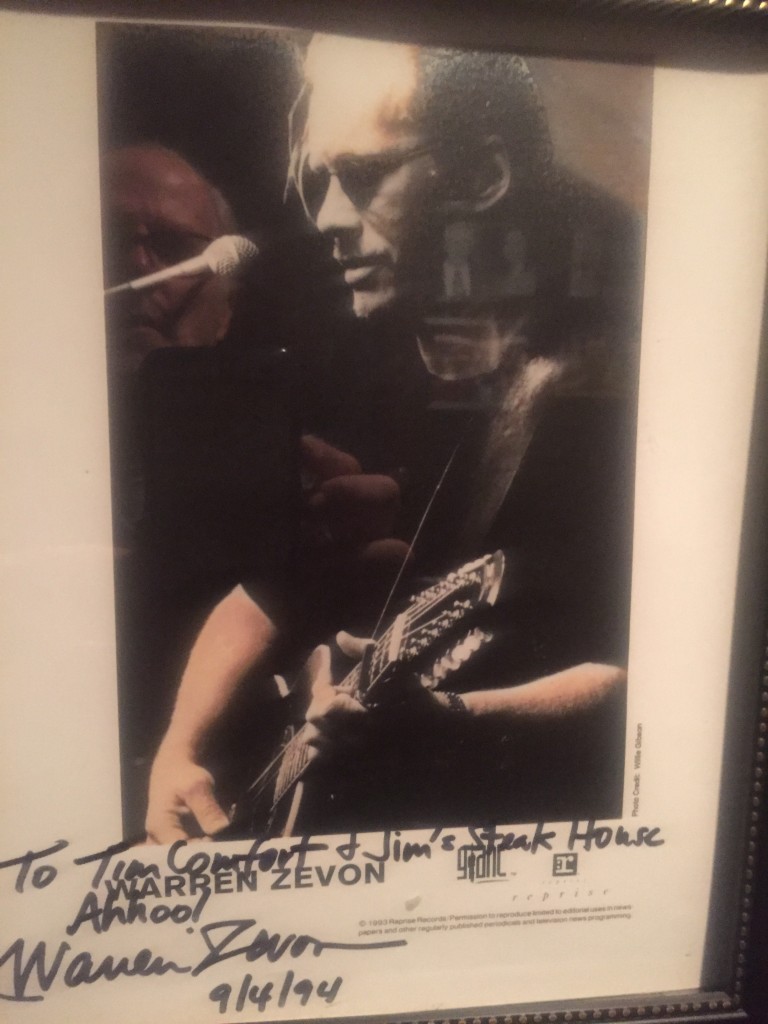 But most of all, there's lots of pictures of baseball players: Peoria natives Joe Girardi and Jim Thome (a Jim who still comes to Jim's regularly), Pete Rose, Bob Gibson and scores of others. If there is a metaphor for the song of Peoria, I'd say it is Jim's.
Tim Comfort, 61,  is the owner of Jim's. His father Jim started the famous restaurant. Jim Comfort owned the not so famous saloons Comfort Lounge and Circa in the Peoria area before opening the steakhouse in 1960 in the Junction City Mall, north of Peoria. Jim's moved to its present location in 1992, which is a ten minute walk to the beautiful Dozer Park, home of the Chiefs.
Jim and his brothers all worked in the restaurant growing up.
That's how life is in Peoria. The earth moves slow, until something like the January, 2017 announcement that Caterpillar was moving its headquarters to Chicago. Caterpillar had talked about building new headquarters in Peoria in 2015. This news shook Peoria  and Jim's right to the core of its 160-seat lover level steakhouse.
Caterpillar's roots are near Stockton, Ca. but the company purchased a bankrupt East Peoria manufacturing company in 1909 and has since been part of the community fabric. The company headquarters is just two blocks away from Jim's.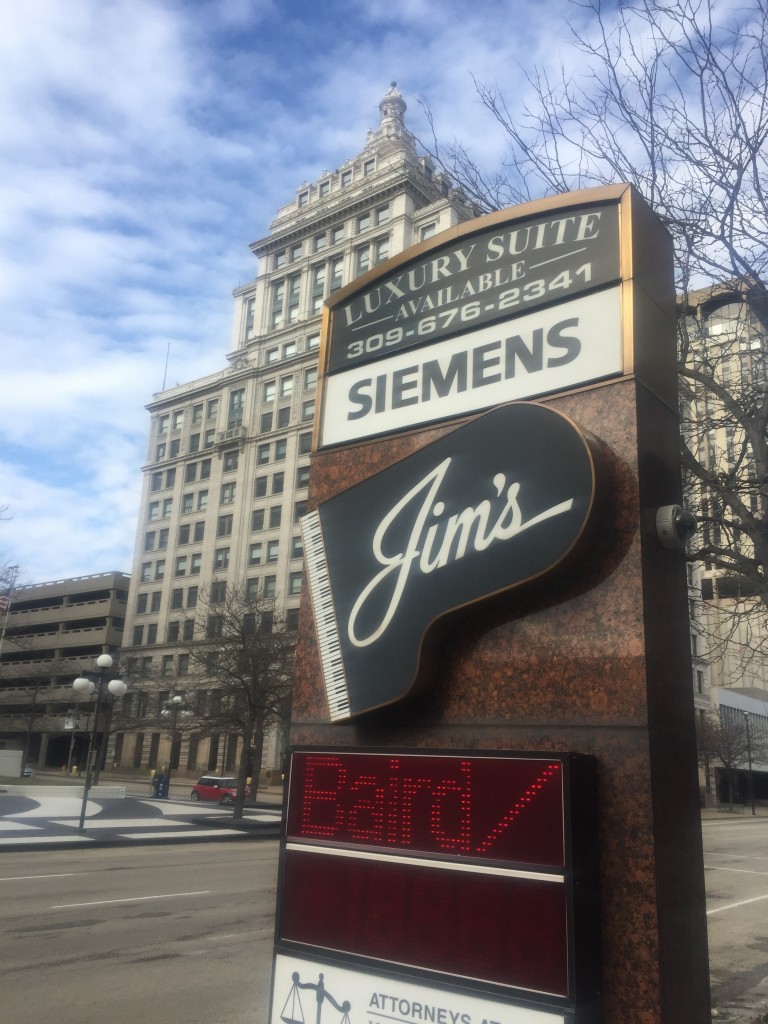 "Since 1960 we have served every CEO Caterpillar ever had," Comfort said. "Then they give control of the company to people out of state, and like most downstate, people are moving headquarters out of downstate to Chicago or other states. Nobody here likes their decision to move."
And then in early March, IRS and federal agents raided Caterpillar offices in Peoria as part of an investigation into allegations that the farm equipment manufacturing company was shifting profits overseas to avoid taxation.
Comfort was born and raised in Peoria. "When we got of high school, we could work at any of Caterpillar's factories and make good money,"  he said. "Most of my friends fathers supported families; four, six, eight kids, running a machine for Caterpillar. That has all changed.
"Those factories have been bulldozed in East Peoria. There's very little manufacturing done around here."
Caterpillar did step up to the plate in 2013 when the Chiefs had  financial problems. Caterpillar gave the Chiefs $2 million in funding  for stadium naming rights over 10 years matched by $2.7 million in new investment of cash and equity by the Chiefs' ownership group of about 50.  In May, 2013, the former O'Brien Stadium was renamed Dozer Park, a reference to Caterpillar bulldozers.
The best of plans push forward. Today, Tim's younger brother Greg runs Jim's Steakhouse in Bloomington, Ill. Older brother Jim, Jr. operates Jim's Bistro in Peoria Heights. "We each have our own Jim's," Comfort said. "My brothers and I started out as dishwashers, busboys. Then we went on to cleaning the restaurant. Our parents had us prep cook. We ran the salad department. From there we went into back up cooking and running the broiler. We knew how to do everything."
The Janssen Building was erected in 1990 in the former site of the Niagara Hotel and the basement speakeasy known as The Combo Club.  The warm interior contains ample flourishes of cherry wood, brass and marble. When a guest walks into Jim's it does feel like the 1960s all over again. "My father always told us to stay traditional and not go into anything that would go out of style," Comfort said. "This restaurant hasn't changed in 25 years.
"Downtown Peoria has changed considerably. Pete Vonachen (1925-2013) pushed for the ballpark downtown. It took him a long time. You can see (Peoria's leading builder) Ray Becker's buildings as you leave Jim's. He built all these tall buildings downtown (in the early 1990s). Most of the growth now is going to the northwest part of town."
Many of the celebrities stopped into Jim's because they were  appearing at the nearby Peoria Civic Center or staying in a downtown hotel. Dan Fogelberg (1951-2007) signed a picture and it is encased with a signed guitar along a wall. "Dan and his wife ate here every time they were in town," Comfort recalled in humble Peoria tones. "This was his restaurant. Sometimes they would come in and order appetizers, sit in the corner and you didn't even know they were in the place. They were wonderful people and they are really missed.
"Warren Zevon was playing the Madison Theater. That was a to-go order and we ran it down there. He was nice enough to autograph a picture for us. Fabio? I don't know what he was doing in Peoria. He had no reservation. He just walked in with a whole group of women behind him. He had (Alaskan King) crab legs. (Cubs Hall of Famer) Ryne Sandberg has been here a couple dozen times Remember he managed here for a while (2007.). Jim Thome signed a baseball bat for us. We probably have a half-dozen signed baseballs. We bother him every time he comes in. He has family in Peoria. He's an avid outdoorsman."
Retired Creve Coeur (Ill.) police chief Jerry Daughters is a fast friend of Jim's. When Daughters was police chief from the mid-1970s to 1993 he would take more than 100 Peoria area kids to the old Busch Stadium in St. Louis for annual meets and greets with players, especially during Cubs-Cardinals games.
Daughters has dozens of black and white photographs of visits with Ron Santo, Ernie Banks and even Cubs manager Herman Franks, who never missed a meal.
Daughters wandered into Comfort's office and asked, "Who was the horn player on 'The Tonight Show? (Doc Severinsen.) He was staying at the Mark Twain and had a concert somewhere. I was shooting the stuff with him.
"Creve Coeur was a hot place back then. We had 12 taverns open until four a..m. and a band in all of them. He was wondering where to go after his show. Now Creve Coeur is dead."
Actor-comedian Richard Pryor was from Peoria and in 2014 a Richard Pryor Avenue was renamed in his honor just a few blocks away from Jim's. "Richard Pryor, Jr. has been here several times," Comfort said. "I asked him, 'Did your father ever come to Jim's?' He said he was sure he had come, maybe in the early 1960s. Sam Kinison (Peoria native) was in Jim's at least 12 times. You always heard what a wild guy he was. All he ever requested was fresh brewed iced tea. His parents were (Pentecostal) preachers and I think he preached for a while himself." In a 1989 conversation , Kinison indeed told me he used to preach at a church at 918 W. Belmont in Chicago.
One of the more unique aspects of Jim's is the logo that features a piano and a piano player. Most urban steakhouses and supper clubs have trimmed the budget for live entertainment. But music will always play in Peoria.
Comfort looked at the week's entertainment scrawled out on a sheet of yellow paper that hung on his office wall. He said, "Bonnie (Tuesday night) is a 19-year-old Bradley student. Ed and Judy are in their 70s, they've been playing for us for 30 years. Ben and Kate (Friday night piano and voice duo) are the younger version of Ed and Judy, they're in their 30s. We have a harpist from 6 to 8 on Friday and Saturday nights.
"Entertainment is expensive. I keep telling our talent, 'Don't outprice yourself because it's not a good time to be a musician. Then the music licensing companies want more money for live entertainment. We just paid ASCAP and BMI is due in May." Jim's intimate lounge-piano bar area sits about 35 people.
Of course as my late father (a Swift & Company purchasing agent in Chicago) would say, "The meat makes the meal." Comfort explained, "We're a traditional steakhouse just as you would find in Chicago. We have the dry-aged Porterhouses, rib-eyes. We take a lot of pride in our beef and that's what has kept us rolling all these years."
Jim's menu menu highlights  include a chopped sirloin bacon wrapped with blue cheese and grilled onions ($16.95), pot roast ($21.95) and baby back ribs ($24.95). "We're in the category of Gene and Georgetii's, Harry Caray's and Rosebud in Chicago," Comfort said. "I've eaten at all of them. We hae people who come down from Chicago and they can't believe how cheap we are. We cannot get Chicago prices downstate, but it is the same quality and same beef." And there's no beef about making Jim's a must visit for the classic Peoria experience; the way things once were.