ST. PAUL, MN.—It was opening night of another renegade season for the St. Paul Saints. The Saints were celebrating their 25th anniversary as a franchise in baseball's independent leagues, a place where there is still a flicker of light between nearly closed doors.
On May 18 a sell out crowd of 8,294 filled CHS Field in downtown St.Paul in 52- degree weather. Fans were motivated in part by a Mary Tyler Moore tam giveaway. Moore, who died in January, played a Twin Cities based television  news reporter the hit television series "Mary Tyler Moore." The  show's theme song promised she was "gonna make it after all."
The Saints beat the Gary SouthShore Rail Cats 5-2 on a masterful pitching performance by Mark John Hamburger. The blond long-haired 30-year-old right hander struck out eight, walked none and did not give up an earned run in 8 1/3 innings. After the game I picked up my blue tam, wandered about the park and said goodbye to the fun-loving Mike Veeck, who owns the Saints along with Marv Goldklang and "Team Psychologist" and actor Bill Murray.
My camper van was parked behind the center field fence. The game had been over for 45 minutes. I looked through the flicker of light between the nearly closed  center field fence.
About a dozen fans were still in the ballpark. And Hamburger was standing along the first base line signing autographs. For every last fan. This wasn't a media grab. There were no cameras and no sportswriters around. This was the home team's starting pitcher.
This was something special.
"I just look at it as a deeper thing," Hamburger said in a thoughtful late June conversation when I returned to CHS Field. "I'm really that last kid. If that last kid gets a signature signed…… Most guys will sign five and 'See ya,' but if you're that last kid and someone waits for you it has to be a good feeling for him.
"When it comes down to it, what is my job title? I'm an entertainer. I even question it sometimes when I'm pitching. I get so into it that I get mad. But that's my ego trying to show people I can do something, when in actuality if I lose that game the fans still appreciate my vigor and how hard I'm trying."
Hamburger has been trying and trying.
In 2012 he made it to the major leagues with the Texas Rangers. He owns a 1-0 major league record with six strikeouts in eight innings. A native of St. Paul, he has had two tryouts with his hometown Minnesota Twins. Two years ago he auditioned for the Chicago Cubs.His agent has been Billy Martin, Jr.–the son of the late Twins-New York Yankees manager. (Martin recently became a coach with the American Association's Grand Prairie Air Hogs and can no longer represent players.) Hamburger drives a 1989 Oldsmobile station wagon around the Twin Cities.
Hamburger also failed two drug tests because of his affinity for marijuana. The Houston Astros released him in February, 2013 after he flunked his second test. He received a 50-game suspension. Hamburger
spent 30 days at Hazelden (in Minnesota). He is now as clean as Laura Petrie.
"It made me take a step away from my life," he said. "Reorganize. Spend time alone. Self reflection is huge for me.  I chose to go to Hazelden. I still had insurance through major league baseball so for $40,000 treatment I paid a $200 deductible. My insurance for big league baseball ended two days after I got out of treatment. It was a big blessing.
"I would be in my room at night time and it was, 'Why are you mad at this?' 'Why are you mad at that?' I had to go through it. No one had to ask me that question. I was going through my life until I realized I couldn't hold on to the anger anymore. I couldn't hang on to the need of money. The need of being in the majors. Or, 'Why did that person wrong me?' It all welled up. I said, 'I don't know who I'm giving this to, but I'm done.' I let it go. And the next 25 days I just floated. I had gotten rid of the past. People get depressed because they hold on to something. If they can find out how to release that….."
Hamburger stopped and turned around to look at the Northern sun shining through the office window.
He gathered his thoughts and continued, "It was like a physical purging. I started crying. I don't see tears as a person being sad. Whatever it is, it is coming out. It came to the surface. I had to make a decision with what it was."
Hamburger debuted in St. Paul in 2013. He went 6-8 with a 3.26 ERA,striking out 120 batters in 149 innings. He returned to organized ball in 2014, moving up the ladder from New Britian (Class AA) to Rochester, the Twins' Class AAA affiliate where he was 4-4 with a 3.79 ERA. Hamburger went 4-2 with a 3.31 ERA for Rochester in 2015.
He returned to St. Paul in 2016 and has been lights out. Hamburger was 12-6 with a 3.29 ERA for last year's Saints and won the American Association All-Star game. This season he is 8-1 with a 2.88 ERA.
His left non-pitching arm has a long diamond shaped tattoo with details that include family members and close friends. The artwork was done by his friend Milo Alfring at Black Sage Studio in Evergreen, Colo. where Hamburger makes annual off season visits.
"The diamond has a thousand facets," he said while looking at his arm. "Each facet is covered with dirt and tar. It is the job of the soul to clean each one until they shine brilliantly just like the colors of the rainbow. That is my life goal. Not to achieve money, house, car, retirement." He stopped to collect his thoughts. Hamburger wanted to make every word count. He continued, "I will stay the same no matter what I am given or no matter what I lose. I wake up every morning and I have something I can work on. At the end of the day I polish a little bit more.
"My ability to deal with you," and he looked me straight in the eyes unlike many interview subjects. "I can't be good to people if I don't know what's going on with myself. So every day I'm trying to work out my interior so that no matter what happens in my exterior, who knows what can happen? You whole life can change in one second.
"The only way I can deal with that is by working on myself."
Mary Tyler Moore wasn't the only Twin Cities related icon to pass over in 2017. Robert Pirsig, the Minneapolis-born author of the 1974 spiritual best seller "Zen and the Art of Motorcycle Maintenance" died in April at the age of 88. In "Zen," he wrote, "The place to improve the world is first in one's own heart and head and hands, and then work outward from there."
Hamburger is also a devotee of yoga, something he has been doing since 2009. "I definitely went into yoga deeper after getting sober," he said. "But yoga has always been there for me as my workout besides lifting weights. It is kind of like my church. Some days it would be a way to get rid of something. Some days it would be 'I'm here enjoying my friend next to me'. I'm pretty loose with what happens the day of my start. I don't like to have any set things. Because if you have set things and one falls through….."
For example, Hamburger is no longer overly set on returning to the major leagues.
"So much goes into it," he explained. "I'd love to play at the highest level. Would I like to be able to play in big stadiums and be able set a life for myself money wise? I would. But now that I've come across personal happiness the need for external happiness doesn't matter as much as my inner soul. I would love to go to the majors but if it didn't feel right with where I was at in my life, I would say no."
In a phone conversation Saints manager George Tsamis said, "Mark could be pitching at AAA right now. He's throwing 90, 92 miles. He wants to be starter. He always wants to pitch the whole game He will pitching in our all-star game in a few weeks (July 25 in Ottawa, Ontario) in front of all those scouts."
It has been reported that Hamburger turned down one major league deal as a relief pitcher. He does want to remain a starter. He is a huge fan of Baseball Hall of Fame pitcher Satchel Paige and brings Paige's baseball card to the ball park on the day he pitches. He used to carry an original Paige baseball card in his wallet.
"I heard I can't get out lefties," he said. "I've been winning a lot of games which means I've been getting out more lefties than I don't. I disagree with a lot of thing people say, like 'We see him as a reliever.' Well, you've never given me the opportunity to start with a big league baseball. Starting with a big league baseball as opposed to Triple AAA baseball is completely different. The movement of an AAA baseball or our baseball versus the big leagues is tremendous. Could I be successful as a big league starter? Maybe. I guess I'll never know unless the right person sees me."
Leroy Robert "Satchel" Paige (1906-1982) liked to say, "Ain't no man can avoid being born average, but there ain't no man got to be common."
"Satchel Paige is everything I want to be, except he left contracts all the time, which back then I can imagine," Hamburger said. "He was one of the best pitchers of all time. His quotes, his life style, the fact he pitched two, three games a week. There was no pitch count back then. Are you kidding me? I'm not a fan of pitch counts. The most I've thrown this year is 130 something. Pretty light load."
Attention TheoJed: sign this guy now.
Hamburger continued, "I'm not a fan of limiting people. Limiting yourself is the worst thing you can do." Last year Hamburger broke the American Association record for complete games in a season (7) and led the league in innings pitched (158 2/3 innings).
He does not see any doors being closed.
*              *                *                          *                         *                          *                             *                                *                  *
Mark John Hamburger was right on time for our pre-game conversation. He had been on the field dancing with the Saints' pink and white mascot Mudonna T. Pig for a video tribute to a St. Paul television weatherman. (The Saints' live ball pig is named "Alternative Fats"). Kids love Hamburger because he is always up for anything. He has fun.
Hamburger is known as "The Mayor of St. Paul."  His father Steve is a graphic designer and printer who took over his own father's business. Hamburger's mother Cheryl is an interior designer and stay at home mom. He has an older brother Paul and sister Michelle. The Saints pitcher lives with his parents.
"I don't have my own home," Hamburger said. "I was born in Shoreview, about 15 minutes from here. I've lived in the same house since I was born. The fact that I returned and I'm playing here isn't random. For me, this (the Saints) is the real reason of  baseball. I can't say that for other people. And where you come from calls you."
Hamburger knows home is where the heart is. He owns two camper vans.
* In 2014 he bought a 13-foot 1967 FAN (Franklin A. Newcomer) manufactured in Wakarusa, Ind. For the past two off seasons he has been restoring the vintage trailer with his brother. FAN was in operation between 1957 and 1980. Hamburger purchased the tin-can trailer in the Catskill Mountains. "Just going to get it was the most wonderful time," he said. "The small towns of upstate New York are amazing. I'm not going to polish it. I like the rustic outside. But we will be doing a lot of mods on the outside, a roof rack and custom canopies. I'm guesstimating it will be done by September." The FAN van will become his home.
* In Australia he has a Ford Transit Van, a cousin of the one that I drive. Mine is blue with a silver canopy, his is white with a purple canopy. Hamburger's ride has solar panels, a 160 liter water tank and outdoor shower. "Stove top but no fridge," he said. "The fridge pulled too much from the solar. They have some pretty nice coolers that stay cold for a couple days. The solar panels are amazing. Being able to live without having to plug in is great."
Hamburger guesses his Australian van is about 17 feet long. "I actually sleep diagonally," said Hamburger, who is 6'4." He added, "There's so many other ways to sleep. I have a hammock. I have a tent. Once I get back to Australia I will reconstruct it a bit. I actually want to get a tent that goes off the back so when you open the double doors  I can have a tent and my own little foyer."
Karma worked in Hamburger's favor. He finished the winter league with a 1.90 ERA, the the lowest in the ABL (Australian Baseball League). He pitched the Melbourne Aces to their first ever grand final series where they lost to the Brisbane Bandits, the reigning ABL champions.
"The main sponsor for the Aces asked me if I was coming back next year," Hamburger explained. "I said I'd love to. He said, 'We know you're only making $200 a weekend and we'd like to help you out.' I said, 'It doesn't matter. I just love this place so much."
The Aces knew Hamburger was restoring a van in Minnesota. They asked him if he saw any wheel dreams he liked around Melbourne. And he had.
"They called me up on my birthday (Feb. 3)," he continued. "He said, 'Do you want to go to Sydney?' I said, 'For what?' He said, 'You know that trailer you sent me the picture of? I talked to the guy who owns it and I'd like to buy it for you.' Hamburger first said he couldn't accept the transit van.
"I didn't want to owe him anything and I didn't want to put logos on it," he said. "This was going to be my home and not some team project." The team insisted he take the transit van as a gift. Hamburger broke down in more ways than one. "I was so humbled," he said. "On my birthday? Of turning 30?  A true blessing. I don't have a home. And this guy, on my 30th birthday purchases me my first home. My last three weeks in Australia were bliss. I lived up and down the beaches. I had my stove. Cooking eggs. Fruit. And going to the ballpark and playing baseball."
Hamburger has also played winter ball in Mexico, Puerto Rico and a teetering Venezuela.
"I was in Venezuela twice and the last time was 2016," he said. "Right when I left they grounded planes. The bolivar' went out so you couldn't spend bolivar' anymore. It was interesting to see things escalate a lot, but it also made me thankful to live here. I loved Mexico, Puerto Rico, Venezuela. The baseball was great the money was great but I couldn't connect with people. I'm fluent but you can't get to the depth of someone. You have to be engulfed in the culture for years to learn someone's heart in another language.
"Australia is the only other place that had winter baseball. A couple years ago I thought it could be my second home. And when I went there all this occurred. They bought me that Transit and apparently this was my second home."
How did Hamburger get into van life?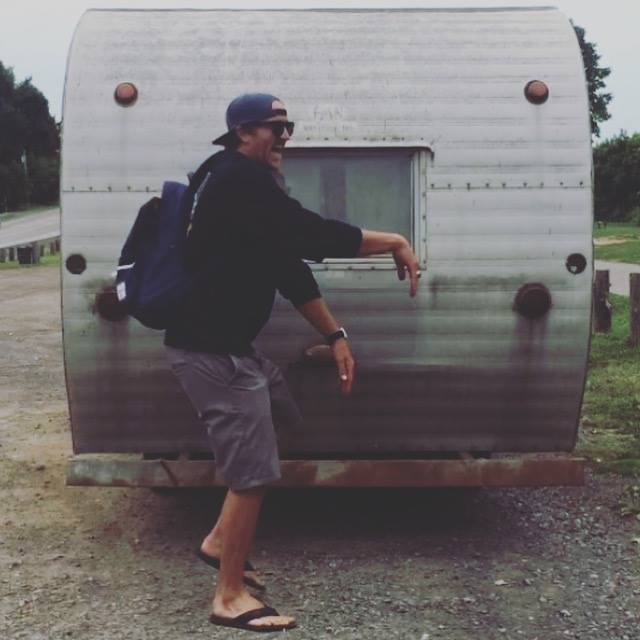 "My sister told me about these gentlemen who wrote a book on minimalism," he said. "With her life, a car payment, her apartment and she was living off of $18,000. I looked at my spending. I had so many clothes, so many different things. Once I purged those things I felt so great. I guess that's how my life has been the last couple of years. Instead of buying stuff to feel better it's letting go. Having the practice of letting things go in my life, it just kept happening more and more.
"Solitude is big for me. I think I'm an empathetic person so recharging by myself is something I need."
He has an eye for the unique when on the road in the American Association, a league that takes the Saints through Gary, Ind., Lincoln, Neb., Wichita, Ks., Sioux City, Ia. and even Kansas City, Mo. "When I get into town I find a co-op, a good grocery store," he said. "Take my meal money and get all the food I need for the three days I'm there. Sometimes I find a yoga studio. I always cruise around town to find flea markets. You can find gold in the Goodwills in some of those small cities we go to."
"I do go solo a lot. After ten years of doing this, you usually have a roommate or go solo. I like going out with the guys but I spend ten hours a day with people. So when I wake up I like to be on my own for the first few hours."
His 50-year-old manager Tsamis observed, "Mark is always happy and he gets the job done when he's out there. He rides his skateboard, longboard, whatever you call it, everywhere. He flies on that thing. I haven't seen that before. I'm not a big rules guy. You want them to show up on time, play hard and care about winning. The long hair is not a big deal. If would have asked me that question, 10, 15 years ago, I would have been against the long hair. It doesn't matter."
In professional  ball Hamburger's journey has taken him through Clinton, Ia., Frisco, Tx. and Tucson, Az. But one of his best memories is embedded around the oil fields of Bakersfield, Ca., the land of Merle Haggard and Buck Owens. In 2010 he compiled a stingy 1.77 ERA with 18 saves for the Bakersfield Blaze, but the meaning of his time with the Rangers affiliate goes beyond the numbers. "We had a game canceled because a huge dust storm blew the entire parking lot onto the field," he said. "We couldn't see our left fielder. I played the two best frisbee golf courses of my life just outside of Bakersfield. And I saved a dog. That is is the biggest moment in my baseball career."
One of his teammates found a malnourished boxer-mastiff mix behind the team batting cage. "He was under a year old and 80 pounds," Hamburger said.
"Broken femur. I put the water to him and he didn't move at all. He just looked at me. After about ten minutes he lifted up his head started getting water. I realized I could pet him. I picked him up and brought him to my place." Hamburger and his teammates named the dog Blaze in reference to their ball club.
"The next six days we were at home and I brought him in front of the fans," Hamburger recalled. "I said, 'Hey guys, this is our dog, we found him but they're going to kill him if we can't save his life.' The fans raised $750 and anonymous donor paid for whatever they didn't cover because it was on the news. So we got him femur surgery and found him a permanent family. He was the most beautiful dog I have seen. He never made a noise. I wish I could have taken him. He must be 160 pounds right now."
Hamburger has met a litter of characters throughout his baseball career, but the first player that comes to his mind is St. Louis Cardinals reserve first baseman Jose' Martinez whose journey began with the Chicago White Sox before stopping in independent league ports like Rockford, Ill. Martinez played 887 minor league games with 11 different minor league teams.
Hamburger and Martinez were teammates in Venezuela. "I basically say what he said every day," Hamburger said. "He'd laugh–ha, ha, ha–and I'd go, 'How ya doin' Jose?' And he'd go, 'Outstanding looking! I'd go 'Outstanding looking?
"And (former Rangers teammate) Josh Hamilton. My second outing was in Fenway (Park). I ran past him in the outfield. He spit and accidentally hit me in the leg. I turned around and he wiped it off. It was like, 'I'm in Fenway and Josh Hamilton spit on me! This is the best day of my life'."
Hamburger played some high school baseball at Mounds View High School in Adren Hills, Mn. During his senior year he was noticed by a Twins scout who came to see another pitcher. "I was pitching 86 or 87 at the end of the game," Hamburger said. "I had more strikeouts. Less pitches. He came over and asked me what my GPA was. I told him and he said, 'Maybe you should go to school.' He was right." Hamburger enrolled at Mesabi Range Community College where he went 11-0 with a 0.65 ERA. "He saw me after college at an open tryout for the Twins at the Metrodome," Hamburger said. "In two years my velocity went from 87 to 92, 93." The Twins signed Hamburger in 2007.
His pitching repertoire now includes the somewhat underhanded "submarine splitoon" and the "slurvy slurve."
Hamburger laughed and explained, "You got the eephus pitch. That's kind of my slurvy slurve. I'll try to make my body look like it is going as hard as it can and then at the last second slow down, release it and try to throw a 55 mile an hour curve. I actually struck out one of my good friends the other day, Reggie Abercrombie (former Houston Astro and Florida Marlin) on a 64 mile an hour slurvy slurve. And he laughed."
Most important, Hamburger is having fun.
"I asked our GM (Derek Sharrer) if during the fifth inning sometime when I'm pitching if I could run in the stands and grab a kid's cheeseburger," he said with a warm smile. "Take a bite of it and give him a hat? I've learned that the more I'm here, the freer I become.
And I feel better being free than being rich."