CLINTON, IA.—America was a different place when I began writing the Glove Compartment 25 years ago. Life is now framed by more jagged edges. People continue to leave big cities for the small and mid-sized cities that define the Midwest League. Where you unlock the doors, you unlock your heart.
When I began traveling in and out of Illinois to explore baseball's backroads for the Kane County Cougars and the Midwest League, at least the state had a working budget. Just after this Fourth of July, Illinois passed a budget after a two year impasse. The state now only owes $15 billion to doctors, hospitals and other vendors who stayed the course. Who can hold on? And isn't that part of baseball's bewitching lure? Holding on to a memory and letting go of a dream.
I have just a few memories of catching weekend stars in the sky summer songs along the Natchez Trace, a pier in Key West, Fla. and on a hot summer night several years ago after leaving a baseball game inCedar Rapids, Ia.. I was driving down a two-lane country road. I pulled over along a random cornfield. I got out of my car and rested on the hood. I looked to the heavens.
At that moment it seemed like all things were possible.
Do you remember that feeling?
So I chose the twin spin of Cedar Rapids and Clinton, Iowa as my column swan song.
In mid-June I saw two games in 33 hours. On a 91-degree afternoon at Cedar Rapids I had my picture taken with the super hyper mascot Mr. Shucks. Back in 1992 mascots like Mr. Met weren't flipping off fans. The Cedar Rapids Kernels lost to Burlington 1-0 on a swift one-hitter mostly thrown by the Bees' Erik Manoah.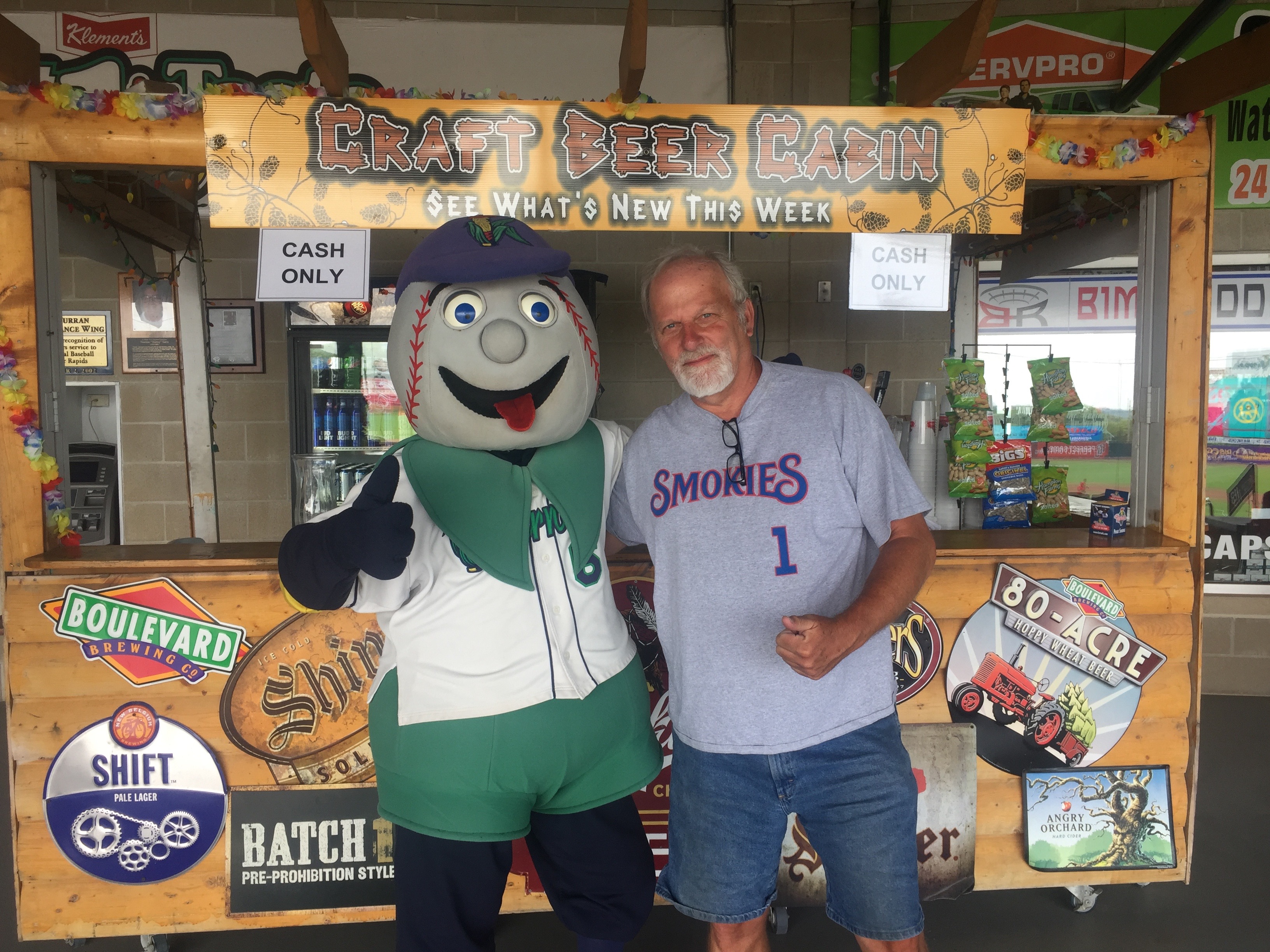 An outfield fence promoted "Iowa, Corn, Bourbon–Swisher, Iowa." Indeed further research revealed that the family owned and operated Cedar Ridge Distillery in Swisher won "Best American Craft Whiskey in Show" at the 2016 New York World Wine Spirits Competition.
After a short rain delay the next evening in Clinton, a resplendent double rainbow emerged over the Mississippi River beyond the center field fence. The I & M rails are along the parking lot near the ballpark entrance. Horns from passing freight trains blared into the humid air. This is how it was, this is how it always will be.
When people ask me where to find the root of Midwest League baseball, I always send them to Clinton. The vibe is from 1959. Fans literally sit next to the field. There's no bleacher seats or grassy knolls at Clinton. Fans huddle under an evergreen grandstand roof creating a micro-community of Clinton (pop. 26,800).
A fine riverfront supper club called The Candlelight Inn is an easy stroll from the ballpark. Don't miss the restaurant's detailed riverboat sketches made by the late Roscoe Misselhorn of Sparta, Ill. And now that I have a camper van I have come to realize that the Riverview Recreational Vehicle Park, 9th Ave. and Riverview Dr. has to be only RV park within short walking distance of a Midwest League stadium and the Mississippi River.
The Clinton LumberKings are the Midwest League's longest-running franchise, dating back to 1954. The brick and cinder Riverview Stadium was built in 1937 with flourishes of Art Deco.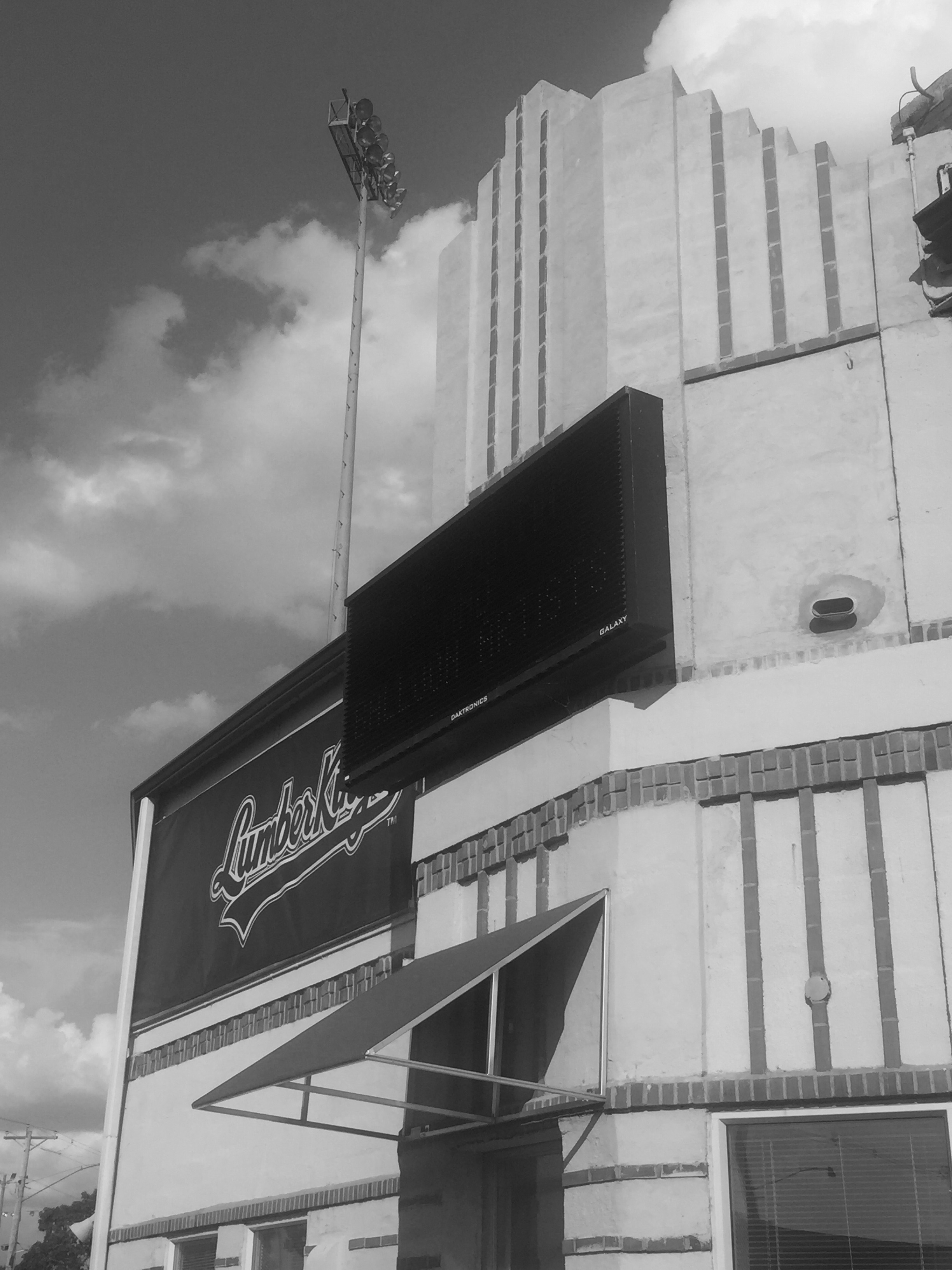 I visited Clinton several times during my years of writing this column. One time I took a girl friend and her German Shepherd to see the ballpark the dead of winter. In 2013 Lucas Mann wrote the excellent book "Class A Baseball (in the Middle of Everywhere)," which was based on spending the 2010 season with the LumberKings.
On the evening of June 13, 2017 I only noticed a couple changes from my first visit in 1992. The stadium naming rights now belong to Ashford University. There's a new sandwich called The Buzz Saw (a tribute to Clinton's lumber roots) which consists of a burger patty, two chicken strips, pulled pork, two slices of bacon and two onion rings on a pretzel bun ($8). And sadly, there was a security check– for an announced attendance of 817 people.
The LumberKings are an affiliate of the Seattle Mariners. Clinton beat Beloit 6-3 in a game that started 37 minutes late due to the rainstorm. The George Jones country hit "White Lightning" played over the speakers during the delay and that's something you just don't hear at Wrigley Field.
Midwest League baseball offered me respite from life's storms over the past 25 years.
In 2015 when my parents were in double home hospice in Naperville, I sometimes took a break and drove to Geneva just to catch a few innings of baseball and gather my thoughts. It meant a lot to me for members of the Cougars community to ask how things were going. I will never forget the sincerity that has blossomed in Kane County.
Although I spent more than 30 years working for the Chicago Sun-Times and the Suburban Sun-Times and freelanced for Playboy magazine, I always got a major charge out of a stranger coming up to me at a non- baseball place like FitzGerald's in Berwyn to talk about something they read in the Glove Compartment. Now, that was destination reading.
I often would bring home the Cougars game day program for my Dad to peruse. He was an avid reader right up until the last week of his life when he died at age 94. Dad's passion for curiosity was only matched by Cougars season ticket holders Dale and LuAnn Klein, whom I profiled in 2004.
Dale and LuAnn have followed my column for all 25 years—and this is also their last year with the Cougars.
By the time you read this, Dale and LuAnn will have relocated from Carpentersville to Crossville, Tn. Since 1986 they have visited 334 minor league baseball parks (including independent leagues) and a May visit to the new ballpark in Atlanta marked their 51st major league stadium.
Dale and LuAnn always took time to e-mail me a note about one of my columns. Earlier this season I wrote a tribute to the late Midwest League president George Spelius. Dale wrote in part, "Great article on George…we knew him and Nancy (George's wife) well and visited him several times at his office. We even attended his retirement party a couple years ago…." Minor league baseball is a fertile landscape for creating such easy connections.
I caught up with Dale and LuAnn on 7/11/17, the day they said goodbye to their home of 42 years. They had driven seven hours from Carpentersville in their dark blue Dodge Caravan mini-van. It was their 11th straight version of the Dodge Caravan. Dale and LuAnn had stopped in Paducah, Ky. for the night.
"You may remember I am from Milwaukee," Dale said with pride in his voice. "So now I have seen the Braves play in four home stadiums (the new SunTrust, Turner Field, Fulton-County Stadium and County Stadium in Milwaukee.)
Friends of the Kleins once had a rental unit in Crossville which is how they became familiar with the area near Knoxville. "We work for a non-profit Christian organization," he said. "We never thought we could afford to move any place. We are going to make more than $20,000 in selling our little house in Illinois and buying one there. We're getting out of the snow and cold.  The taxes in Tennessee don't come near to what we paid in Illinois and even gas is cheaper. The main thing is we could sell a house, buy a house and have it paid off. I'm 71 years old. We're not looking for a mortgage."
Dale and Lu Ann have been married 37 years. Their e-mail address even begins with dalelu. They are as tight as Whitaker and Trammell.
So in early summer, Dale and LuAnn packed up their 35 handmade baseball scrapbooks, organized by league. They sold most of their Pepsi-Cola memorabalia but kept their collection of more than 300 souvenir plastic ballpark cups. "We packed up our bobbleheads," Dale said. "We don't buy bobbleheads. Only what we get at as a giveaway. We only have 40 of those. Over the years we have five or six Ozzie bobbleheads, Ozzie in a Marlins uniform, Ozzie in a Cubs uniform, the rebranded Ozzie. A lot of us didn't care for the new look Ozzie.
"But you can just blame that on not liking change."
Dale and LuAnn's final Cougars game as Illinois residents was on July 3. As a surprise the Cougars offered thank you and bon voyage on the scoreboard. Dale and LuAnn attended the Cougars inaugural game in 1991. That team featured future Cubs closer Joe Borowski. Dale and LuAnn became season ticket holders on Row T in Section 106 in 2009. "Before Kane County came we had already been to every park in the Midwest League," Dale said. "The Waterloo Diamonds, Springfield Cardinals, Madison Muskies."
What will Dale and LuAnn miss about Kane County and the Midwest League?
"We're going to miss the people," he answered in a heartbeat. "We have friends on the staff and in the stands. We will miss Clinton, Iowa because we love biking there. We get a hotel and bike on both sides of the river. We met you there at that real hot all-star game (June, 2009). We go to the Clinton banquet every year. We've been to the sawmill museum there. But there's a lot of season ticket holders and a lot of people do this. Don't make it sound bigger than it is.
"We're not the only ones."
But that is exactly what I will miss about the Cougars and Midwest League baseball.
It is a special place where the only ones are everyone.