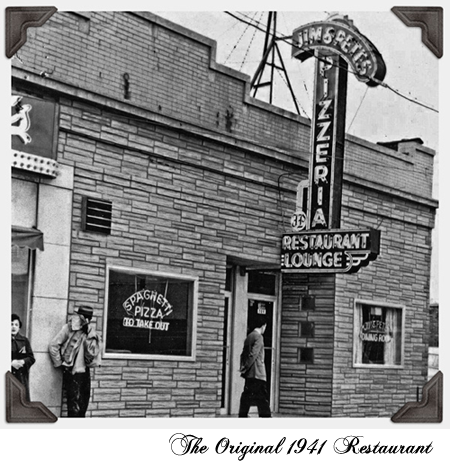 Jim and Pete's  restaurant,  7806 West North Ave. in Elmwood Park opened in 1941 serving hand rolled, thin crust pizza on the gritty west side of Chicago. The restaurant has since expanded to feature risotto of the day,  steak vesuvio and baked clams drizzled with the house wine sauce.
Jim and Pete's never closed, even to bust a union, like Berghoff's did in Chicago.
Italian Village, 71 W. Monroe in Chicago (opened 1927) has a legitimate streak under its third generation.
Current Jim and Pete's owners are Michael Bucchianeri and Jim Sorce, Jr. which gets a first time visitor to wondering why the swingin' exterior signage still says "Jim & Pete's."
"Pete (Pizzo) was my uncle," Sorce explained during a recent Monday evening  conversation at the Italian bistro. "Two brother- in- laws started it. Then they broke up. The reason the sign still says Jim and Pete's is that my father (Jim) couldn't afford a new sign."
To commemorate 75 years of Jim and Pete's, throughout April customers will receive a gift card for an amount between $10 and $1,000 to be revealed upon a subsequent visit. The cards will expire at the end of  the year.
"We were going to roll back the prices," Bucchianeri said.   "But it's been so long we couldn't find the prices."
Jim and Pete's seats about 160 people in a warm contemporary setting of exposed brick and dim lighting, There's also comfortable seating at a large bar area. Bucchianeri calls the vibe "polished casual."
The original Jim and Pete's was a brick storefront restaurant/lounge at West Chicago Avenue and Pulaski in Chicago. It was the second pizza parlor in Chicago, according to Sorce. (Pizzeria Uno opened in 1943.)
The family grew up near the restaurant. Sorce said his father and uncle were taught their craft by a New York pizza maker.  "New York pizza is too thin," he said with groan. "They don't do the ingredients right. Ours is hand rolled. A machine flattens out the bubbles. And the bubbles make it a little more fluffy. My favorite is sausage, onion, mushroom and bacon. You've never had one like that. It's a little thicker, although we do make a thin one, pan and stuffed. People call for everything."
After leaving Chicago, Jim and Pete's moved to 7315 W. North Avenue (at Harlem) in River Forest and  stayed in that location for 36 years.
"That's when I took over because my father got sick," Sorce said. "We moved here in 1986 because we wanted liquor. River Forest was dry. But we never closed. We moved eight blocks away and we still put out orders. I don't know how we did it."
The Jim and Pete's menu has subscribed to a blend of Northern and Southern Italian cooking. Scorce's mother Edith was from Naples. 
"She was from the north and my father was from Sicily, south," he said. "They mixed it up. They used to argue about the sauce (Northern Italian is known for more of a buttery cream sauce.) Our pasta is made fresh for us. We're proud of that. My mother taught my cook when he was 15 years old. She worked with him for eight and a half years and he became pretty good."
Edith's bracciole recipe shows up on the Jim and Pete's menu: thinly sliced flank steak rolled up in breadcrumbs, onions, garlic, parsley and panetta. Jim and Pete's also makes more than 1,000 hand rolled meatballs every week.
The homemade salad dressing and marinade is a neighborhood staple. Created with red wine, extra virgin olive oil, garlic, oregano and lemon juice, 12-ounce bottles of the salad dressing are sold at the front of the restaurant.
Jim and Pete's is a quintessential neighborhood joint.
It is a slice of old school Chicago without the high taxes. "We have second generation customers," Bucchinaeri said. "We had a baby shower here last Sunday and it turned out they also had the mother's shower here when she was a baby."
Long time Chicago restauranteur Vic Giannotti (Giannotti's, Nick's Village, the North Star Inn) often pops in on Monday nights defending the virtues of classic Southern Italian cooking with dried pasta and olive oil. Popular Dean Martin-influenced singer Tony Ocean is a regular customer and tuxedoed vocalist Jimmy Nightclub has played Jim and Pete's.
Sorce is a hockey fan and old school Blackhawks Bobby Hull, Moose Vasko and Stan Mikita used to visit Jim and Pete's.
Many  1960s-70s era Blackhawks lived in the Elmwood Park-River Forest neighborhood, and in fact,  78th Avenue directly east of the restaurant recently was renamed Jerry Korab Way,
Korab played 16 years in the National Hockey League and Blackhawks fans knew him as "King Kong." Korab has lived in Elmwood Park for more than 25 years.
Sorce asked, "Remember Paul Shmyr?"
Shmyr was a Blackhawks defenseman between 1968-71 before going on to star in the short lived World Hockey Association (WHA). He died of throat cancer in 2004 at the age of 58. "Paul was in the playoffs in New York so I brought his wife to the hospital to have their baby," Sorce recalled. "I was in the hospital and they were calling me Mr. Shmyr."
Jim and Petes's features framed photographs of baseball great  Joe Di Maggio, and  Frank Sinatra. A large class picture of mob movie actors hangs near the bar. The restaurant even played into the 2007  Family Secrets trial that stung the Chicago mob.
Bucchianeri asked, "Would you call it a 'salesman,' Jimmy? He asked to buy like 17 (pizza delivery) boxes." Sorce picked up the story, "I had my menu stapled on a box I gave him, Well, they killed the guy."
He did not say what guy, nor did I ask.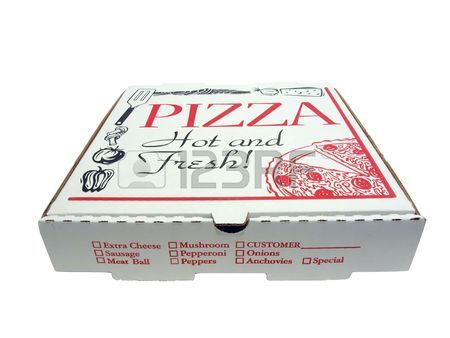 Sorce continued, "They show it on the news, open the trunk and there's Jim and Pete's. You talk about hockey players, well we had the other guys. Then the FBI comes to interview me. They got my name. I'm sitting there having soup. My mother had mad me soup. She's yelling, 'My son is a good boy!' They were all embarrassed."
According to Jeff Coen's "Family Secrets"  (The Case That Crippled the Chicago Mob) [Chicago Review Press], outfit brothers Nick and Frank Calabrese, Sr. had moved to Elmwood Park after leaving Chicago. Nick testified against the mob, resulting in the conviction of his brother, Joey "The Clown" Lombardo and others.
Sorce bought the current Jim and Pete's, which was a shuttered refrigerator store. The space was opened up and a wall was added, which creates down home intimacy
Bucchianeri said, "When Jimmy was in the River Forest location my uncle Vito and Jimmy were partners. That's when they moved here." Sorce said, "Vito was 10 years older than me. He wanted to get out, Michael worked for us a lot. He was managing the place so Vito sold his part to Michael."
Bucchianeri reflected,  "The nice part is we could be slow in the dining room on a night and we'd have three caterings in the day and the day is made. You could be slow in the dining room and catering and be hot on deliveries. You have all these avenues to generate income which really helps the longevity of the restaurant."