SPRINGFIELD, Mo.—The unadorned beauty of American regionalism can be heard in the songs of Abbey Waterworth. The 20-year-old musician is majoring in History and minoring in Museum Studies at Missouri State University (MSU) in Springfield. Her voice is as pure as mountain rain and filled with the promise of the morning sun. Waterworth is on the fast train to be to the Ozarks what a pop-country Dolly Parton is to Appalachia.
Waterworth came up with the idea to make her latest recording "Rose Bridge," a sincere tribute to music that was created in the sticky flotsam and jetsam around Springfield.
Waterworth sings and plays banjo, Donnie Thompson (Skeletons, Morells, Steve Forbert) guests on lead guitar, the late Bobby Lloyd Hicks sits in on drums and former Ozark Mountain Daredevils John Dillon and Supe Grande guest on mouth-bow and spoons respectively–lending that cute Ozark touch. The album was recorded at Nick Sibley's studio in downtown Springfield and Sibley filled out the record by playing drums, bass, harmonica and keyboards. He hired trumpets, violins and cellos for finishing parts.
Around Springfield clubs and coffee houses, Waterworth is backed by her band NRA (Nick Sibley on guitar, Ruell Chappell on keyboards and Abbey), and NRA will headline the Springfield Jamboree at 8 p.m. June 1 at FitzGerald's in Berwyn.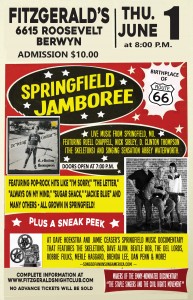 Donnie Thompson and Waterworth will open the evening with an acoustic set. "Rose Bridge" features covers of the Brenda Lee hit "I'm Sorry" (written by Springfield's Ronnie Self), "The Letter," (written by Springfield's Wayne Carson), "Blue Kentucky Girl," the Loretta Lynn-Emmylou Harris hit written by Springfield's Johnny Mullins and even the pop-rock hit "Sugar Shack," written by Keith McCormick, who had lived in Springfield since the early 1970s.
All those Springfield songwriters are dead.
"I wanted to know everything I could about where I came from and where this music came from," Waterworth said during a conversation in Sibley's spacious studio. "My interest in music history became an interest in art history and history of culture."
I wanted to know if her college peer group is curious about her roots music interest.
"No," she answered quickly. "I told someone last year I was studying history and might minor in Ozarks History and they were like, 'Really, Ozarks History?' That sounds like the nerdiest thing.' But that's what pumps my heart. Every time I talk about it, it fills me with joy. People in my age group aren't really considering where they came from–yet. I'm not sure when that happens or why I have thought about that forever.
"Maybe it is because my family was from around here and I was never displaced like lots of people were when they were young. Oral tradition lasts three generations. A lot of music and culture is being lost because oral traditions are going away and people aren't recording it. Especially in this area, there's lots of untapped history. It's still kind of a secluded region and it especially was 50, 60 years ago."
"It is an area people don't think about."
The album is named "Rose Bridge" as a tribute to one of Si Siman's publishing companies. Siman was a co-founder of the Ozark Jubilee concert series and ABC-TV show that in the mid-1950s was the first to broadcast country music across America–from the since-razed Jewell Theater in downtown Springfield.
"Rose Bridge" was named after Si's wife Rosie and Wayne Carson's wife Bridget.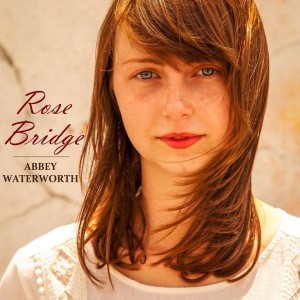 Sibley said, "Abbey is only twenty, but has an encyclopedic knowledge of music of many genres and periods. She has an amazing voice. No auto-tune was used on this CD. She plays guitar, banjo and bass. She wanted to do her own interpretations of the varied types of songs that have come out of the Ozarks. Some were worldwide hits. Some are local favorites. And one is totally unknown–that would be mine."
Sibley, a former member of the Springfield pop-rock-country-punk-surf band The Skeletons, wrote the novelty song "Cheesey Bread" for "Rose Bridge." It's just a few tracks ahead of the "Top Gun" Academy Award winning song "Take My Breath Away," written by Springfield's Tom Whitlock.
"Rose Bridge" is Waterworth's second independent CD. Her 2015 acoustic self-titled debut includes Sibley originals, Elizabeth Cotten's "Shake Sugaree (popularized by the Grateful Dead) and an honest cover of Bobbie Gentry's "Ode to Billie Joe."
NRA has been playing around Springfield since 2014. The Nick Sibley-Ruell Chappell partnership began in 1974 when they debuted at a Shakey's Pizza Parlor in Springfield. Chappell is a Springfield native who was a mid-1970s member of the Ozark Mountain Daredevils and in  1989 was a cast member of the popular musical "Pump Boys and Dinettes."
A native of El Dorado Springs, Mo., Sibley has been writing and producing jingles for companies across America out of his Springfield studio. Sibley built the studio out of the shell of a former warehouse and has owned and operated the space since 1981.
The Ozark Mountain Daredevils and Brewer and Shipley of "One Toke Over The Line" fame have recorded at Sibley's studio and Brad Pitt did movie voice overs there. "He still owes me forty bucks," Sibley cracked.  "He was home for Christmas and he came to record on a Saturday morning. This was twenty years ago. He told me to send the tape to Miramax in New York and I never got paid. (Original 'Newlywed Game' host) Bob Eubanks did an 'American Express' commercial here."
Sibley does spots for Lay's Potato Chips, Bass Pro Shops and O'Reilly Auto Parts among others. Bass and O'Reilly are headquartered in Springfield. Ozark Mountain Daredevils Steve Cash and John Dillon laid down the original "O-O-O'Reilly" vocals, charging the company one dollar. "We do about 200 O'Reilly commercials every month here," Sibley said. "I did the music 15 years ago. They come in and record in Spanish and English." Sibley's studio is just two blocks away from the late Lou Whitney's studio.
Springfield's music history is deeply rooted in NRA.
Chappell worked for Si Siman, playing on country records produced by Siman and Wayne Carson. NRA's repertoire includes Sibley originals like "Albino Farm" (a true story about the 1930s albino Sheedy family that farmed at night outside of Springfield), the lite-country anthem "Life in the 417″ (Springfield's area code)  and the irresistible 2017 pop anthem "Bang-Bang Summer."
Waterworth explained, "There's something about these older songs that people made for the sake of making art. That's what folk tradition is. People making this for the pleasure of sharing, That's one reason I'm drawn to it. It wasn't set up for commercialism. I had the pleasure of playing 'Blue Kentucky Girl' for Johnny Mullins' wife and she was so happy that somebody was still interested in it."
Waterworth works part time in Archives and Special Collections at Missouri State. She transfers old recordings into videos for the Gordon McCann Ozarks Music Collection.
McCann audio and video taped more than 3,000 hours of regional fiddle  music, house parties and compiled 200 notebooks filled with lyrics and transcriptions of conversations. McCann, 86, is a Springfield native who spent his youth floating on johnboats on rivers in the Ozarks. "We're putting his videos on YouTube so they're accessible," Waterworth said. "It's Smithsonian level stuff."
And of her essential "Rose Bridge" recording Waterworth explained, "I wanted to show people all of the beauty that comes from this area that we don't think about. And maybe get people to discover more. You don't have to go to St. Louis or a bigger city to hear good music. This area has made a lot of music. Whenever you play a good song and people realize it was written here, they're surprised.
"They don't think that kind of greatness  can happen in their hometown."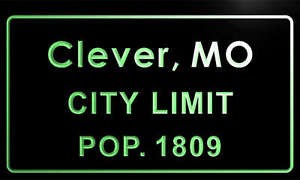 Abbey Waterworth is from Clever, Mo, in Christian County about 20 miles south of Springfield. The clever small town name reminded me my interview with the then-unknown Faith Hill, who was from Star, Miss.
"Not much goes on in Clever," Waterworth said. "There's a Murfin's Market, the local grocery store and two gas stations. It was a farming community for a long time and now people are drawn to the school systems there."
Waterworth attended Clever RV, a consolidation of five one-room school houses. "Yes, it sounds like something from a camping trip," she said. "It adds to the 'hillbilly value' a little bit."
Her mother Connie has been a successful stay at home mom. "My Dad (Bryan) has driven a truck as long as I can remember," Waterworth said. "He hauled diesel fuel for Burlingt0n-Northern Santa Fe. Railroads were a big part of Springfield's economy at one time."
Her great grandparents were from St. Louis and moved to Competition, about two hours north of Springfield. Her great-grandmother played guitar until she had a family. Waterworth's grandfather was a barber who bought a 1937 Gibson and learned how to play it for rural Friday night house parties.  "They would go house to house every Friday night and play music," she recalled. "Mostly bluegrass, but they'd play Ernest Tubb and old folk songs. He loved Jimmie Rodgers. I heard all that. My Dad learned guitar from listening to the Ozark Mountain Daredevils. Dad would get on his bicycle and ride down to the Nixa Trout Farm (in Nixa, Mo., outside of Springfield) where the Daredevils practiced. He would listen to their practices. My oldest brother learned how to play and then my second brother learned how to play. I was the last. So there really wasn't an option.
"It was something I felt I had to do to be part of the family."
Music filled the halls of the house in Clever and plenty of CDs were packed for family road trips. "I grew up on bluegrass but I love the Beach Boys and Rolling Stones," she said. "I started singing when I was seven and started guitar when I was nine. Then I picked up banjo."
Waterworth has been singing as long as she can remember. "My family needed a singer." she said. "We had a guitar player, a bass player and a mandolin player. My brother told me I was singing melodies before I could talk. When I was growing up the Dillards were a influence. Some of them lived around here. As I got older, I got into John Hartford, who was from St. Louis and who played with the Dillards and then Gillian Welch–she was a huge influence. But there was a point where all I did was listen to music that I hadn't heard before."
Nick Sibley's sense of a musical pop hook is in the rarefied air of Nick Lowe or Marshall Crenshaw. His playful approach to songs about cornbread and buried cats reminds me of Chicago's Chris Ligon. Sibley's hilarious true story about a Missouri undertaker, "Don't Be Drinkin' No Beer While Your'e Working on my Mama" has been recorded by Ray Stevens but has yet to be released.
"You write a song, open it up and then the song appears," Sibley explained. "I come up with the germ of an idea and let it unfold. Look for rhymes. I feel I find a song more than I write."
Sibley inherited an eye for detail from his mother Peggy Thatch Sibley while growing up in El Dorado Springs, an hour south of Springfield. His father was a grocer, his mother is a piano player and painter.
"She paints pictures of bridges and flowers and all kinds of stuff," Sibley said. "You see her prints at Wal-Mart. I'll go into a hotel room and find my Mom's painting on the wall. Let's say bird houses are big this year. She will do a series of bird houses. She paints photographs of those styles but she aspires to loosen up and be more expressive.
"I find myself writing the same way she paints. In order to fight that I'll throw some more paint on the canvas. It's contrived random. Do I rhyme where it should be or don't do a rhyme? People who do it for real, that's genius stuff. Me? I pretend to be a genius. I write jingles. That's what I do."
"About every three weeks, TV stations coast to coast, north to south fly me in. California to New Jersey. They bring their clients in   every hour and a half. They tell me about their business for 30  minutes or so and I find some germ where I can write about something.  They leave the room for 20 minutes and I write their jingle. A jingle is 30 seconds  long. And you want to say something good about the client. They come in and I play it for them. If they like it, I come back here and produce it with real singers and stuff. Then the TV sends me a contract.
" I've written thousands and thousands of jingles. The client takes it home. He says, 'I know you're an expert, but my daughter thinks it should sound more like this.' You're always pleasing the lowest common denominator, just like in popular music. That's what you're going for."
Sibley's approach is not unlike what hot pop (Taylor Swift, Lorde) songwriter Jack Antonoff told the New York Times earlier this week: "The heart and soul of pop is newness, excitement, innovation. The music business is built on chasing that ambulance–'someone did it, let's go that way.' I don't want to be a part of that. I want to be away from it."
Antonoff should move to Springfield.
Sibley came to Springfield in 1971 to study marketing at Missouri State. "But Springfield bands would come to El Dorado Springs every Friday and Saturday night," he said. "They were big stars to us. They knew all the right chords to the songs and I would be the guy standing by the PA watching them play That's how I met Lloyd (Hicks, all-world drummer. He was the drummer for Lord Mack and the Checkmates. Supe (Michael Granda of the Ozark Mountain Daredevils) came to my town.
"The first studio in Springfield was started by Si Siman in 1968. It was called Top Talent. That's where Wayne Carson (The Box Tops, Gary Stewart, etc.) did his demos and it became kind of a party place. Then Si said, 'I'm outta here.' He told me when I was going to build this place, 'You're going to regret it.' Because I'd be using musicians (laughs). About 1972 Si sold his studio to a group of investors whose core group was local preachers. They made a gospel studio out of it. They'd do an album a day on Saturdays and  Sundays. I knew everybody who played in every band in town.
"For me, Springfield music was like collecting baseball cards."